Saturday Night Live's Season 48 Premiere Gets Super Meta With Miles Teller And Jon Hamm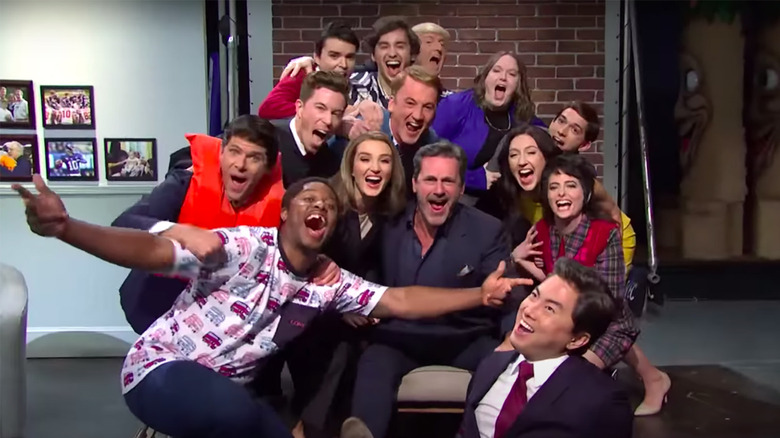 NBC
"Saturday Night Live" is back with a new season and a much smaller cast. After a total of eight cast members left the show between the season 47 finale farewells and the pre-season departures, the cast of "SNL" now feels much more manageable, and there are even a few new faces on the block. So how did the late night sketch show feel with first-time host Miles Teller taking the stage in Studio 8H? Well, for the most part, it was a fairly average hit-or-miss episode that is typical of "SNL," especially for a sketch series that comes together in just a single week. But it started off with a bang, essentially taking the piss out of podcasts and articles like this that analyze each sketch like a post-game analysis on ESPN.
What was the best sketch of the night?
"SNL" started with a high point, and never really reached that peak of hilarity again the rest of the night. That's because the cold open went meta by having Miles Teller and Andrew Dismukes as Peyton and Eli Manning (respectively) hosting an unorthodox version of their "Monday Night Football" commentary series "ManningCast." Instead of focusing on football for ESPN, they provided live commentary on the opening sketch from "SNL."
We'll forgive the logistical leap of this sketch happening live while allowing the Manning brothers to pause and provide their own commentary as the sketch unfolds. If they're watching the show live, this shouldn't be possible. If they're watching the sketch after the fact, then how could it possibly be the first sketch of the live episode that we're currently watching? Is this silly to ponder? Absolutely. Do I care at all? No, not in the least. I'm a broken man, and my brain is weird mush. Anyway...
I can't believe I never realized how much Miles Teller looked like Peyton Manning until now, and he does a solid impression of him as well. It's always funny when comedy writers turn the pen on themselves and write jokes at their own expense. Not only do they lament the use of another Donald Trump sketch in the cold open, but they also mock a variety of tropes that "SNL" has become known for over the years, including some of the flubs that happen during the live show. The commentary on the new cast members was great, as was the surprise appearance by guest star Jon Hamm, who jokes about how the show couldn't get the "real" stars of "Top Gun: Maverick." This prompts the even more meta commentary of Miles Teller as Peyton Manning, who accurately observes that it's not common for the host to appear in the cold open, making this bit pretty special. And he's not wrong!
All of the self-aware commentary and gags made this a lot of fun, and it was a clever way to open the show instead of doing a weaker version of what is far too frequently forced topical commentary on headline-making politics and news.
How was the rest of the episode?
As for the rest of the episode, it was your average assembly of sketches with some that were fairly amusing and others that were either downright strange or just plain bad. 
One of the more commendable sketches was the reliable game show format where contestants such as Maroon 5 frontman Adam Levine (Mikey Day), Armie Hammer (James Austin Johnson), Neil deGrasse Tyson (Kenan Thompson) and Bowen Yang (as himself) are challenged with responding to direct messages from fans on social media with something that's completely normal. This is inspired by the recent reveal of Levine's adulterous transgressions, and it takes a couple of surprising turns, especially when it comes to Yang's participation in the proceedings.
On the other end of the spectrum, the worst sketch of the night came in the form of a strange talk show that made me miss the dynamic duo of Kate McKinnon and Aidy Bryant immediately. Entitled "Caribbean Queens," inspired by the Billy Ocean song of the same name, the faux program finds Ego Nwodim and Heidi Gardner teamed up as vacation lushes enjoying drinks and "hunky" guys they met the night before. It's not that Nwodim and Gardner are bad as a pair, but the premise just isn't all that amusing. It feels like a first draft version of "Barb and Star Go to Vista Del Mar" without any of the cleverness or absurdity that made the movie a 2020 treasure. 
As for the strangest sketch of the night, that goes to this glimpse behind the scenes of a new McDonald's commercial featuring their classic characters Ronald McDonald, Birdie, Hamburglar, Mayor McCheese, and Grimace. But it's the latter who surprises everyone by showing up not looking like a big purple gum drop, but a purple version of Zangief from "Street Fighter," having lost 300 lbs and recently discovering that he's bisexual. It's about as weird as it sounds, and it's not exactly a home run. But it resulted in some decent chuckles here and there. 
Was Miles Teller a good host?
As for Miles Teller, he was quite comfortable in this live sketch comedy format. Though the writers didn't give him a lot to do character-wise, Teller was easily able to fit into a variety of roles throughout the evening. One of the more charming moments came during Teller's monologue (above), which included a real home video of the actor and his older sister reenacting one of the Spartan cheerleader sketches that Will Ferrell and Cheri Oteri made famous in the '90s. It's pretty cool to have evidence of Teller recreating those beloved sketches in front of his parents, and then having them watch him live in the studio as the host of "SNL." Dreams really do come true.
Personally, I wish we got to see more of Teller taking on characters that required him to transform a bit more, like Peyton Manning and Grimace, though each yielded wildly different results, both in tone and quality. But he did such a fine job as a first-time host that I would be more than happy to see him come back for another round. Since his star is sure to be rising even more in the years to come, I'm sure we'll see him back.
How does the new cast feel?
Before we go, let's take a look at the new cast members: Marcello Hernandez, Molly Kearney, Michael Longfellow, and Devon Walker. That cold open sketch highlighted each of the four new cast members in bit parts, giving them a proper debut on "SNL" that doesn't always come in the first episode for featured players. They all even got in on the iconic "Live from New York, it's Saturday night" line at the end. Most of them didn't get a lot to do throughout the rest of the evening, appearing briefly in a few sketches throughout the night. But Michael Longfellow got an early chance to shine with his own bit on Weekend Update.
Longfellow flexed his dry, subdued comedic delivery in a bit at the desk as himself, talking about what it's like to work in entertainment while having a politically conservative family. This actually provided some thoughtful commentary through comedy on the challenges that political differences create between parents and their kids. As someone who lives in Indiana, my experiences haven't been much different from Longfellow, and his real-life perspective from Arizona certainly hit home for the Midwest too. Does this give Longfellow an early leg up in his "SNL" debut? A little bit. But there have been plenty of featured players who get some time at the Weekend Update desk but never evolve into a versatile and valuable cast member throughout the rest of the show. 
Since this was just the season premiere, we've got plenty of time to see how the new featured players turn out in their first season. But more importantly, we need to find out how this new version of the cast will continue to operate with the absence of some of the more recent heavy hitters at "SNL." Plus, we're not sure when Cecily Strong will be back.
We'll be back next week after "Harry Potter franchise co-star Brendan Gleeson hosts the second episode of Season 48 on October 8, 2022.