Watch Saturday Night Live Bid Farewell To Kate McKinnon, Aidy Bryant, And Pete Davidson ... But Not Kyle Mooney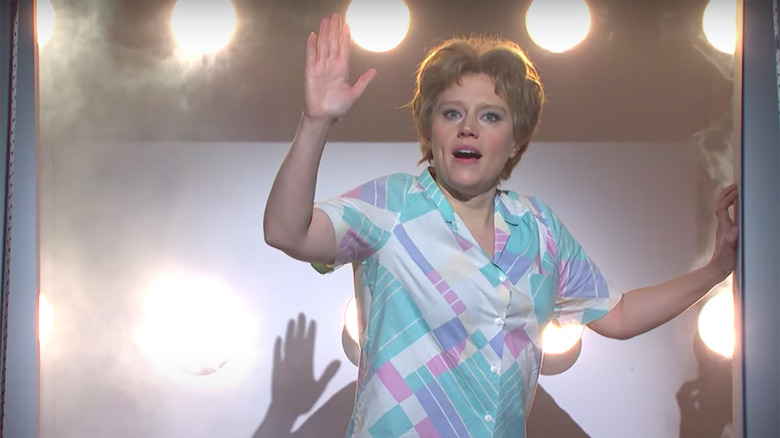 NBC
This weekend brought the 47th season finale of "Saturday Night Live" to the airwaves. With "Russian Doll" star Natasha Lyonne set to host, it seemed like this was going to be your average season finale for the late night sketch series. But those expectations became something else entirely when Friday brought news that cast members Kate McKinnon, Aidy Bryant, Pete Davidson, and Kyle Mooney would be leaving the show after the end of the season. 
Throughout the show's history, "SNL" has sent departing cast members off in a variety of ways. Some have been let go unceremoniously between seasons, while others have announced their departure without much of a celebratory send-off. But plenty of "SNL" regulars have been given hilarious and heartfelt goodbyes, such as Kristen Wiig and Bill Hader. So how did "Saturday Night Live" bid farewell to these four longtime cast members? Let's take a look.
Kate McKinnon leaves Earth
Right off the bat in the cold open, "SNL" gave Kate McKinnon her goodbye. Though this wouldn't be her last appearance in the season finale, this sketch gave the comedian the perfect send-off. McKinnon reprised her recurring role as Ms. Rafferty, who has seen her fair share of unfavorable close encounters with aliens. But this time, after recounting yet another series of unfortunate experiences with the gray aliens with weird black eyes, the Pentagon has made a deal to receive advanced alien technology in exchange for one of the abductees. 
Of course, it's Ms. Rafferty who reluctantly volunteers, and McKinnon steps into the alien spaceship with a rendition of Richard Strauss' "Also Sprach Zarathustra" from "2001: A Space Odyssey" playing in the background. McKinnon took a deep breath and said, "Well, Earth, I love ya. Thanks for letting me stay awhile. Live from New York, it's Saturday night." McKinnon delivered her lines with a couple of cracks in her voice, tears welling up in her eyes, and emotion all over her face. 
Out of all the recurring characters McKinnon could have played, this was certainly one of best original creations she embodied over the years. McKinnon has perhaps been best known for her impeccable impressions of real life figures, but using them to say farewell to McKinnon doesn't make much sense when another cast member will likely have to play many of those figures in her stead. You couldn't have asked for a more lovely goodbye for one of the most beloved "SNL" stars of the past decade. 
Aidy Bryant departs with a kiss
Even though Aidy Bryant also appears in the "Final Close Encounter" sketch in her recurring role as one of the government interrogators, just as she's done several times before, she wouldn't get her own farewell until Weekend Update. Strangely enough, Bryant's goodbye didn't bring back one of her recurring characters who has appeared on and off in previous years, such as Morgan on "Girlfriends Talk Show" or young travel expert Carrie Krum. Instead, Bryant appeared alongside Bowen Yang to reprise their fairly recent Weekend Update trend forecasters. 
After pompously running through a list of things that are in and out, Bryant suddenly hears of something new that is in: her best guys kissing her. Michael Che and Bowen Yang lean in to kiss each of her cheeks, and Che hands over a flower bouquet from the previous punchline. 
Though Bryant didn't receive quite as emotional a departure, it was still rather sweet. However, I can't help but wish that we would have gotten to see McKinnon and Bryant appear in one of their trademark two-handers, whether it's running a crappy orchard, representing Smokery Farms, fighting crime as Dyke & Fats, or something else that paired them together. "Saturday Night Live" attempted this somewhat with the "Women's Commercial" sketch featuring gray ponytails, but it felt like much more of an ensemble piece rather than giving Bryant and McKinnon the spotlight. But sometimes that's how it goes with a show like "SNL."
Pete Davidson checks out for good
Pete Davidson has been away from "Saturday Night Live" a lot during the 47th season. Not only did he miss the first three episodes due to commitments to another project, he was also absent for the seven episodes leading up to the finale due to another film he's appearing in. Many had assumed he would leave or would be let go from the series, so this was maybe the least surprising departure from the series. But even so, Davidson deserved to leave on his own terms, and that's exactly what he did.
Since Davidson hasn't been the strongest sketch performer, it only makes sense that he would get a chance to say goodbye with his own bit at the Weekend Update desk. In fact, the comedian acknowledges this himself in this little monologue. Say what you will about Davidson, he's always been supremely self-aware about his place on the show and his pop culture profile. He routinely mocks it and uses it as fodder for his stand-up, which is one of the reasons he has such a big fan following. This appearance is no exception, and even though Davidson appears rather aloof in this bit, you can hear his voice cracking towards the end, and there's sincerity in his delivery, even as he jokes about Lorne Michaels. 
If there's one thing that's a bummer, it's that we didn't get one more hip-hop sketch for Davidson to go out on. But this is honestly the best way for him to leave "SNL." If you'd like an even more heartfelt goodbye, check out the Instagram post he made before "SNL" went live.
Kyle Mooney deserved better
Finally, we have Kyle Mooney. But sadly, it didn't feel like Mooney got a proper farewell in this episode. That could easily be because he didn't want to force anything for his final appearance. But for Mooney's last episode, I was hoping that he would at least revisit Bruce Chandling. There's no better character that would have allowed for Mooney to have a heartfelt exit from the series. Instead, Mooney had small roles in sketches throughout the evening. Maybe that's how he wanted it. After all, his partner-in-comedy, Beck Bennett, didn't get a big send-off either. So maybe Mooney felt like having a low-key exit from the series, especially since many of his best bits (such as the above sketch) happened while Bennett was still on the show. It's a shame they couldn't get Bennett to come back and let them both have a well-earned goodbye. 
If you need a good fix of Kyle Mooney, may I suggest you seek out his indie gem "Brigsby Bear" or his bonkers animated series "Saturday Morning All-Star Hits!" on Netflix, which has the feel of his best "SNL" tendencies mixed with retro animation. 
Will anyone else leave?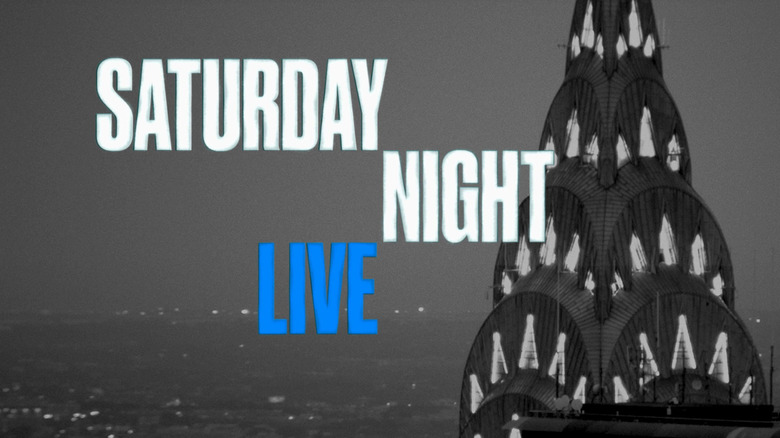 NBC
As of now, these are the only cast members who are confirmed to leave "Saturday Night Live" after this season. However, there's a chance some of the other featured players could end up not coming back for season 48. As of now, Andrew Dismukes and Punkie Johnson have been on for two seasons while Aristotle Athari, James Austin Johnson, and Sarah Sherman just finished their first season. Typically, just before the new season begins, "SNL" cast members can be let go. Often it's featured players who are let go during this time, usually because they're just not working out. Lauren Holt was one of the most recent featured players to last only a season, while previous featured players like Bowen Yang and Chloe Fineman were promoted to the repertory cast. 
Though I'd hate to see him go, Aristotle Athari feels like he could be on the cusp of being let go. He debuted his own recurring, original character during his first season, but his memorable appearances on the show otherwise have been few and far between. Punkie Johnson is in a similarly precarious situation, perhaps even more so since she's yet to land a staple character. As for Andrew Dismukes, he's been delivering some great sketches lately, and his youthful looks allow him to fill a specific kind of role in "SNL" sketches.
Meanwhile, James Austin Johnson isn't likely to go anywhere. Not only is his impersonation of Donald Trump a big hit, but he's also been playing President Joe Biden. On top of that, he's a fantastic impressionist and a skilled everyman. As for Sarah Sherman, she's enjoyed quite a rise on "SNL," bringing plenty of alt comedy flair and oddball laughs to the late night sketch show, and I can't see her getting sent away. 
Aside from the featured players, there's always a chance another repertory player decides to leave. They don't all make the decision before the season finale. There have been rumblings that Michael Che could leave the show soon, especially after recently saying, "My head has been at leaving for the past five seasons." But it seems Che is sticking around at least for one more year. Fans have also been thinking Cecily Strong might be the next longtime cast member to head out, but not quite yet it seems. Of course, Kenan Thompson hasn't indicated that he might leave, despite being on the show for nearly 20 years. Since his sitcom "Kenan" recently got canceled, he'll probably stay comfortable on "SNL."
We'll have to see what happens over the summer before "Saturday Night Live" returns for season 48 this fall.