Thank You, Aidy Bryant From A Fellow Fat Lady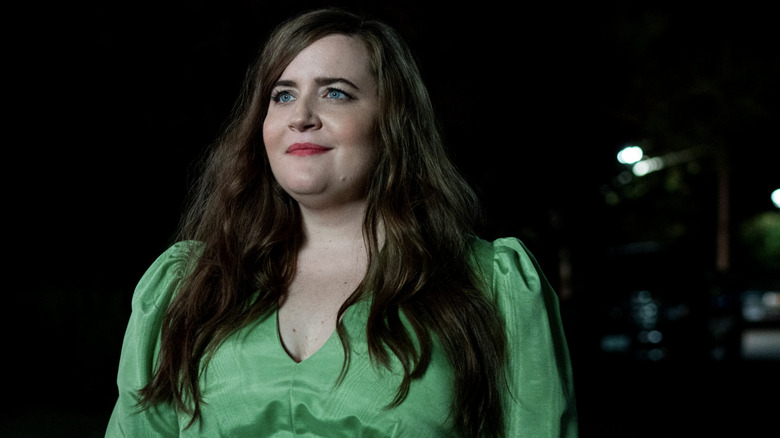 Hulu
In a shock to absolutely no one, it was announced Friday that following the end of tonight's 47th season finale of "Saturday Night Live," longtime cast members Pete Davidson, Kate McKinnon, Kyle Mooney, and Aidy Bryant would all be saying farewell. All four cast members represent some of the best in "SNL" history, and as such, they have all been thriving outside of the weekly sketch show for many years. It was inevitable that we would be saying goodbye, and if we're being honest with ourselves, it's surprising their exits didn't happen sooner. This season boasted the largest "SNL" cast ever, with 21 stars and eight cast members entering at least their eighth season.
I could spend hours waxing poetic about Mooney, McKinnon (gay girls 4 ever), and yes, even Davidson, but it's difficult to put into words how impactful it has been to see Aidy Bryant on "SNL" for the last decade. The show has made a number of stars out of funny fat men like Chris Farley, Horatio Sanz, Bobby Moynihan, and the show's most tenured performer, Kenan Thompson, but "SNL" doesn't have the best track record with women. Tina Fey, largely considered to be one of the most successful women in the show's history, famously lost 30 pounds and underwent a makeover before becoming the host of "Weekend Update." When Bryant was cast in 2012, she became the first-ever fat female hire for one of the most dominant comedic institutions in television.
"SNL" had been on the air for almost four decades before a fat woman was ever deemed worthy enough to join the prestigious roster.
An undeniable talent enduring continued stigma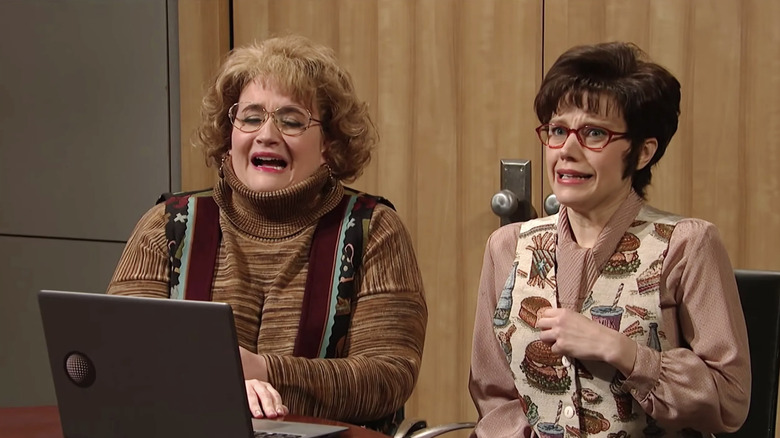 NBC
As with many "SNL" cast members, Aidy Bryant is an alum of Second City, having moved to Chicago to train and pursue comedy. Two years later, Lorne Michaels offered Bryant the job, and the rest, they say, is history. Throughout her tenure at "SNL," Bryant has consistently delivered some all-time great performances, like seventh grade travel expert Carrie Krum, Bunny the bar fly, Aidy B with Cardi B, Morgan from "Girlfriends Talk Show," The Worst Lady on an Airplane, Romantic Bookstore with John Cena, and sleepover horndog Melanie, in addition to her impressions like Sarah Huckabee Sanders, Meghan McCain, and Ted Cruz.
"SNL" was a dream come true, but it was immediately clear Bryant had a different experience than her comrades. "I would do photo shoots with my castmates, who are smaller women, and they would have 50 dress options and I would arrive and I would have two, and they both looked like something that the mother of the bride would wear — and I was 25 years old," she said in an interview with NPR. She continued:
"I just felt, like, this isn't fair, and it's not my fault. I came here. I did my job. I'm funny. I wrote my way to this position, and now a stylist or a magazine or whoever is responsible, like, it's their job to dress me, and dress me appropriately for my age. Those were the kind of moments where I was like, 'I want to talk about this.'"
The frustrations motivated Bryant to work on a project that would allow her to address these issues, which led her to the Hulu original series "Shrill."
Shrill and radical fat acceptance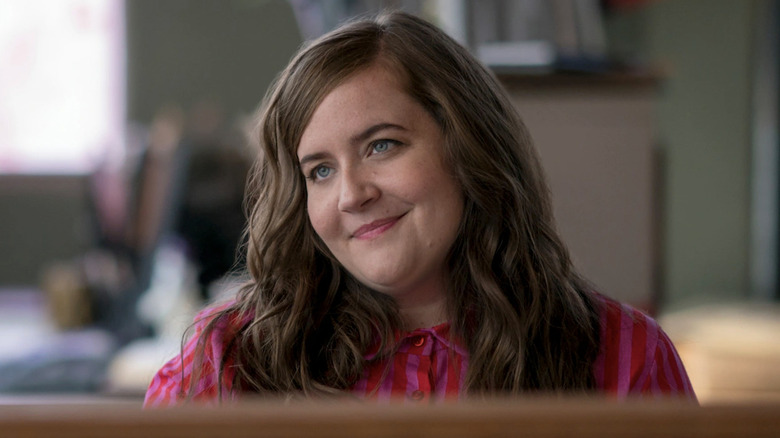 Hulu
Based on Lindy West's memoir of the same name, Aidy Bryant didn't just star as Annie Easton on "Shrill," she also served as a co-creator and lead writer. "I think something that we made a huge effort to do was to create a fat person's story with integrity," she said in an interview with Nylon. "Annie's whole story isn't her eating diet food or trying to lose weight or thinking about how she's fat all day long," Bryant continued. "The bulk of this series is her at her job, her in relationships, her with her parents, her with her friends." Over the course of three seasons, "Shrill" addressed the realities of navigating the world in a fat body like strangers' unsolicited projections, systemic fatphobia like how Plan B doesn't work as well past a certain weight, and the evergreen anxiety of trying to date in a body viewed as filth or fetish.
"Shrill" was also ridiculously funny. Bryant's skills as a writer and performer were well on display, as were Lolly Adefope, Ian Owens, Luka Jones, E.R. Fightmaster, Patti Harrison, Jo Firestone, Daniel Stern, and John Cameron Mitchell. The characters of "Shrill" are messy, but the show's willingness not to ignore these elements provided some of the most humanizing storylines featuring fatness ever put to screen. "Shrill" works not just because Aidy Bryant is a remarkable talent, but because she brings in authenticity to the character as a human who knows what it's like off-screen to exist as a fat person. This shouldn't sound groundbreaking, but please think about how many celebrities this year starred in shows wearing fat suits. Yes, "The Thing About Pam" and "American Crime Story," I'm calling you out.
This just in: fat people are people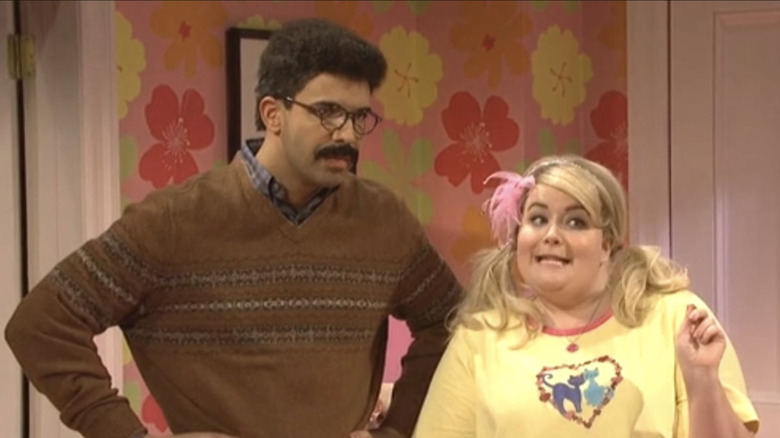 NBC
It wasn't until I read the headline regarding Aidy Bryant's leave from "SNL" that it fully hit me how much it has meant to me to see her every week. I've spent my entire life being "a bigger girl," seldom seeing myself reflected back onscreen unless it was a cruel punchline or tragedy. Aidy Bryant showed up every week and whether realizing it or not, painted a picture for viewers across the world of the complexities of fatness. Through her characters, she showed that fat people could be fun, sexy, clever, irritating, intelligent, passionate, hilarious, obnoxious, loud, meek, beautiful, creepy, and everything else in between. Fat people are people, and while we are so much more than just our fatness, our size has a tremendous impact on how we go through our day to day and how we're treated by the world.
Aidy Bryant gave fat ladies everywhere a weekly escape into a brightly lit world where the fattest girl in the room was universally understood to be one of the funniest, coolest, and most beloved people. I have no qualms with my fatness and fully believe anyone who has something negative to say about my size can unpack their bulls*** on their own time, but I'd be lying if I didn't say it was exhausting to deal with fatphobia 24/7. Aidy Bryant will continue to soar without "SNL," but I'm selfishly bummed that my screen won't be blessed with her brilliance every week. There's no replacement for Aidy Bryant, but I can only hope that the ground she's broken for funny fat women everywhere will mean we won't have to wait another 38 years to see another woman like her live from New York on Saturday nights.