Saturday Night Live Star Beck Bennett Leaving The Show After 8 Seasons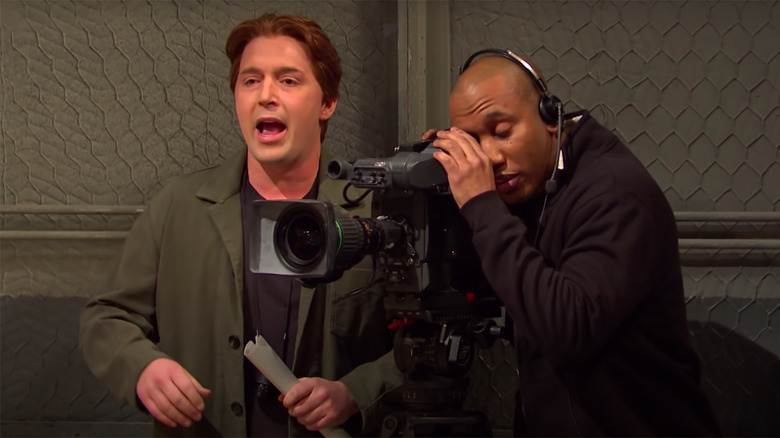 NBC
Now that the premiere of "Saturday Night Live" has been set for October 2, kicking off four back-to-back episodes with first-time hosts, we're starting to get news about which cast members won't be returning. There have been rumblings about Pete Davidson, Cecily Strong, Kate McKinnon and Aidy Bryant possibly leaving the show. Thankfully, they're all sticking around, but there is one key cast member who's leaving, and it still hurts.
Beck Bennett, who joined the cast of "SNL" as a featured player back in 2013 for the show's 39th season, will be leaving the late night sketch series after eight seasons of cracking us up. The comedy star bid farewell to the sketch show in a post in Instagram:
Bennett has been responsible for some hilarious caricatures of famous figures and oddball characters over the years, but more importantly, he's been behind some of the show's more off-kilter pre-recorded sketches alongside his longtime comedy cohort Kyle Mooney, and that could really change things around "SNL."
Beck Bennett Will Be Missed
Beck Bennett wasn't known for creating many original characters on "Saturday Night Live," with the exception of CEO Richard Patterson, a genius executive whose only shortcoming was having the body of a baby. Those simple and silly in its premise, the physical comedy in this recurring sketch was pretty funny.
Where Beck Bennett truly shined was being an everyman chameleon who could play game show hosts, high-ranking government officials, business executives, regular dudes, and complete weirdos. Plus, he was also responsible for solid impressions of Mike Pence, Philip Seymour Hoffman, Nick Offerman, Mitch McConnell, Wolf Blitzer, crazy ole My Pillow founder and CEO Mike Lindell, and Vladimir Putin in all his shirtless glory. And let's not forget his outstanding turn as Vin Diesel celebrating the return of movies, which you can see above.
Honestly, it's a shame that Bennett didn't get some kind of send-off like many longtime cast members have received before. It would have been nice to give him a proper farewell, but some cast members just like to leave without all that pomp and circumstance.
What About Kyle Mooney?
On top of missing what Beck Bennett himself brought to "SNL" for eight seasons, there's another big reason we're going to miss him around Studio 8H. When Bennett joined "SNL" in 2013, he came with his comedy compadre Kyle Mooney. The two made waves on improv stages and the web as the comedy troupe Good Neighbor, and they often brought their unique comedic sensibilities to "SNL" in the form of pre-recorded sketches that filled the gap left by the departure of Andy Samberg and The Lonely Island crew. On top of quasi-autobiographical mockumentary sketches like the one above, they also delivered strange gems like this:
Beck Bennett and Kyle Mooney have a bond like previous "SNL" cast members such as Chris Farley & David Spade or John Belushi & Dan Aykroyd. They worked so well together over the years, and they've continued to deliver the kind of alternative comedy that "SNL" needs outside of their traditional sketch formulas. From the "Del Taco Shoot" to scenes from "The House," these two just made magic.
So will Kyle Mooney still be able to deliver those kind of sketches with Beck Bennett to join him? Mooney has done plenty of strange humor on his own, so it's not out of the realm of possibility, but I wonder if he'll be leaving the sketch show soon as well (though clearly not this season since all the other regular cast members are coming back). Mooney's prospects outside of "SNL" don't seem as great as Bennett, who has been taking supporting roles in various movies throughout his tenure on the show. But Mooney did deliver the under-appreciated indie gem "Brigsby Bear," so he's got plenty of potential to branch out from "SNL" on his own. We'll just have to wait and see what happens.