'Brigsby Bear' Trailer: Kyle Mooney Sets Out To Make His Own Space Adventure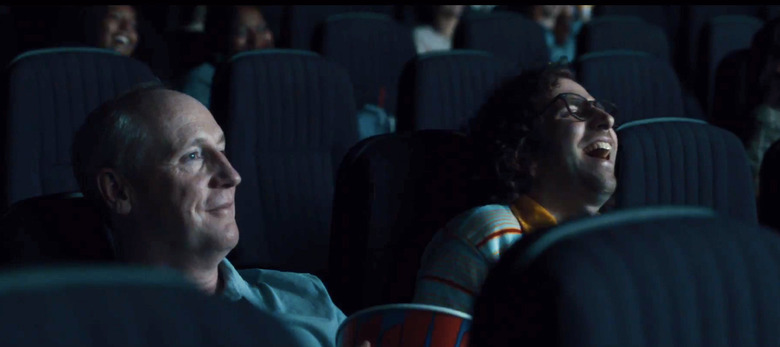 When the /Film crew attended the Sundance Film Festival earlier this year, one of our favorite movies was the comedy Brigsby Bear. The film hails from Saturday Night Live sketch director Dave McCary and cast member Kyle Mooney, and a new trailer finally digs a little deeper into what makes this quirky comedy so damn good.
However, we want to point out that while the new Brigsby Bear trailer gives away a little more of the story than the teaser trailer did, it still doesn't come right out and explain the catalyst for the film's story (though it's not difficult to figure out). Personally, I think the movie is better experienced if you go in knowing as little as possible, but if you're not worried about ruining an interesting turn in the story that happens within the first 10-15 minutes, then just keep on reading after the video. Otherwise, just watch the Brigsby Bear trailer and then go about your day.
First, I'm surprised just how much the more dramatic, touching side of this movie is being pushed over the comedic side of things. Because while this movie does have the spirit of one of those quirky indies that become critical darlings out of film festivals, it's also just as funny – in fact, probably even funnier – than any studio comedy that has been released this year.
But none of the big laughs in the movie are shown in this trailer, which instead opts to focus more on the struggle that our main character has to endure after learning he's been raised by people who kidnapped him as a baby and fed him a steady diet of a faux children's television program called Brigbsy Bear Adventures. Maybe Sony Pictures Classics wants to push the dramatic side of the film since that's their forté, but you should expect to laugh quite a bit when you see this movie.
In addition to Kyle Mooney in the lead role, the cast features an interesting assembly of talent that includes Mark Hamill, Greg Kinnear, Claire Danes, Ryan Simpkins, Andy Samberg, Michaela Watkins, Jane Adams, and Chance Crimin.
Brigsby Bear Adventures is a children's TV show produced for an audience of one: James (Kyle Mooney). When the show abruptly ends, James's life changes forever, he sets out to finish the story himself and must learn to cope with the realities of a new world that he knows nothing about.
Brigsby Bear hits select theaters on July 28 and will expand in the weeks following.