'Brigsby Bear' Review: A Wonderful, Offbeat Comedy About The Power Of Storytelling [Sundance]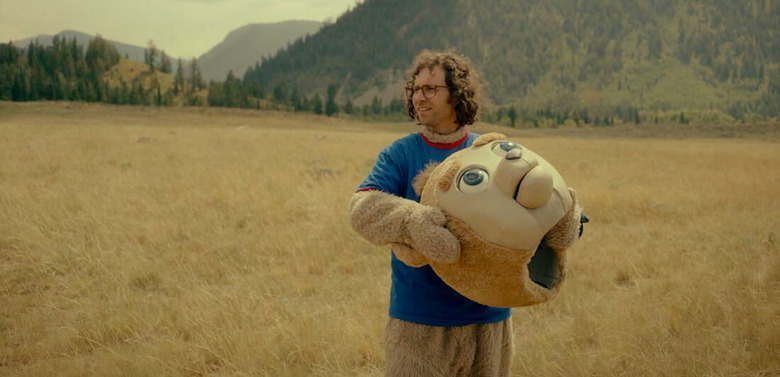 Normally you'll see Kyle Mooney on television whenever there's a new episode of Saturday Night Live. He's one of the primary cast members, and he's made quite a name for himself as one of the driving forces behind the next generation of SNL Digital Shorts, following the departure of Andy Samberg and his Lonely Island counterparts Akiva Shaffer and Jorma Taccone. Now they've all teamed up, along with some other SNL talents, to deliver one of the comedy gems of the 2017 Sundance Film Festival.
Brigsby Bear is an offbeat, original comedy about a 25-year-old man who has his entire world thrown into upheaval when he learns a terrible secret about his parents and everything he's been taught by them. What follows is a hilarious adventure of self-discovery that is essentially a love letter to storytelling and the power it has in all our lives.
Read on for our full Brigsby Bear review.
The film opens with vintage VHS footage of an old fictional TV show called Brigsby Bear. Calling back to the children's programming of the 1980s featuring puppets, people in giant animal suits, and helpful lessons, the show follows a talking bear who heads off on adventures through time and space. Brigsby Bear battles a giant talking sun with artifacts like magical crystals that only work properly if a math problem is solved correctly.
This just so happens to be the favorite show of James (Mooney), who is living in a bunker with his parents Ted (Mark Hamill) and April (Jane Adams). He has every episode on tape, and they line the shelves of his room, which is covered with every single bit of Brigsby Bear merchandise you can imagine, from a bedspread to action figures. Following each new episode, he gets online for a webcam recap for fans on the internet to watch and comment on.
When he's not obsessing over Brigsby Bear, he's keeping up on his studies, with an emphasis on complex-sounding math, and having dinner with his parents, where they begin each meal with a peculiar prayer and a handshake of goodwill. Other time is spent inside of a plastic dome on the ground level above their bunker where an artificial landscape area, complete with a mechanical fox, is within view. It's all very strange, and it only gets weirder.
One night, instead of going to bed after the power generator shuts down for the night, he tosses on a gas mask and heads to the surface to sit on the roof of the bunker entrance and just watch the dark desert landscape. James' time of reflection is quickly interrupted, though, when a stream of police cars come roaring in. They chase him into the bunker, apprehend his parents, and take him into police custody. It turns out James' life has been a lie. Ted and April kidnapped James when he was a baby, and they've been raising him in their own weird way his whole life.
All of this happens within the first 15 minutes of the movie, and the story really begins when James is sent to live with his real parents (Matt Walsh and Michaela Watkins) and teenage sister Aubrey (Ryan Simpkins). Now James is forced to confront the fact that everything he thought he knew about the world has been presented to him with an extremely skewed perspective. That includes his favorite show Brigsby Bear, which his father Ted was responsible for producing for him.
Much of the comedy in Brigsby Bear comes from James navigating and becoming familiar with the world around him. This includes picking up phrases like "dope as shit" and using them at inappropriate times or finding out about the existence of entertainment other than Brigsby Bear –including a movie called Hockey High, featuring a coach played briefly by Tim Heidecker and a tone that feels an awful lot like a parody of The Mighty Ducks. This mystifying trip to the movie theater with his father ends up being the catalyst for James coping with his new beginning as he decides that he wants to pick up where his "old dad" left off and make his own Brigsby Bear movie.
It's in this plot device that we get the charm and magic of the movie. James takes solace in learning everything he can about making movies, and it ends up being the gateway to connecting to the world around him, including his sister and her teenage friends. Brigsby Bear uses cinema as a way of discovering your own identity, making friends, and never giving up, even in the face of harsh adversity.
Brigsby Bear is every bit as quirky as it is heartfelt. Mooney plays James so earnestly that while you laugh at him for behaving so awkwardly, you feel genuine compassion for him when he's figuring out his place in the world. I have a feeling we'll be seeing him doing much more outside of SNL sooner than later. Other members of the supporting cast deliver plenty of greatness too, including a helpful detective played by Greg Kinnear, Beck Bennett as a fellow police officer, Claire Danes as James' therapist, some new friends played by Jorge Lendeborg Jr. and Alexa Demie, and a funny bit part played by Andy Samberg.
However, easily the most entertaining and impressive part of Brigsby Bear are the various clips from the faux TV show in question. It's clear that Mooney and co-writer Kevin Costello spent many hours creating the world and characters of Brigsby Bear, and an incredible art department and production design team from Stoopid Buddy Studios (Robot Chicken) brought it to life masterfully. Helping the show even more is a fantastic array of voices for various characters, all done by Mark Hamill. The depths of the show's mythology expands even beyond these clips as James frequently rambles off extensive bits of encyclopedic knowledge about various adventures.
Dave McCary in his feature directorial debut does an incredible job balancing comedy with some real drama, and an even better job making something so outlandish feel so grounded and sincere. The result is a film with a truly original story, a passion for filmmaking, an abundance of hysterical comedy, and one big heart. Brigsby Bear is a love letter to storytelling, filmmaking and following your dreams, and in a world as troubled as ours is today, we could all learn a thing or two from this space-trekking bear.
/Film Rating: 9 out of 10