Saturday Night Live Loses Three More Cast Members Before Season 48 Begins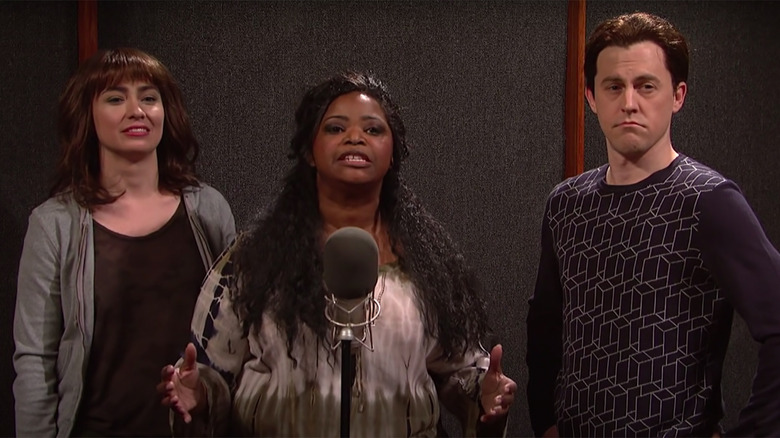 NBC
At the end of the 47th season of "Saturday Night Live" earlier this year, the late-night sketch comedy series lost some longtime key players. Kate McKinnon, Aidy Bryant, Kyle Mooney, and Pete Davidson were all given a farewell on the season finale back in May, but now The Hollywood Reporter has learned that three more cast members are leaving "SNL" before the show's 48th season begins. 
Repertory players Alex Moffat and Melissa Villaseñor (seen above in an episode with host Octavia Spencer) will not be returning after spending six seasons on the long-running series, and featured player Aristotle Athari has exited the show after just one season. 
How will this impact the cast dynamic at "SNL" this season? Let's break it down.
Alex Moffat and Melissa Villaseñor
Both Alex Moffat and Melissa Villaseñor have been at "SNL" for six years now. They started as featured players in 2016, and after two years, they were promoted to regulars. Staying on the show for six years is quite an achievement, and it's actually on the longer side of a typical cast member's tenure.
Villaseñor never really made a breakthrough with any original characters — she's especially known for being a chameleon, impersonating the likes of Alexandria Ocasio-Cortez, Dolly Parton, Gwen Stefani, Owen Wilson, and Lady Gaga. However, while she's not really known for her original characters, here's one from last season that was rather hilarious:
Meanwhile, Moffat was able to get some original recurring characters off the ground, such as The Guy Who Just Bought a Boat and film critic Terry Fink. But he's also done a fair share of impressions, including President Joe Biden, Hugh Grant, Chris Hemsworth, and the bowtied troll wearing human skin known as Tucker Carlson. But perhaps his best "impression" is that of Donald Trump's dimwitted son Eric Trump alongside Mikey Day as Donald Trump Jr., an exaggerated take on the douchebros that was always good for a laugh
So why are they leaving? Well, for Moffat, it seems like his career is expanding, and it's just time for him to move on. He'll soon be seen in the "Ted Lasso" co-creator Bill Lawrence's upcoming Apple TV+ series "Bad Monkey" alongside Vince Vaughn, and he has several film roles coming up as well. 
As for Villaseñor, she doesn't have any upcoming TV shows or movies that we're aware of yet, though she's meant to appear in a couple of upcoming shorts. In this case, it seems like Villaseñor feels like she's accomplished everything she can at "SNL," and she might have been disappointed with the lack of screen time in the sketch series. After all, she was rather honest and open on social media earlier this year about how "SNL" had been utilizing her on the series. So maybe it was just time for her to move on and take her career elsewhere.
Say for me?
Finally, Aristotle Athari is one of the many cast members who has only spent a single season at "SNL" as a featured player before departing the series. We're not sure if Athari left of his own volition or if he wasn't invited back. Either one feels like a possibility for the same reasons. With such a huge cast, Athari didn't get many opportunities to stand out. The only time he was able to get the spotlight was with the original character Angelo (seen above), who he created before joining "SNL," that popped up a couple in season 47, not to mention getting cut for time on several occasions. Athari also has a solid Weekend Update character in the form of a stand-up comedy robot.
Unfortunately, that may not have been good enough. But even if Athari wasn't asked to leave, there's a chance that his career might blossom more fruitfully outside of "SNL," which is not only a highly competitive environment but also still has a sizable cast that can make it difficult to get screentime. The comedian was already successful enough to land a spot on "SNL," and with one season under his belt, he'll be able to keep his career going strong. I wouldn't be surprised if we see him popping up here and there down the road. 
Now we just have to wait and see if any new cast members will be added in the wake of the six total departing talents. As of now, we don't know when the 48th season of "Saturday Night Live" will premiere, but new seasons typically begin in September, so we should have details soon. Stay tuned.