Vince Vaughn To Star In Apple TV+ Drama 'Bad Monkey' From 'Ted Lasso' Co-Creator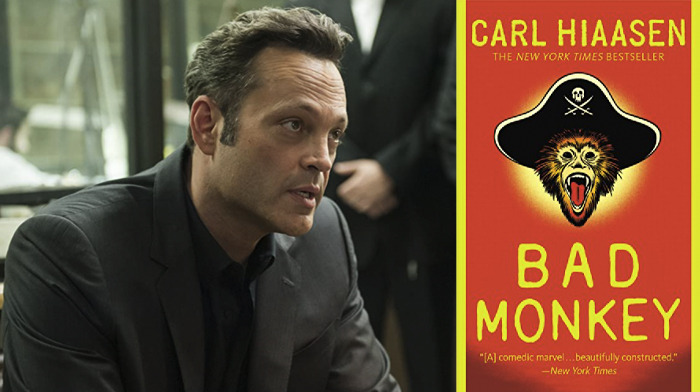 Vince Vaughn is about to become the next Florida Man.
Vaughn is set to star in Bad Monkey, a television adaptation of author Carl Hiaasen's Florida-set novel about a former detective who gets caught up in a possible murder investigation after a tourist finds a severed arm while fishing. Bill Lawrence, the creator of Scrubs and co-creator of Ted Lasso, is the mastermind behind this series, which will be on AppleTV+. More details are below.
Lawrence is reportedly writing every episode of Bad Monkey's ten-episode first season, and he'll executive produce alongside Vaughn, Matt Tarses (The Goldbergs), and Jeff Ingold (Whiskey Cavalier). Liza Katzer (Ted Lasso) is co-executive producing.
What is Bad Monkey About?
Carl Hiaasen, a Florida native who spent decades working as a journalist and writing novels set in the Sunshine State, originally wrote Bad Monkey as a book that was published in 2013. (If you've never read his work, it's in the same vein as someone like Elmore Leonard.) Here's the official synopsis for the adaptation:
Bad Monkey tells the story of Andrew Yancy (played by Vaughn), a one-time detective demoted to restaurant inspector in Southern Florida. A severed arm found by a tourist out fishing pulls Yancy into the world of greed and corruption that decimates the land and environment in both Florida and the Bahamas. And yes, there's a monkey.
Two of Hiaasen's previous books have been adapted into movies (1996's Striptease, starring Demi Moore and Burt Reynolds, and 2006's Hoot, starring Luke Wilson and Brie Larson), but this will be the first TV show based on his work.
Vaughn recently played a supporting role on HBO's Curb Your Enthusiasm and his last big TV series was True Detective season 2, which received mixed-to-negative reviews. He feels like a strong fit to play a down-on-his-luck former investigator: he's proven that he has the motor-mouthed skillset needed to be able to talk himself into (and out of) just about any situation, and his physicality should prove an asset when dealing with what will apparently be a key monkey character. I'm excited to see who else fills out the supporting cast of eccentric characters in this series. I haven't read this specific book, but Hiassen's novels are never short on weirdos, and they're typically the types of characters that actors can have a lot of fun playing.
If you're looking to see more of Lawrence's work before Bad Monkey makes it to the streamer, Ted Lasso season 2 is currently being rolled out week by week on AppleTV+, and a third (and possibly final) season of that show has already been ordered.