Colin Farrell Created A Backstory For Each Of The Penguin's Scars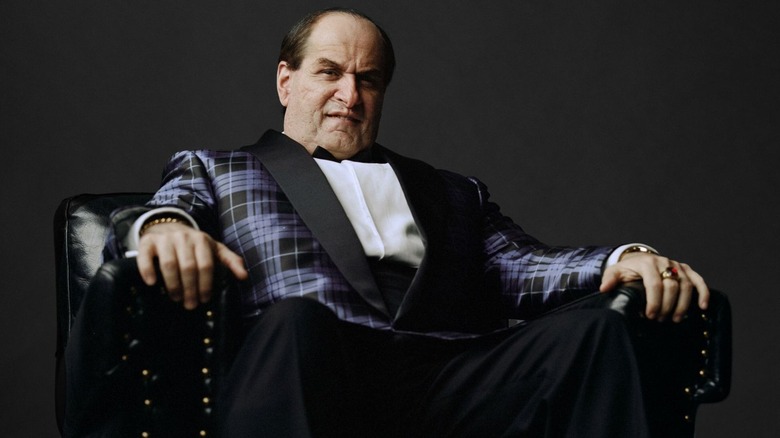 Warner Bros.
In Matt Reeves' 2022 film "The Batman," now currently available to stream on HBO Max, Irish actor Colin Farrell plays Oz Cobblepot, a drug-dealing, gnashing criminal nicknamed The Penguin after his taste in suits and his thick-necked visage. The character is the lieutenant of Gotham City's biggest crime lord, and provides an otherwise deeply dour movie with a few moments of much-needed levity. In an interview with Far Out Magazine, Reeves compared The Penguin to Fredo, the character played by John Cazale in "The Godfather." 
The Penguin, a casual observer will immediately notice, looks nothing like Farrell, and it took prosthetic makeup designer Mike Marino and prosthetic artist Mike Fontaine hours and hours to get Farrell camera ready as the scarred, balding, rough-skinned Cobblepot. 
In James Field's "The Art of the Batman," a new sourcebook that collects the inspirations, designs, and painstakingly created visuals of the film, Marino and Fontaine talk about the process of creating The Penguin, and how Farrell — expertly plying his craft — came up with a backstory for each one of his character's scars. Says Marino:
"Matt [Reeves] had some ideas on what he wanted The Penguin to be. He wanted something that was a little pathetic and a little sympathetic. He was referencing Fredo from 'The Godfather,' and the look of Bob Hoskins. I kind of sculpted Fredo's brow onto Colin as close as I could, and then I started tweaking it from there. It just developed into this strange mob kind of character and a scarred-up, grizzled, heavy guy with maybe an insecurity."
The story of the scars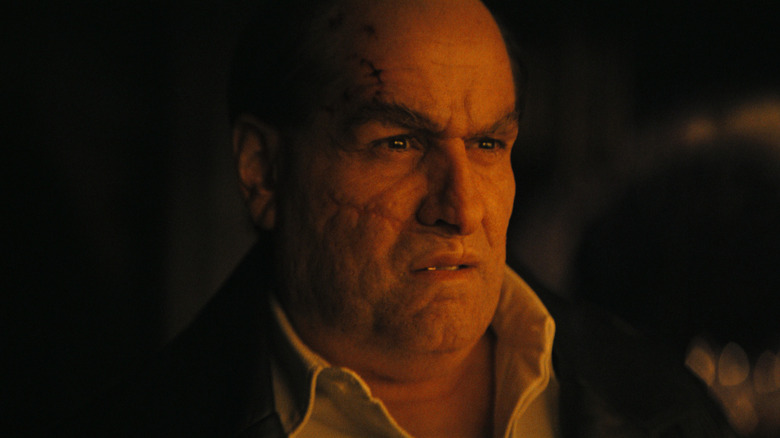 Warner Bros.
Depending on the rehearsal process on each individual film, sometimes actors are asked to write essays and books on their characters. Giving your character a full life and backstory will, presumably, make them appear more nuanced and authentic on screen or stage. An actor may hate their character as a viewer, but no actor can hate their character when they're playing them; no one wakes up in the morning thinking "I'm the villain." 
In "The Art of the Batman," Farrell talks about how seeing himself in makeup was an informative experience when it came to playing Oz: 
"You look at his face and you see some scars. It was fun creating a backstory for every single mark and every single issue that he has, because there's a wealth of a kind of information, of personal history that one can design. You would hope that from thinking about it — even subtextually or unconsciously — this information finds its way into the character and onto the screen. But certainly lends itself to much more [authenticity]."
Indeed, the makeup was so heavy on Farrell that it weighed on the musculature of his face and changed the way he spoke. Farrell, while reading lines in the Penguin makeup, found more elements of the character emerging: 
"Marino recorded a little piece of me in the makeup. I didn't feel like I was ready, but he asked me a few questions and I answered then. And then when I saw it back, I thought 'That sounds good!' Because my voice actually sounds different. The timbre of it sounds different. It sounds like it's in a different place. It sounds heavier. It sounds like it's struggling a bit more."
The makeup process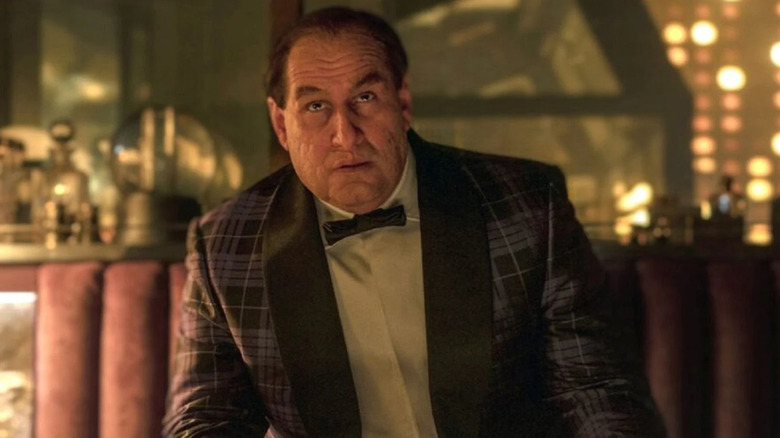 Warner Bros.
According to "The Art of the Batman," the Penguin makeup took anywhere from three-and-a-half to four hours to apply, and was made of several facial prosthetics, including cheek pieces, a false nose, a brow, and even ears. Says Marino:
"Once the pieces are glued on, then we start painting it, airbrushing different tones and colors and ambers and reds and all these things to match his skin tone as close as possible. Some of the things that I wanted to get rid of were some of the signature things on Colin Farrell, like his eyebrows. I created this shape of his eyebrow like a penguin. And if you look on the side of his profile, I threw in a little subliminal bird beak, the way his nose is shaped, 'cause it looks like a chipped-up scar. So, it looks like a penguin beak from the side."
The makeup was so good, Farrell fooled his co-stars on set. Says Zoë Kravitz, who plays the catburglar Selina Kyle: 
"He walked right up to me, and I was looking for Colin in there and I couldn't see him. Still to this day, actually, 'cause l've only met Colin a few times outside of this film, I feel like I don't know Colin Farrell. I know The Penguin." 
It seems like everyone is pretty happy with how things turned out because this version of The Prenguin will soon be featured in his very own TV series. Farrell and the makeup artists sought to create an original character, and it seems they have succeeded.