New She-Hulk Clip Gives Us Our Best (And Quippiest) Look At Daredevil Yet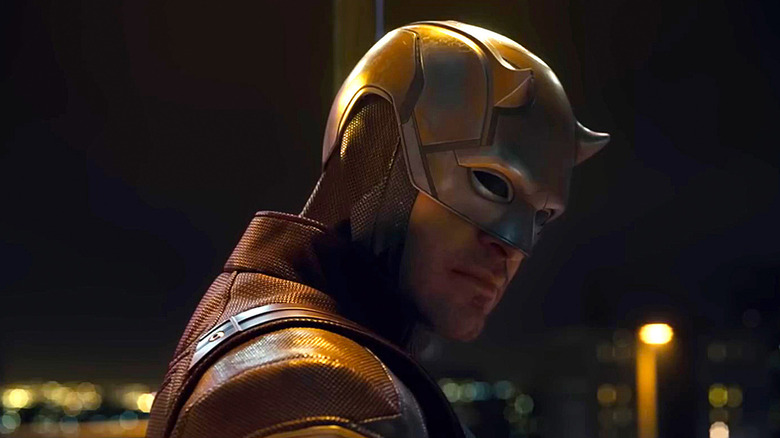 Disney+
"She-Hulk: Attorney at Law" has been a pleasant surprise for the Marvel Cinematic Universe. The show is a more comedic, self-aware, light-hearted take on the Marvel formula (that nevertheless tackles some serious subjects, like the importance of therapy) and has done more to make the MCU feel like a lived-in place full of superheroes than most other movies and TV shows in the universe. Indeed, the past few episodes have really made this feel like a universe full of heroes and villains, and finally brought one of the most essential elements of superhero comics to the MCU: the tier list.
Indeed, though "She-Hulk" started with an appearance from Hulk, it has now introduced way smaller and weirder comics characters like Man-Bull, Porcupine, and Alejandro Montoya. After 10 years of seeing our heroes beat up (and usually kill) their most popular villains, it is a good change of pace to see some smaller villains that might become a nuisance, but not a major threat to anyone.
But that's all gone this week, because "She-Hulk: Attorney at Law" is finally giving the people what they've wanted since the very first trailer dropped — an appearance by the other famous superhero lawyer: Matt Murdock, aka Daredevil.
Say hello to Matt Murdock, again
We've seen the same clip over and over, we've obsessed over the change in color palette for the new suit, we've cheered when Disney announced a new "Daredevil" TV show coming to Disney+, and after a very brief cameo in "Spider-Man: No Way Home," we're ready for Charlie Cox to don the suit once again.
Ahead of tomorrow's episode, ET Online shared a clip from tomorrow's "She-Hulk: Attorney at Law" episode, which shines a light on how exactly our mean, lean, green lawyering machine is going to meet the Devil of Hell's Kitchen. In the short clip, we see Cox's Daredevil chasing Eugene Patilio, aka the villain Leap-Frog (Brandon Stanley). We don't know the nature of their fight, but it presents a conflict to Jennifer Walters, who is representing Patilio as her attorney.
Even more than the suit, the clip serves to show the MCU's brand new take on Daredevil, meaning he now throws quips and one-liners! For good or bad, we hear She-Hulk tease that she is going to whoop Daredevil's ass, before he evades a punch and responds with "my ass remains un-whooped." This, of course, is a vastly different portrayal than the somber, very Catholic guilt-ridden Matt Murdock from the Netflix show, and it remains to be seen if audiences embrace this new Daredevil.
"She-Hulk" streams new episodes Thursdays on Disney+.