She-Hulk Episode 6 Introduces The Leader Of The Great Lakes Avengers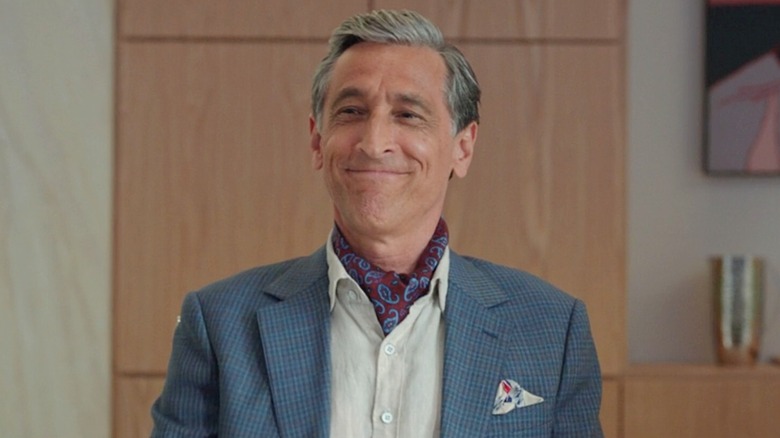 Disney+
Over the course of "She-Hulk: Attorney At Law," True Believers have been introduced to a number of interesting, obscure, and unforgettable characters. We have yet to meet Frog Man at this point in the show, but appearances from the Wrecking Crew, Titania, and Madisynn King (with Wongers) have certainly held us over until that day finally arrives. However, in the latest episode of the Disney+ series from Jessica Gao, the show makes the deepest cut to date and pulls out one of the most obtuse characters in all of the Marvel Universe and utilizes him in an absolutely hilarious way.
While Jennifer Walters is off at her high school friend's wedding, Nikki Ramos and Mallory Book are left to deal with a superhuman divorce case. Although, this assignment proves to be more difficult than anticipated when their client possesses the ability of immortality. So when it's revealed that he's a deadbeat who "dies" to end his relationships and avoid confrontation rather than amicably end his many marriages, they certainly have their hands full. And this man taking "til death do us part" entirely too literally comes directly from the pages of Marvel Comics. Presenting Craig Hollis AKA Mr. Immortal.
Mr. Immortal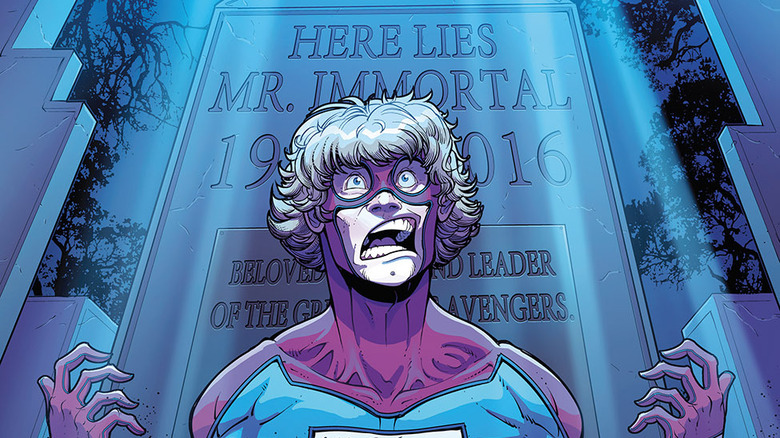 Marvel Comics
Created by comic book legend John Byrne for "West Coast Avengers," Mr. Immortal is an inherently dark character that ends up in silly situations because he's constantly surrounded by death. When he was born, his mother asked the cosmic entity Deathurge to protect her son since she was about to die while giving birth. Though he agreed, he would encourage destructive behavior in Craig like playing in traffic, setting fires, and falling in love with his foster sister. But in Deathurge's mind, he was preparing the young man for his ultimate purpose: To stay alive in order to be the sole survivor of the universe and learn its grand secrets at the end of all things. Apparently, this is also a fate that is meant for Franklin Richards, so Hollis is more of a backup. But it's not like the young Future Foundation is having his loved ones regularly killed around him like Mr. Immortal.
Regardless of his bleak origins, Craig sees great potential in his superpowers and decides to become a superhero. Although, since his first outing ended with him getting shot and left for dead while attempting to foil a bank robbery, Mr. Immortal realized that he needed to be a part of a team of superheroes in order to actually be useful.
Great Lakes Avengers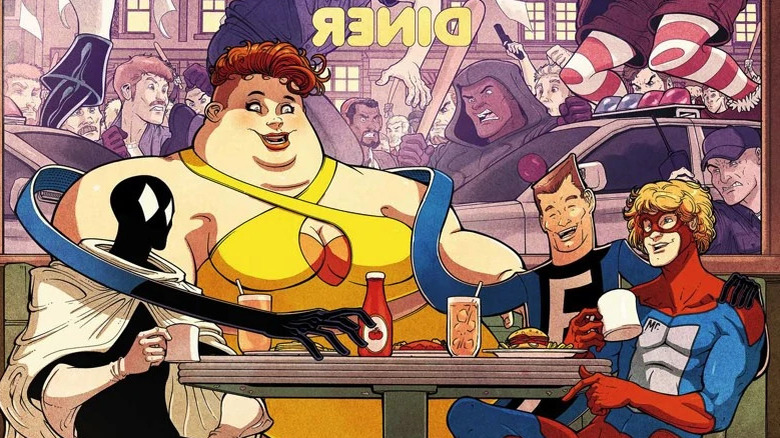 Marvel Comics
Along with Dinah Soar, Big Bertha, Flatman, and Doorman, Mr. Immortal founded the Great Lakes Avengers. They set up shop in Milwaukee, Wisconsin and became the premiere superhero team of the midwest as they dealt with the Thunderbolts, Skrulls, and Fing Fang From. Eventually, they're joined by the unbeatable Squirrel Girl and they go through a number of changes as a team.
For instance, after they receive a cease and desist for using the Avengers branding without being officially affiliated with them thanks to Hawkeye, the team changes their name to the Lightning Rods while working with the Thunderbolts. When that team was revealed to be the Masters of Evil in disguise, the Great Lakes Avengers became the Great Lakes X-Men since they realized that they were all mutants. Marvel Girl put a stop to that name, so the team went through the Great Lakes Champions and the Great Lakes Initiative before they officially became a sanctioned Avengers team in 2016 and were able to revert to their original name.
As you can see from this brief history, the whole idea behind the Great Lakes Avengers is a bit of a joke. But even Earth's Mightiest Heroes come around eventually and see the value in this island of well-meaning, midwestern, misfit toys. Writers like Byrne, Dan Slott, and Zac Gorman certainly had a lot of fun working with them, which resulted in a bit of a cult following among Marvel fans. So with popularity like that, the next logical step was a live-action adaptation.
New Warriors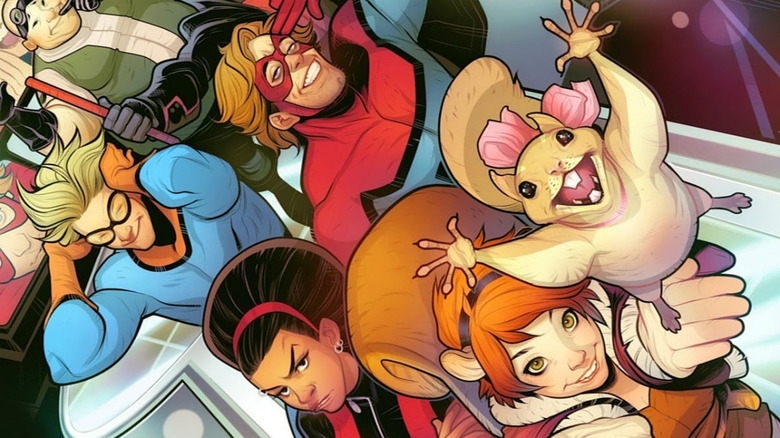 Freeform
On "She-Hulk: Attorney At Law," Mr. Immortal is played by David Pasquesi, who is best known for his roles in "The Book of Boba Fett," "Veep," and "Strangers With Candy." However, this wasn't supposed to be the first time that we would be seeing Craig Hollis in the Marvel Cinematic Universe.
Before Marvel Television was folded into Marvel Studios, "Cougar Town" co-creator Kevin Biegel was developing a sitcom called "New Warriors" for Freeform. Starring Derek Theler as Mr. Immortal and Milana Vayntrub as Squirrel Girl, the show would have featured a young group of heroes with offbeat superpowers would unite to take on threats under the Avengers' radar while finding their place in the world. It was also meant to be an amalgamation of lesser-known Marvel Comics teams the Great Lakes Avengers and the New Warriors.
In 2017, "New Warriors" received a 10-episode order and a pilot had been shot by the fall of that year. While a 2018 premiere seemed imminent amidst talks of multiple spinoffs and positive test screenings, the series was ultimately pulled from the Freeform schedule by the end of 2017 and shopped around to different partners. However, the project was officially shelved in September 2019. According to a series of tweets from Biegel in 2021, "a singular power-that-be killed the show. Because it was too gay. [...] He got fired for being vile at his company." Since the former showrunner clarified that he wasn't referring to Marvel Television Head Jeph Loeb, it was clear that he meant former Marvel Entertainment chairman and CEO Ike Perlmutter. So while we have Perlmutter to thank for this incarnation of the New Warriors being absent from the MCU right now, at least we have Mr. Immortal now and possibly in the future.
On to the next life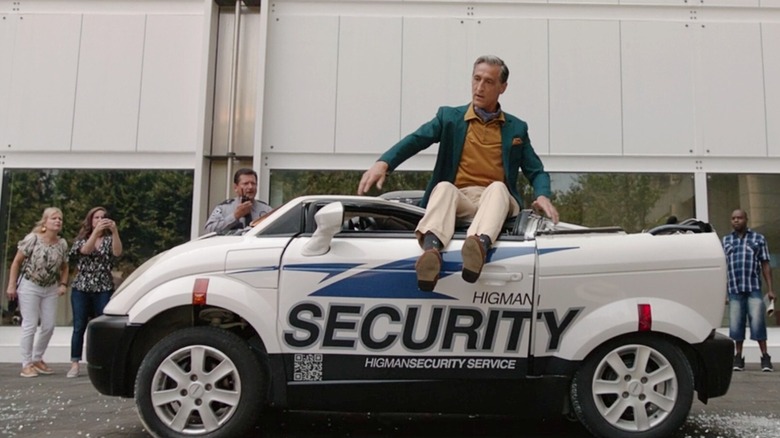 Disney+
While Pasquesi's Hollis could have easily been a one-off character for "She-Hulk," there's a lot of potential to bring him back. Since he was advised to pay off his former partners to avoid any potential criminal charges due to the way he ended his relationships, it's possible that the riches he spoke of in the episode could have greatly diminished. Unlike his comic book counterpart, who sees his superpowers as a tool to help people, the MCU version of the character could turn his powers into a money-making venture and look to take advantage of some good people in trouble by forming a team. This could essentially be a Z-list Heroes For Hire that would eventually feature Mr. Immortal's Great Lakes Avengers or New Warriors compatriots. Squirrel Girl could even teach Mr. Immortal that being a hero is a greater reward than making money or something along those lines.
Whether this happens in a future episode of "She-Hulk: Attorney At Law" (because seriously, please give this show a second season) or a completely separate spinoff, this sounds like the perfect opportunity to explore the comedic side of the MCU further. Their first foray into sitcoms is wildly successful and the next one has seemingly just presented itself. Hopefully Kevin Feige will agree with this idea and we can finally get a live-action Squirrel Girl on our screens one way or another.
New episodes of "She-Hulk: Attorney At Law" premiere every Thursday on Disney+.