Charlie Cox Explains Why He Was All In On Playing Marvel's Daredevil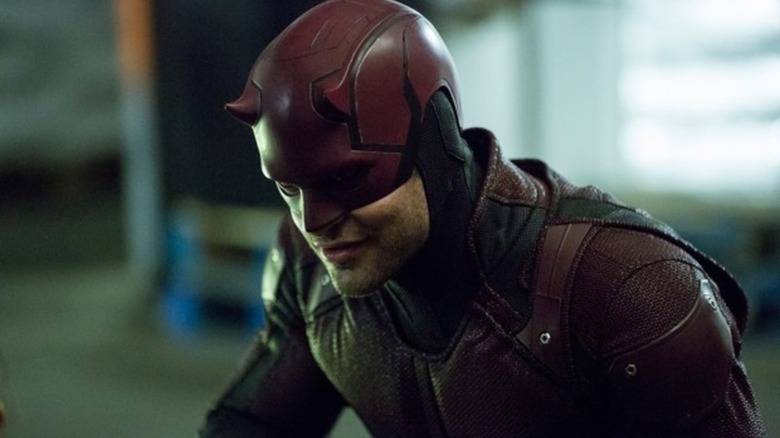 Netflix
Of the Marvel Netflix series, "Daredevil" still holds my top spot. It was the first one on the streamer, and it pulled no punches. This series showed us a darker side of the life of a superhero, with powerful fight scenes and a whole lot of angst. Charlie Cox hasn't yet signed on for the reboot of the series that is coming from Disney+, but it's on the way. Cox and his "Daredevil" co-star Vincent D'Onofrio will, however, appear as Daredevil and Kingpin respectively in the upcoming Disney+ series "Echo."
Cox originally seemed like an unlikely choice (to me at least) for someone who can fight so brutally, but once you see a few moments of the first episode, it all falls into place. The show is a good one for a rewatch, and since it's streaming on Disney+, you can do that right now. There are so many moments that really grab you in the series, particularly the huge corridor fight in season 1. 
A lawyer with a conscience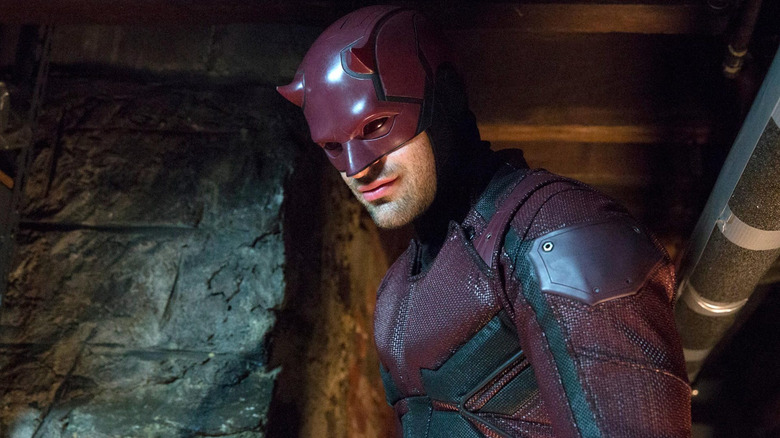 Netflix
If you're unfamiliar with the series, Cox plays Matt Murdock, a blind (sort of/mostly/kind of with exceptions) lawyer who is a superhero at night. He's also Catholic, which is rough if you're dealing with a lot of rage that makes you want to beat up bad guys in your spare time as the Marvel superhero Daredevil. If you saw the Ben Affleck movie version, please don't judge this amazing character from that. I like Affleck very much, and it's not his fault, but you really should watch this instead before you decide on your feelings.
Nowadays, our Marvel Disney+ series are a major part of the MCU, but the Netflix shows ("Punisher," "Jessica Jones," "Luke Cage," "Iron Fist," and "The Defenders") were dealing with a very gritty New York City, and not the larger world. A few MCU superheroes were mentioned vaguely in all the Netflix series (like when they refer to the Hulk as "the green guy"), but they never interacted. Cox spoke to Esquire back before the second season about why he was all in on taking the lead role in "Daredevil."
Hallway fight!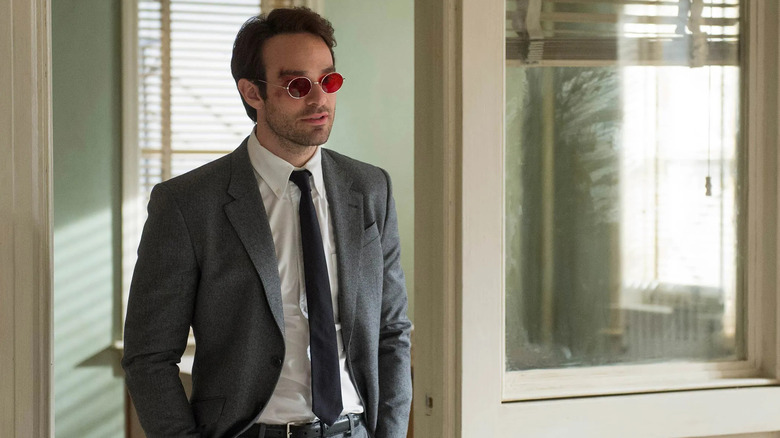 Netflix
Cox told the site that he auditioned first without reading the scripts, but when they did get to him, they were great. He said, "I was blown away by how good they were. I was a fan of the Marvel movies, but I hadn't read anything they had done that was this dark and geared to a much more mature audience." 
Not only that, but the aforementioned corridor fight scene in the second episode of season 1 was a big one. Cox worked with a trainer every single day, worked out and ate what he was told. It was a lot of prep, but necessary because the scene itself was done in a single take. He explained:
"That particular scene required immense amounts of moving parts and detail and we had to get it right because it was all one take. It was very tiring, very physically challenging. Of course I have a stunt double, but I do a lot of the work as well and I really enjoy that aspect of it."
Cox also spoke about what it was like to actually perform the fight scenes. It sounds pretty brutal for something that is choreographed:
"Obviously there is no CGI in our show and there was a real intent to keep it grounded. In reality, when two people fight, they grapple and they don't necessarily connect all of their punches. People get in headlocks and they try and get in under the other person's ribs and all that kind of stuff, so we wanted to stay true to that. And of course every now and again Daredevil manages this three-sixty flip-kick."
I mean, I'm certainly up for more scenes like that, if Disney+ doesn't shy away from them. Can we get Steven S. DeKnight back as showrunner? Please and thank you.