One Spider-Man: No Way Home Cameo Was Almost More Than A Cameo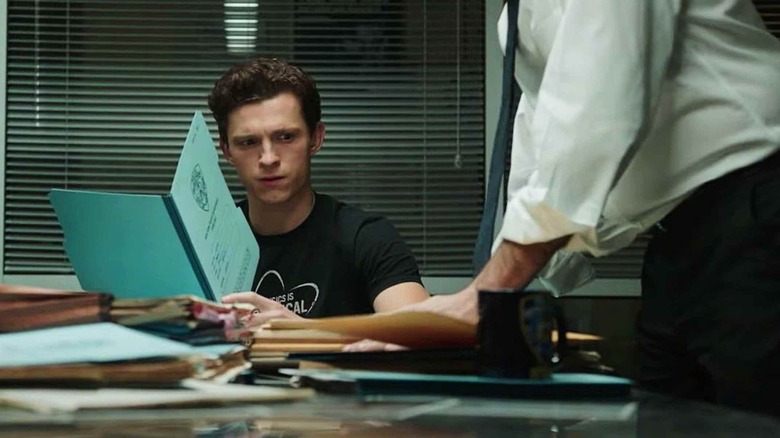 Sony Pictures
This post contains spoilers for Spider-Man: No Way Home.
"Spider-Man: No Way Home," aka The Movie of Many Cameos, is the latest and greatest expansion to Marvel's already enormous cinematic universe. After all, what's the point of all this ding-dang corporate synergy if not to give us exciting Easter eggs? Peter Parker's (Tom Holland) latest adventure is chock-full of them. Trying to survive the aftermath of Mysterio's scheme to ruin his life sends Peter right into the sanctum of Doctor Strange (Benedict Cumberbatch) for some very safe multiversal magic that definitely doesn't have any lingering consequences. Haha, just kidding. But on the bright side, cracks in the multiverse are very promising when it comes to MCU cameos.
But even before the multiversal chaos even begins, "No Way Home" kicks off with a major bang: being framed for murder gets Peter arrested by the Department of Damage Control. And while our poor high schooler being arrested is rough, it means Peter gets to spend time with everyone's favorite Marvel lawyer, Matt Murdock, once again played by "Dardevil" series star Charlie Cox. (She-Hulk might be stepping in to steal that title from him soon but for now, Mr. Murdock is undefeated.)
If you aren't aware of the world's love for him, just catch "No Way Home" in a theater and listen to the cheers echo through the room when he arrives. Matt's appearance in the film has a moment of built-in silence, probably because Marvel knows from "Endgame" experience that loud cheers will inevitably accompany the return of our beloveds. Further proving Matt Murdock supremacy is the way "Daredevil" rocketed back into popularity after the Cox appeared onscreen for a grand total of 60 seconds. Moral of the story? People love them some Daredevil, and many of us would sell our souls to see him fight his way through enemies in another unforgettable one-take. So, to ask the question on everyone's mind — why wasn't Matt in more of this movie?
Why There Wasn't More of Matt Murdock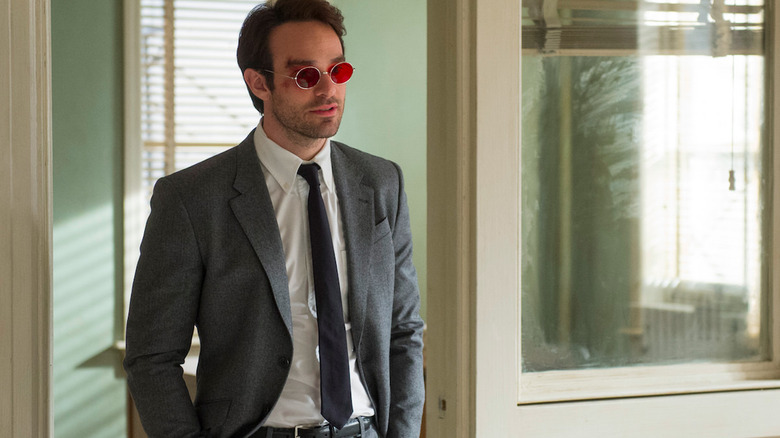 Netflix
Reintroducing Charlie Cox's Matt Murdock into the MCU was just the tip of the iceberg — "Spider-Man: No Way Home" also rehashes three generations of Spider-Man movies. The film has a stacked cast of Spider-Man alumni, including the Green Goblin (Willem Dafoe), Doctor Octopus (Alfred Molina), and Sandman (Thomas Haden Church) from the Raimi-verse, plus The Lizard (Rhys Ifans) and Electro (Jamie Foxx) from the Webb-verse. And then there's the time we spend with Holland's Spidery brethren, Tobey Maguire and Andrew Garfield.
This was a ballsy move for "No Way Home" — Spider-Man movies have a reputation for falling apart when they get too overstuffed. According to screenwriters Chris McKenna and Erik Sommers, having restraint with these cameos was an important part of keeping history from repeating itself. During an appearance on The Q&A with Jeff Goldsmith, (via ComicBook.com) Sommers said:
"The challenge with this movie [was] bringing all these other characters in. We love these characters, and you would love to see them do all kinds of stuff. But the question is, what is there room for? I could watch any of these characters we brought in just do a whole other movie by themselves or in some various combination, but we have to, ultimately, service the story of our Peter Parker and our Spider-Man. No matter how tempting it is. We had so many ideas come up in the room of, 'Wouldn't it be cool if this guy does that, and these two meet and do that...?' There's just so many exciting permutations now that we're playing in this sandbox. But at the end of the day, there was only so much we could do, and we didn't want to do things that would distract from the story of our Peter and our Spider-Man."
This is where Matt Murdock comes in — while the villains and the other Spider-Mans serve a very direct purpose in Peter's (Holland) journey, there wasn't as much room for Matt to stick around. Sommers added:
"Once we knew we were gonna have Matt Murdock, it's like, 'He could do this, he could do that, that would be so cool, wouldn't that be great?' ... But ultimately, we always had to pull back on a lot of things to just make sure we maintained our focus."
As much as I want more Matt Murdock all the time, I do admire the restraint of not letting him sidetrack the plot with his inherent badassery. And judging by the screams of my theater when his walking stick entered the frame, even the tiniest glimpse of Matt is more than enough to get us hyped. Watching him catch a brick is going to fuel fandom excitement for the next few months and build up serious momentum. Maybe even enough to tide us over until his next (?) MCU appearance.