Casting Neil Patrick Harris In How I Met Your Mother Completely Changed Barney's Character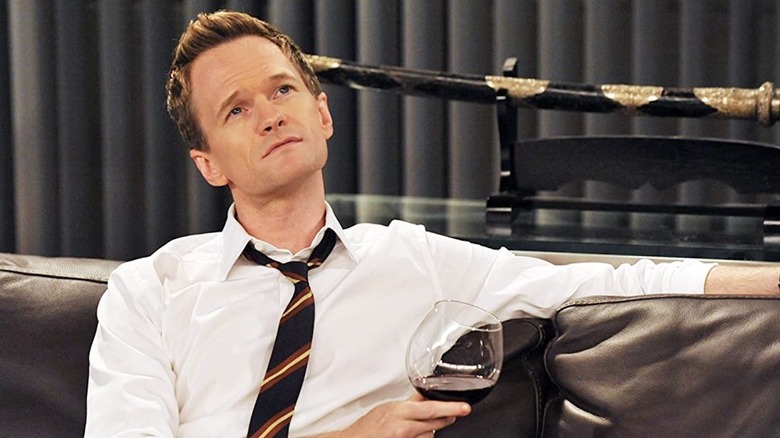 20th Television
Suit up, it's time to discuss everyone's favorite self-proclaimed lady's man. The antics of Barney Stinson may not have aged particularly well here in 2022, but the "How I Met Your Mother" character somehow remains just as beloved today as he was when the show was on the air. There is one reason for that and his name is Neil Patrick Harris. This is not to say series creators Carter Bays and Craig Thomas and their team didn't do an amazing job writing these characters, because they definitely did. However, the show's resident lothario wouldn't have been nearly as lovable if Harris hadn't imbued him with so much heart. Barney does one despicable thing after another, and yet the audience continues to root for him. Harris' performance brought so much depth to a character that could've very easily been little more than a caricature.
Sure, it's true that "How I Met Your Mother" was never truly willing to reckon with the fact that Barney, for the vast majority of the show, was a terrible person. He became a fan favorite, with the writers attempting to redeem him more and more as the series progressed. Whether they had done this successfully by the time that divisive finale rolled around is up for debate, but the reason fans kept clamoring for more of this obviously awful person is because Neil Patrick Harris made him absolutely delightful.
But Barney Stinson was initially written as a completely different type of character. It was Harris' audition that actually began to shape him into the Barney fans would grow to adore.
Not another LA actor's story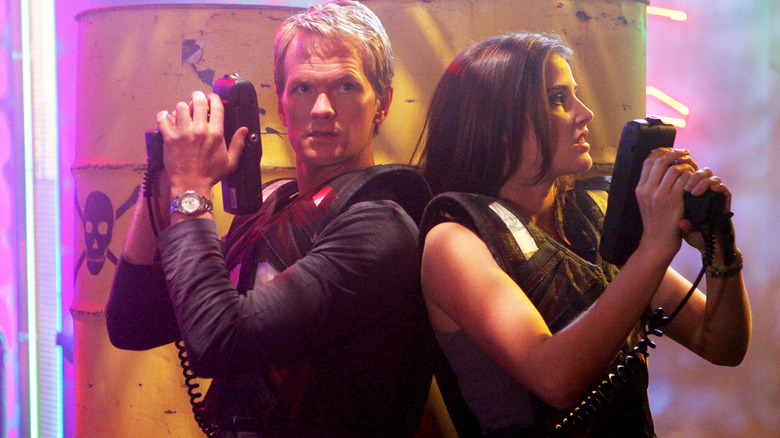 20th Television
Harris told GQ that the part of Barney Stinson was initially intended for a "rotund, cigar smoking Jack Black." With this in mind, the actor felt he had no chance at getting this job. However, he knew the casting director, who assured him, "They like you. They've seen Harold and Kumar." Harris is, of course, referring to his cameo in the 2004 film "Harold & Kumar Go to White Castle," where he played a heavily fictionalized version of himself. This appearance famously cast the actor in a different light than the one in which audiences were used to seeing him. After all, before "How I Met Your Mother," Harris was known best as the titular teen doctor of "Doogie Howser, M.D."
Despite assurances from the casting director, Harris assumed his "How I Met Your Mother" experience would just be "an LA actor's story," because he had spent the day sitting in traffic only to audition for yet another role he wasn't going to get. Because of this, he didn't really care too much about what happened when he actually went in to read for the part. It turns out the audition was the laser tag scene, during which Harris went all out, doing a dive roll right into the desk where everyone sat watching. Harris felt this won them over, making the producers realize that Barney didn't have to be the way they'd initially conceived him.
The actor shaped the role in other ways as well. Harris also revealed that he began flirting with Cobie Smulders' Robin on camera due to his "talent crush" on his co-star. It was their obvious onscreen chemistry that caused Bays and Thomas to write Robin and Barney into a romantic relationship.
A career renaissance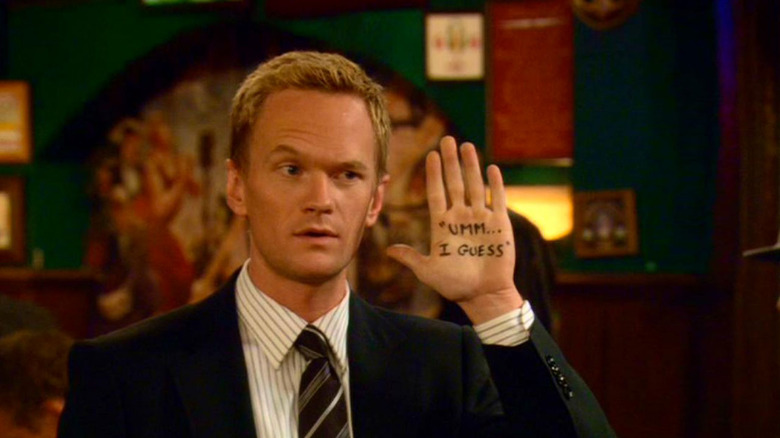 20th Television
"How I Met Your Mother" aired from 2005 to 2014, and Harris' role in the show led to something of a career renaissance for the actor. He may now be most associated with the multi-camera sitcom, but he's kept plenty busy in the years since it ended. He gave a Tony Award-winning performance starring in "Hedwig and the Angry Inch" on Broadway in 2014 and had a memorable part in "Gone Girl" that same year. Harris also hosted the Academy Awards, had a stellar turn as Count Olaf in Netflix's excellent "A Series of Unfortunate Events," and played a pivotal role in the brilliant "It's a Sin."
His resume is far too long to list here, but the actor has had quite a few other unforgettable parts over the years as well — let's never forget about "Dr. Horrible's Sing-Along Blog." Harris' most recent project is "Uncoupled," which just dropped on Netflix last month. The series follows Michael Lawson (Harris) as he does his best to reenter the dating scene after his partner of 17 years abruptly leaves him.
We'll never know what would've happened if Bays and Thomas had cast a different actor as Barney Stinson, but it certainly feels as if the role was written for Neil Patrick Harris specifically. It's certainly impossible to imagine anyone else portraying the character at this point.