Harold And Kumar's Creators Had Grand Ambitions From The Very Beginning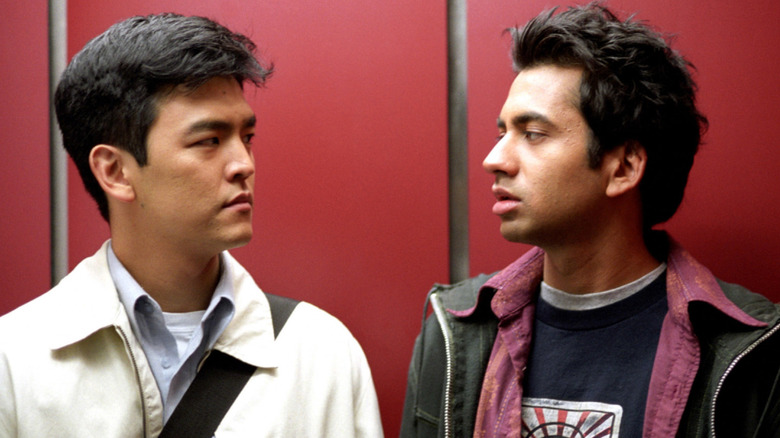 New Line Cinema
2004's "Harold & Kumar Go to White Castle" is a thinly plotted and often crass stoner comedy about the hijinks that ensue when two friends smoke pot, get the munchies, and try to buy some hamburgers. It was also radical in the way it subverted ethnic stereotypes while commenting on racism in the United States and the experiences of second-generation immigrants in the context of the early 2000s. Even to this day, it's the rare mainstream comedy to feature two Asian American actors — John Cho and Kal Penn, perfectly cast as the put-upon Harold Lee and his underachieving pal Kumar Patel — as it leads (which doesn't exactly speak well of Hollywood's supposed commitment to inclusiveness in its hiring practices).
The first "Harold & Kumar" film has since given rise to a trilogy that includes two sequels with the very-real titles "Harold & Kumar Escape from Guantanamo Bay" (2008) and "A Very Harold & Kumar Christmas" (2011). There's been talk of a fourth movie for years, but it has yet to see the light of day. Once upon a time, however, the idea of getting "White Castle" bankrolled by a major studio seemed like a long shot, to say nothing of launching a franchise.
"Harold & Kumar" creators Jon Hurwitz and Hayden Schlossberg (who wrote all three films and directed "Guantanamo Bay") knew the odds of success were against them when they penned "White Castle." But that didn't stop them from making their idea for a sequel an explicit part of the script.
The original sequel setup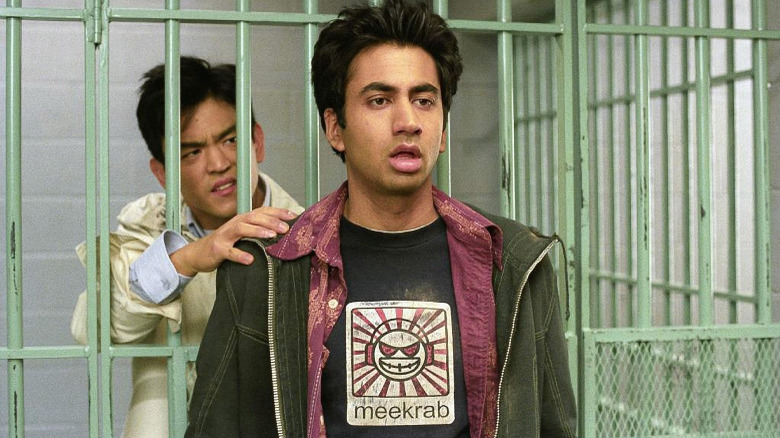 New Line Cinema
In a 2011 interview with Vulture, Jon Hurwitz and Hayden Schlossberg were candid about knowing Harold and Kumar's respective races (Harold is Korean American; Kumar is Indian American) would be the biggest factor to "Harold & Kumar Go to White Castle" securing funding. All the same, they continued to dream big:
"When we wrote the first draft of 'Harold & Kumar Go to White Castle' back in 2002, we were told there was no way we'd get a major studio to green-light a movie that starred Korean- and Indian-Americans. It seemed like the only shot we had was casting Jackie Chan as Harold and Steve Zahn in brownface as Kumar (which, looking back, would have been an interesting way to go). But despite these racial roadblocks, we were not only determined to get 'Harold & Kumar' made, we were determined to turn it into a franchise. Don't believe us? Check out the last page from our original 'White Castle' script."
Like in the actual movie, the "White Castle" script ends with Kumar convincing Harold to travel with him to Amsterdam to follow his crush, Maria Perez (Paula Garcés), reasoning that pot is legal to smoke there. (Recall this was written long before the legalization of marijuana use in much of the U.S.) From there, though, the two deviate, with the script cutting to black before a title card appears, reading, "TO BE CONTINUED IN 'HAROLD & KUMAR GO TO AMSTERDAM.'"
Had the film kept the setup, it would've been a bold move. Even "Back to the Future" didn't go so far as to include a "To Be Continued..." end title card in its theatrical release. That was only added to the film on VHS, by which point its sequels had been green-lit.
Fall of the Euro comedy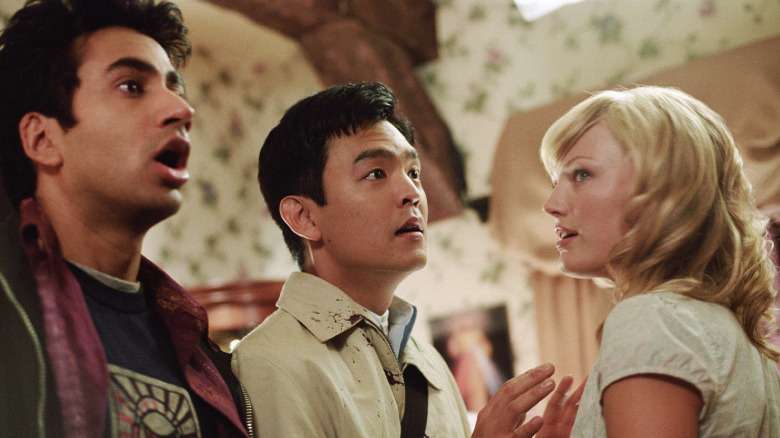 New Line Cinema
"Harold & Kumar Go to White Castle" was praised by critics upon hitting theaters on its way to becoming a modest financial success, taking in $23.9 million at the box office against a $9 million budget. Jon Hurwitz and Hayden Schlossberg credited the sequel plans as the key to securing the movie's funding and distribution.
So why, then, does "Harold & Kumar Escape from Guantanamo Bay" have the eponymous duo getting waylaid at the airport on their way to the Netherlands and winding up in, of all the places in the world, Guantanamo Bay prison camp? According to its writers, they were forced to overhaul their plans after the failure of other Europe-based comedies:
"Ironically, it was this promise of future movies that probably gave Senator International and New Line Cinema the incentive to finance and distribute 'White Castle.' Unfortunately, 'Harold & Kumar Go to Amsterdam' never made it to the big screen (the lack of success of Europe-themed comedies like 'Eurotrip' made the studio skittish about the premise), but the cult following 'White Castle' had on DVD gave us the opportunity to make another H and K movie."
As a whole, critics were more lukewarm on "Guantanamo Bay" than they were with "White Castle." Some loved it (IGN's Todd Gilchrist called it "the 'Godfather II' of stoner comedies"), while others like Slate's Dana Stevens felt the film's "wannabe outrageous racial humor is too shallow to constitute real satire." Still, between it and "A Very Harold & Kumar Christmas," Hurwitz and Schlossberg got the full-blown stoner comedy franchise they had always wanted. Who says dreams don't come true?