Superhero Bits: Idris Elba's New DC Project, A Planet Hulk Sequel & More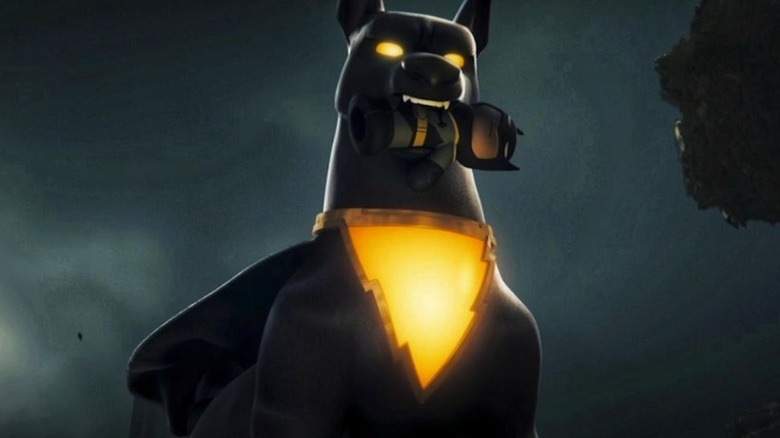 Warner Bros.
(Superhero Bits is a collection of stories, updates, and videos about anything and everything inspired by the comics of Marvel, DC, and more. For comic book movies, TV shows, merchandise, events, and whatever catches our eye, this is the place to find anything that falls through the cracks.)
In this edition of Superhero Bits:
The Rock reveals the "DC League of Super-Pets" post-credits scene.
Michael Shannon could have been Cable.
Idris Elba has another DC project in the works.
Marvel Comics is making a "Planet Hulk" sequel.
Is Jon Bernthal's Punisher coming to the MCU? Not so fast!
We have to kick off Monday with a little bit of rumor control here. Recently, Rosario Dawson got Marvel fans worked up during a panel at C2E2 (Chicago's Comic-Con) by suggesting that Jon Bernthal is coming back as Punisher within the MCU. Unfortunately, that video required some important context, and after it blew up online, Dawson had to take to Twitter herself in order to explain:
"I can't be trusted...! Getting intel from fans during signings is iffy apparently. My bad. I get excited. Confirmation is key when you're told what you want to hear..."
Given that Charlie Cox's Daredevil is coming back to the MCU in a big way, Bernthal returning as Punisher doesn't seem off-base, and this could just be Dawson throwing us off the scent after Disney got on her case. Either way, don't get too excited just yet Frank Castle fans. We must await more definitive confirmation.
Is a new Swamp Thing project in the works?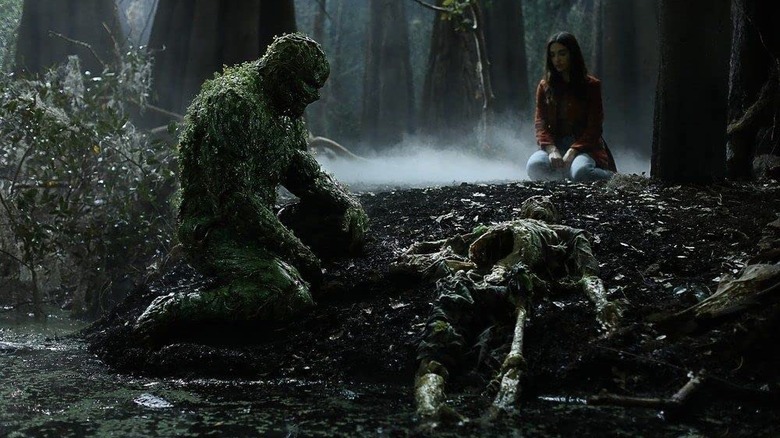 HBO Max
Another rumor making the rounds involves a certain DC Comics character. We know that things are hectic at Warner Bros. and DC right now, with the new regime led by Warner Bros. Discovery CEO David Zaslav totally upending things, as evidenced by the cancellation of "Batgirl." Now, reliable scooper Daniel Richtman has revealed via his Patreon that a new "Swamp Thing" project is said to be in the works. Yes, while so many other things are being canceled, it seems something connected to DC may be bubbling up. Whether or not this proves to be true may not be revealed for some time, but Richtman's track record with this stuff is quite good, for whatever that is worth.
Planet Hulk: Worldbreaker announced by Marvel Comics
"Planet Hulk" remains one of the most beloved Marvel Comics events in history, and now the publisher is getting ready to revisit that series with a follow-up. As indicated by the above artwork, "Planet Hulk: Worldbreaker" is set to arrive later this year, with writer Greg Pak returning to pen the story. Manuel Garcia has been tapped to handle the artwork. A brief logline for the new story reads as follows:
A thousand years from now on the planet Sakaar, a young woman with green skin searches for the legendary Green Scar to help save her brother from a group of apocalyptic cultists. But which Hulk will she find? And after all these years, is he truly the Sakaarson, who will save us all—or the Worldbreaker, who will destroy us?
The first issue is set to hit stands on November 30, 2022.
DC's Strange Adventures on HBO Max is dead
Warner Bros. Discovery is reshaping the DC Extended Universe, and as a result, "Batgirl" isn't the only project being canceled. As Kevin Smith revealed on the most recent episode of his podcast "Hollywood Babble-On," the previously announced "Strange Adventures" series that was in the works for HBO Max is dead in the water. 
"Supergirl" writer Eric Carrasco shared the news with Smith, with the filmmaker saying, "I got a call the other day from Eric before all of this story broke, and he was just like 'Strange Adventures is officially dead,' and I was like, 'What the f***, are you serious?!'" So we'll see what else does or does not make the cut in the coming weeks.
Gal Gadot's Wonder Woman said to be returning in multiple DC projects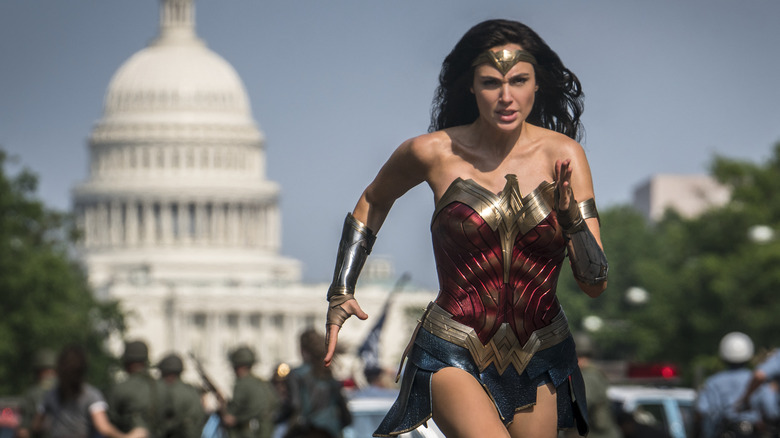 Warner Bros.
Over the weekend, The Wrap reporter Umberto Gonzales had a chat on Twitter Spaces with Fandango's Erik Davis, where they discussed the fallout from the Warner Bros. Discovery earnings call. Gonzales, during the conversation, dropped a few interesting tidbits, and amongst them, the reporter revealed that we haven't seen the last of Gal Gadot's Wonder Woman. He said that Gadot is "for sure" coming back and that "she's in a couple other movies" that are slated for release. We already knew that "Wonder Woman 3" was in the works, but it seems there may be another adventure or two in the cards for Gadot's Diana Prince beyond that sequel.
Idris Elba has a new DC project coming our way...but what is it?
NEW: I just spoke with Idris Elba about his new film #Beast. I asked what we'll see him in next - a Marvel project or DC, and he said DC. He said he's got a really big thing cooking for DC right now. 👀 Full interviews for BEAST will drop soon & my reaction drops tonight pic.twitter.com/Fmabs6jTnC

— Erik Davis (@ErikDavis) August 8, 2022
Speaking of Erik Davis, the reporter recently spoke with "The Suicide Squad" star Idris Elba about his new movie "Beast," which hits theaters later this month. While the full interview has yet to be published, Davis revealed on Twitter that Elba has something big cooking for DC right now. Is he going to return as Bloodsport, or is this something else entirely? We know that James Gunn, who directed "The Suicide Squad" and created "Peacemaker," is working on several other DC things. Maybe this is one of them? Hopefully we won't have to wait all that long to find out.
Here's why Deadpool 2 director David Leitch isn't directing Deadpool 3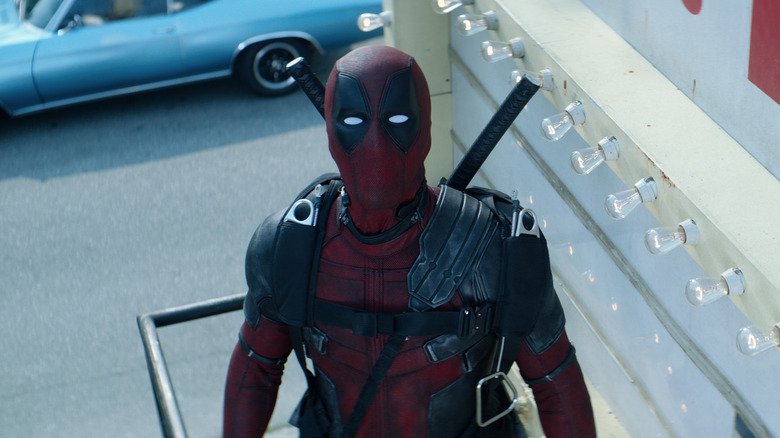 20th Century Studios
David Leitch directed "Deadpool 2" to great success. This past weekend, his new film "Bullet Train" topped the box office, so he's been making the publicity rounds, where discussion turned to his potential return for "Deadpool 3." But Leitch won't be back in the director's seat, and he explained why to Uproxx:
"We had conversations about 'Deadpool 3,' but I just was... I had things in the pipeline, too. And it was never, 'Hey, do you want to do it or not want to do it?' or whatever. I think it was more we knew our dance cards were kind of full on both sides. And we have a window. And Marvel has calendars."
Instead, it will be Shawn Levy at the helm, who previously worked with Ryan Reynolds on both "The Adam Project" and "Free Guy."
The Rock reveals the full DC League of Super-Pets credits scene
Lastly, today brings us a little something from "DC League of Super-Pets" in the form of the movie's big post-credits scene reveal. Dwayne "The Rock" Johnson had previously teased the scene on social media, but now that the movie has been in theaters for a couple of weeks, the actor felt it was time to reveal another super-powered animal, one that is all too appropriate in a movie featuring the "Black Adam" star voicing Superman's dog Krypto. 
The scene (above) is clearly setting the stage for a potential sequel to this film, while also kind of working as a tee up for the "Black Adam" movie in October. But are we going to see the Anubis in "Black Adam" later this year? Stay tuned.