James Gunn Hints At Two More Possible DC Projects After Peacemaker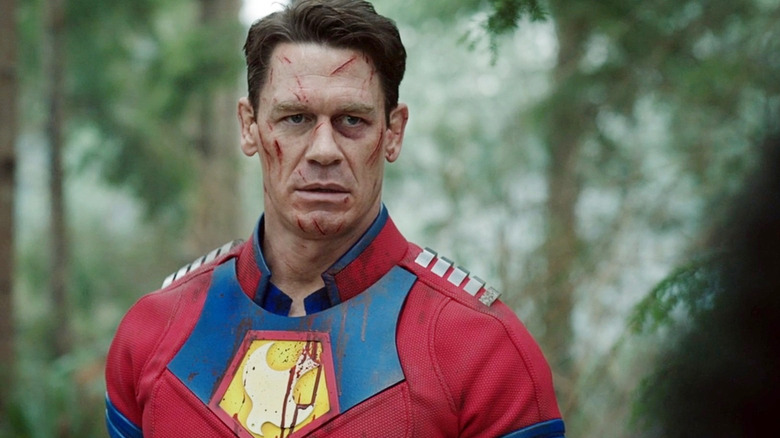 HBO Max
Life's pretty busy for James Gunn at the moment. HBO Max just ordered season 2 of "Peacemaker," with Gunn set to direct the entire next chapter in Christopher Smith's story. The filmmaker has also got the "Guardians of the Galaxy Holiday Special" coming to Disney+ near the end of 2022 and is now in production on "Guardians of the Galaxy Vol. 3" ahead of its scheduled release in 2023. On top of all that, Gunn has already lined up another mystery DC project that, much like "Peacemaker," will be TV-related. Could it be a series centered on Ratcatcher II (Daniela Melchior) from "The Suicide Squad?" A spinoff show about another member of Task Force X like Bloodsport (Idris Elba) or King Shark (Sylvester Stallone)? Why not both?
It turns out Gunn might be wondering the same thing. In an excerpt from his upcoming interview with podcaster Neil Vagg (via Screen Rant), the writer-director talked about the "Peacemaker" season 1 finale and where it left things as far the title character's (John Cena) arc on the show is concerned for season 2. Along the way, he casually indicated he might have not one but two DC projects in the pipeline after "Peacemaker":
"I know what Peacemaker's emotional journey is, y'know, I know where he is now, I know where he ends up. I mean, we see where he ends up, in some ways he ends up in a good place, he's been cleared by Adebayo, she sacrificed her own relationship with her mother to clear him. And we see at least the beginnings of a friendship between him and Amelia Harcourt, and a true friendship between him and, y'know, some of the other characters. But we also see his father looms, whether or not he was alive, and whatever that infection is that his father is still there, is very much a part of who he is. And if you know a little about the comics, that's there as well, from the Paul Kupperberg comics in particular. So yeah, I know where it goes emotionally, we're still figuring out the plot stuff, and also, frankly, I'm working on another DC thing, and maybe another one, so we got a couple of things that we're balancing with the stories."
More character-driven DC TV shows? Yes, please!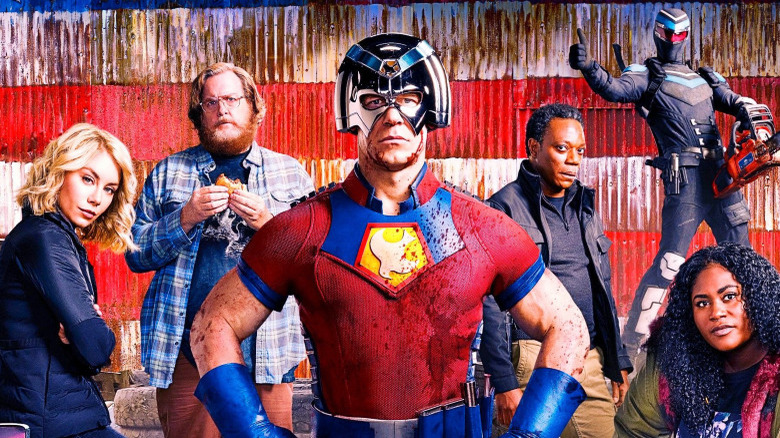 HBO Max
"Peacemaker" season 1 did a bang-up job of taking an antihero who came across as little more than a running punchline about U.S. jingoism in "The Suicide Squad" and turning him into a three-dimensional person. Like so many characters in Gunn's movies and TV shows, Christopher Smith fails nearly as often as he succeeds at processing the trauma from his abusive childhood in a healthy way while at the same time taking steps to becoming a better person and hold himself accountable for his own actions. Of course, there was still plenty of room for Christopher to keep growing by the end of season 1 (like Gunn noted), so it's good to know the series is getting a second season.
Gunn's "Suicide Squad" spinoff series has also established a template for other DC TV shows to follow, particularly when it comes to those based on characters from DC's films. Indeed, it sounds like Colin Farrell's Oswald Cobblepot from "The Batman" will be getting a similar treatment on his own newly green-lit series, with producer Dylan Clark describing it as "a 'Scarface' story" that explores the super-villain's backstory and journey to becoming the "Gentleman of Crime." "The Batman" director Matt Reeves has similarly talked about using the movie to create a "Batverse" of spin-off shows for HBO Max, allowing for equally deep dives into the film's versions of Gotham City citizens like Selina Kyle, aka Catwoman (Zoë Kravitz). If they can retain the standalone story design of "Peacemaker" while similarly taking advantage of the creative freedom afforded by HBO Max the way Gunn's show has, then it could be a great way for DC TV to continue evolving going forward.
For now, though, we'll just have to wait and see what Gunn's got cooking for DC besides "Peacemaker" season 2. Elsewhere, "The Guardians of the Galaxy Holiday Special" is slated to begin streaming on Disney+ in December 2022, with "Guardians of the Galaxy Vol. 3" hitting theaters on May 5, 2023.