The Batman Director Matt Reeves Wants To Create A 'Batverse' Of HBO Max Spin-Offs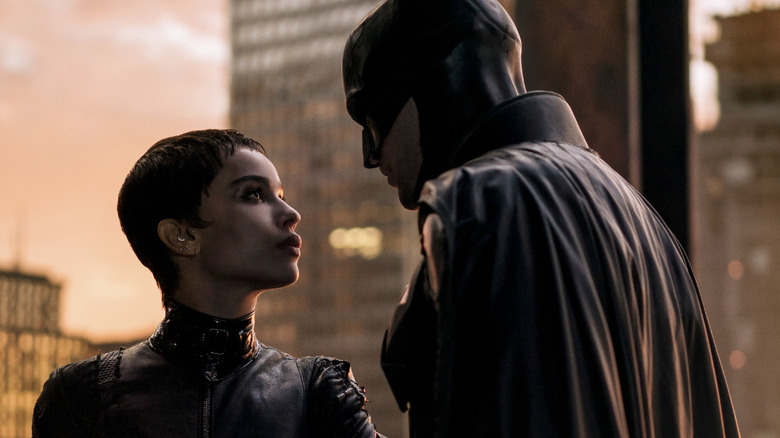 Warner Bros.
Director Matt Reeves' DC Extended Universe-adjacent film "The Batman" will bring Robert Pattinson's costumed weirdo Bruce Wayne face-to-face with some of Gotham City's most notorious citizens, including the part-time waitress, part-time thief Selina Kyle, aka Catwoman (Zoë Kravitz), up and coming crime lord Oswald Cobblepot, aka The Penguin (Colin Farrell), and masked, riddle-spewing serial killer Edward Nashton, aka The Ridder (Paul Dano). If I didn't know any better, I might think this movie is setting the stage for an entire mini-verse of spinoffs based on BatPat's rogues gallery. Yes, of course, I'm kidding; that's exactly what Reeves is trying to do here, and he's more than happy to admit it.
As part of a cover story for Entertainment Weekly, Reeves talked about bringing the crime-riddled metropolis known as Gotham back to the big screen and reintroducing the Dark Knight's sprawling universe of enemies and allies, which also includes his trusty butler and crusty mentor Alfred Pennyworth (Andy Serkis), as well as the Gotham City Police Department's Jim Gordon (Jeffrey Wright). In doing so, he touched upon his desire to create a "Batverse" based around the various Gothamites who pop up in "The Batman:"
"What I really wanted this movie to do is create a Batverse. You don't do a story and go, 'This is Chapter 1' because you might not get to do Chapter 2. So, the story had to stand on its own. But the thing about it is that the Bat world is so rich with character that as you're starting to come to an end, you can already start thinking about the next thing. Because the idea, of course, is that Gotham's story never ends."
You get a spinoff! And you get a spinoff!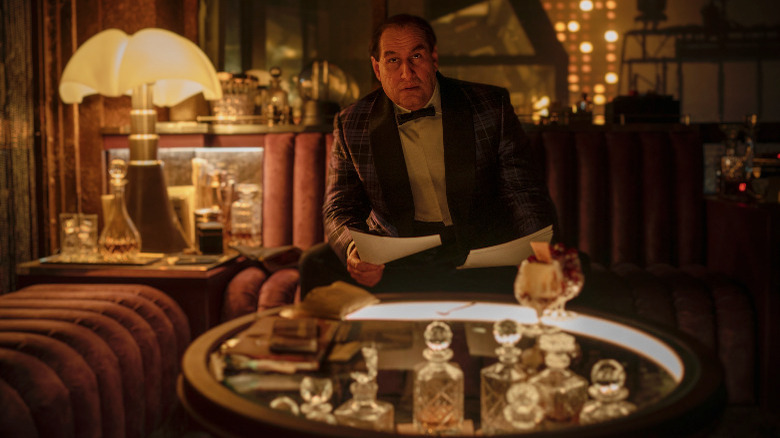 Warner Bros.
WarnerMedia isn't wasting any time getting the ball rolling on HBO Max spinoffs ahead of "The Batman" opening in theaters, either. There are already series based around the GCPD and Penguin in the works at the company's streaming service, and it would come as little shock if Kravitz's Catwoman got her own HBO Max show down the line. (Kravitz, after all, is no stranger to the small screen, having starred in both HBO's "Big Little Lies" and Hulu's "High Fidelity.") That's on top of all the DCEU-based series or films that are being actively developed for HBO Max, including a "Black Canary" spinoff movie that has Jurnee Smollett reprising her role from "Birds of Prey (and the Fantabulous Emancipation of One Harley Quinn)."
Admittedly, all this talk about spinoffs before "The Batman" has even premiered is enough to make your head spin, not least of all coming at a time when even major franchises like the Marvel Cinematic Universe and "Star Wars" are still trying to figure out how to make a shared universe of movies and streaming series work without sacrificing meaningful, basic storytelling. On the other hand, HBO Max's "Peacemaker" show has set an excellent example of how to take a one-note side character (in this case, John Cena's crude, violent, jingoistic antihero from "The Suicide Squad") and flesh them out into a three-dimensional protagonist who can carry their own series. It all comes down to execution, in other words, which is why I look forward to revisiting this conversation once the world has actually seen this three-hour crime saga that Reeves has been cooking up.
"The Batman" debuts in theaters on March 4, 2022.