Why You Should Watch The Sandman's End Credits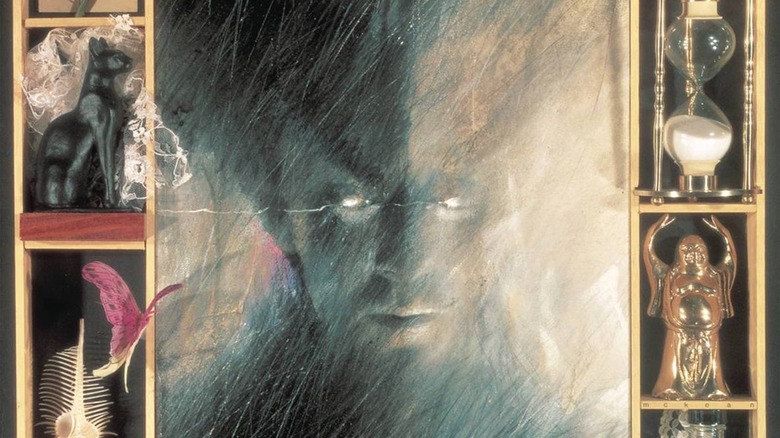 DC Comics
Prepare to start seeing Morpheus in your dreams, because "The Sandman" finally arrives on Friday. The Netflix show follows Dream of the Endless, who is the living embodiment of dreams and master of the Dreaming itself. Like most of us, his relationship with his family is complicated, especially since his siblings happen to be Destiny, Death, Destruction, Desire, Despair, and Delirium. The series is based on the seminal comic of the same name by Neil Gaiman and a host of incredible artists including Sam Kieth, Mike Dringenberg, Colleen Doran, Jill Thompson, and Marc Hempel, among many others.
So much work goes into making a TV show or a film, and most of us, including myself, are guilty of not sitting through the end credits to appreciate those efforts. Sure, some credits sequences demand to be watched — the opening of "Peacemaker" comes to mind — but those are few and far between. Obviously, it's important to recognize the labor of everyone involved in making "The Sandman," but there is another vital reason to stick around and pay attention once the credits start rolling.
Covers brought to life
DC Comics
Neil Gaiman revealed at San Diego Comic-Con that "The Sandman" cover artist Dave McKean would be involved in the Netflix series, if only a little. That contribution, it turns out, is the closing credits. McKean has made a distinct sequence for each of the 10 episodes, which Gaiman referred to as "this amazing, flowing film." Gaiman said that McKean had formally retired from "The Sandman," but the Netflix show managed to lure him back to the universe he played such a major role in shaping.
When you look at "The Sandman," whether it's a single issue or a collected volume, the first image that hits your eyeballs is Dave McKean's absolutely stunning cover work. The artist, a frequent collaborator with "The Sandman" architect Neil Gaiman, illustrated every single cover of the series, not to mention those of the spin-off comic, "The Dreaming." The work can even be found in volumes collecting the covers of both comics, titled "Dust Covers" and "Dream States."
McKean's art is truly unique. The English artist is not only masterful when it comes to painting, drawing, sculpture, digital art, and photography, but also uses a lot of collage and found objects in his work. His "The Sandman" covers are an integral piece of the comic's puzzle, each telling its own story. McKean's first collaboration with Gaiman was "Violent Cases" in 1987, but the two worked together quite a bit, including projects such as "Black Orchid" and "The Tragical Comedy or Comical Tragedy of Mr. Punch." Honestly, all the incredible work these two have done together is worth checking out, but McKean has plenty of amazing projects outside of his work with Gaiman as well.
Discover Dave McKean's work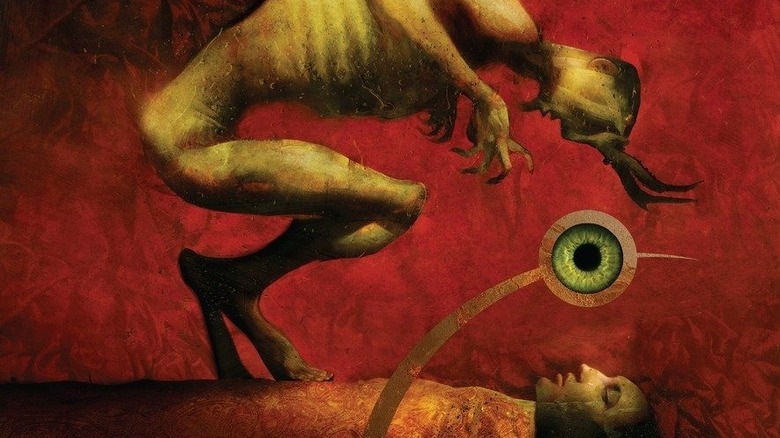 DC Comics
If you're looking for a great place to start with McKean, you can't go wrong with his 500 page magnum opus, "Cages," which was both written and drawn by the artist. A powerful meditation on art, it's the first work of McKean's I sought out after tearing through his collaborations with Gaiman and it was unlike anything else I had read. There's also "Arkham Asylum: A Serious House on Serious Earth," which he worked on with Grant Morrison. This 1989 tale remains one of my favorite Batman stories. Aside from that, McKean directed a delightful 2005 film called "Mirrormask," which was written by Gaiman from a story developed by the duo. He also helmed "The Gospel of Us" and "Luna."
McKean has done some unexpected projects as well, working with legendary musician John Cale on several undertakings, including his autobiography, "What's Welsh for Zen." He's also a musician himself and has become a prolific album cover artist, creating covers for acts as varied as Tori Amos, Skinny Puppy, and Alice Cooper. McKean has illustrated several children's books, collaborated with Rachel Pollack to create the coolest Tarot deck you've ever seen, and last year, he brought his first creator-owned character to Dark Horse Comics with "Raptor: A Sokol Graphic Novel." He is constantly reinventing himself as an artist and I can't wait to see that he does next.
I also can't wait to lay my eyes on these closing credits for "The Sandman" and see what McKean has created. No doubt most fans wish the artist could've been more involved in the Netflix adaptation — just imagine what his promotional posters would've looked like — but at least we get to see a bit more of his work come to life. Hopefully, we have many seasons of the series to look forward to.