The Sandman: Release Date, Cast, And More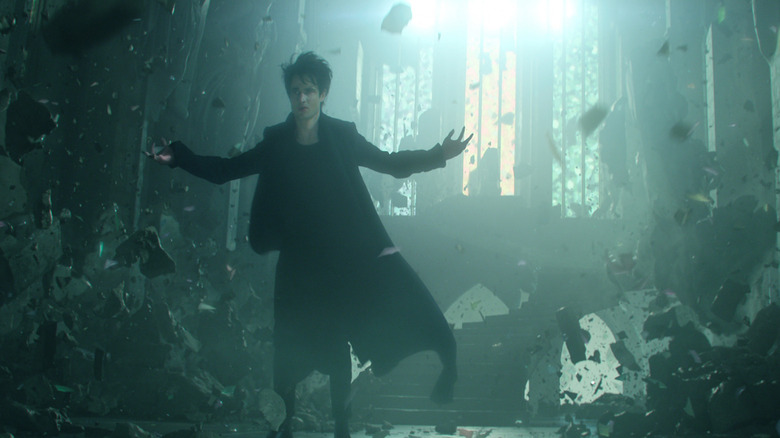 Netflix
(Welcome to ...And More, our no-frills, zero B.S. guide to when and where you can watch upcoming movies and shows, and everything else you could possibly stand to know.)
The day "The Sandman" fans have long (wait for it ...) dreamed about is almost upon us. At last, Neil Gaiman's superb comic books are headed to the small screen after years of failed attempts to wrangle the author's opus on the power of stories into a movie or TV series, with Gaiman himself among the chief creatives. That he's so heavily involved with "The Sandman" could also be seen as a mixed blessing, depending on whether you prefer your Gaiman TV shows to strictly adhere to the original text like "Good Omens" (which Gaiman oversees as show-runner) or take his source material and run with it in their own weird, fascinating direction like "American Gods" season 1 (which Gaiman was more hands-off with).
To quote Gaiman himself from "The Sandman" comics, "You shouldn't trust the story-teller; only trust the story." That said, there's naught to be done at this juncture but hope for the best and marvel at the stellar cast bringing the eccentric denizens of the Dreaming, Hell, the real world, and everything in-between to life on the show. Actually, there is one other thing to be done. Let's go through and break down all that we know about the series so far, shall we?
The Sandman release date and where you can watch it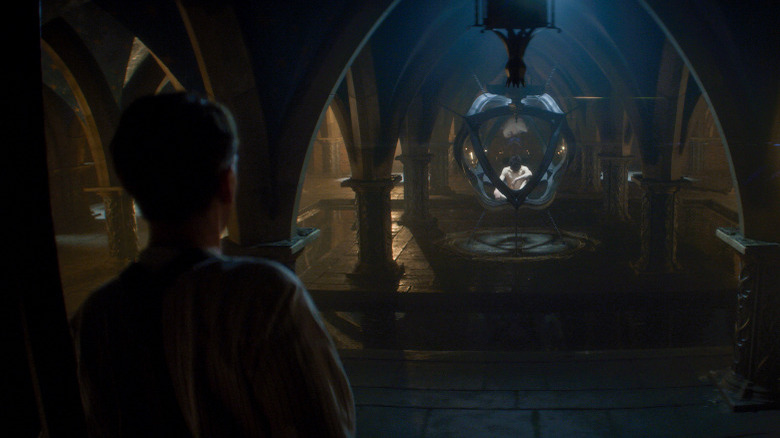 Netflix
Among the previous attempts to adapt "The Sandman" were a film set to be directed by "Pulp Fiction" co-writer Roger Avary (who also co-penned the 2007 "Beowulf" movie with Neil Gaiman), separate TV shows developed by Eric Kripke ("Supernatural") and James Mangold ("Logan"), and a film version that had Joseph Gordon-Levitt starring as Morpheus and possibly also directing. Finally, Netflix stepped in and ordered "The Sandman" to series in July 2019, with production taking longer than expected to begin in 2020 due to (what else?) the pandemic.
"The Sandman" is now scheduled to premiere its entire first season on Netflix on August 5, 2022. Rather than waiting on an official green-light, however, Gaiman confirmed that season 2 was already being plotted out as far back as November 2019, with the intent of keeping the show moving forward at a steady pace to avoid extended breaks between seasons as often as possible. Of course, the way things are going at Netflix right now, it's best to wait and see if the show even makes it past its first batch of episodes before we speculate too much about its future.
What is The Sandman about?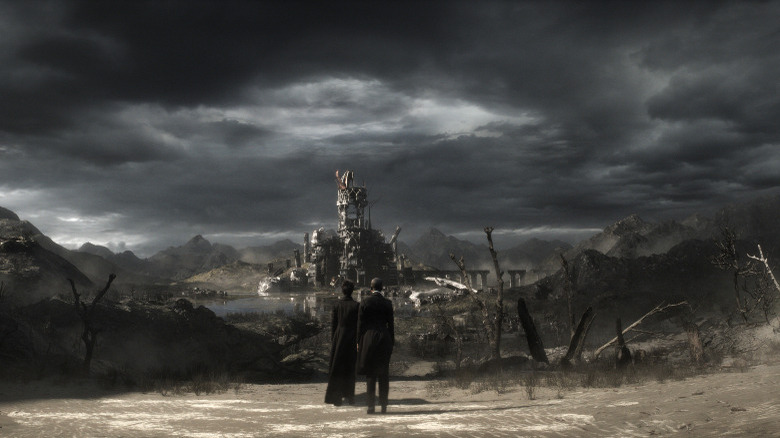 Netflix
Published from 1989 to 1996, Neil Gaiman's "The Sandman" comic books follow Morpheus or Dream, the ruler of the dream realm and one of seven ageless beings who embody various forces of nature (aka the Endless). After being captured and held captive for decades by a group of occultists who were trying to imprison his sister, Death, Morpheus escapes only to discover his kingdom, the Dreaming, has fallen into ruin while he was away. Now knowing what it feels like to be as vulnerable as the mortals whose dreams he shapes, Morpheus sets out to not just restore the Dreaming but also to try and make up for the many mistakes he's made (be they out of pure spite or plain carelessness).
In a deeper sense, though, "The Sandman" is all about the ways our understanding of our lives and the world around us are shaped by (adapts Anthony Hopkins' voice) stories. It will be interesting to see how much that comes through in the TV show starting out, given that season 1 is adapting the first two volumes of Gaiman's comic books ("Preludes and Nocturnes" and "The Doll's House"). Those are also the most plot-driven and, in many ways, the weakest parts of the source material — which is to say, they're still far and beyond better than most other comic book stories, but it's not until later in its run that "The Sandman" truly figures out what it's going for, thematically.
The Sandman producers, crew, and more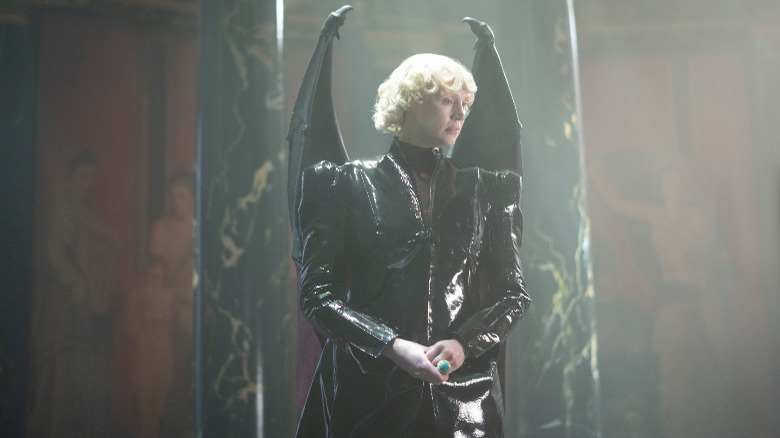 Netflix
Neil Gaiman is executive producing and co-writing "The Sandman" TV show with David S. Goyer (creator of the TV series "Krypton" and co-creator of "Foundation") and Allan Heinberg (the co-creator of the "Young Avengers" comic books and the co-writer of 2017's live-action "Wonder Woman" movie). That's to say nothing of Goyer's work as a co-writer on the films "Blade," "Dark City," "Blade II," and "Batman Begins" ... although he might prefer it if I left out that he also wrote "The Crow: City of Angels," "Blade: Trinity," and "The Unborn," on top of directing those last two movies.
All in all, between its creators' many hits and even their misses, "The Sandman" TV show has some real heavy-hitters behind the camera, none of whom have ever been lacking for ambition when it comes to their adaptations. That doesn't change when you look at the series' other creatives either, including veteran genre TV directors Jamie Childs ("Doctor Who," "His Dark Materials") and Andrés Baiz ("Narcos," "Narcos: Mexico"). Between them, those two are helming half or more of season 1, so one assumes "The Sandman" will be pleasing to behold (and it darn well ought to be, drawing from the plethora of gorgeous images different artists came up with for Gaiman's comics).
The Sandman cast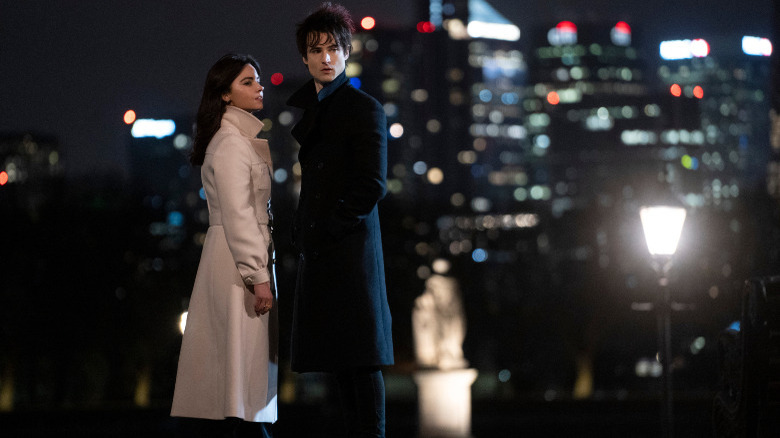 Netflix
This brings up arguably the most exciting aspect of "The Sandman" so far: The cast. Their ranks include (deep breath) Tom Sturridge ("Bittersweet") as Morpheus, Gwendoline Christie ("Game of Thrones") as Lucifer, Kirby Howell-Baptiste ("The Good Place") as Death, Jenna Coleman ("Doctor Who") as Johanna Constantine, Vivienne Acheampong ("Famalam") as Lucienne, David Thewlis (the "Hard Potter" movies) as John Dee, Boyd Holbrook ("Logan") as The Corinthian, Charles Dance ("The Crown") as Roderick Burgess, and Patton Oswalt as the voice of Matthew the raven. There's also Asim Chaudhry as Abel, Sanjeev Bhaskar as Cain, Stephen Fry as Gilbert, Mason Alexander Park as Desire, Donna Preston as Despair, Kyo Ra as Rose Walker, and an only-just-barely-announced Mark Hamill as the voice of Merv Pumpkinhead.
Trying to explain who all these characters are is a lot like trying to sum up "The Sandman" in a single go in that you're better off not trying at all. (That's what character descriptions are for, natch.) Again, whichever way "The Sandman" turns out, one can't really argue that Neil Gaiman and his team aren't giving their all to try and make it something special.
The Sandman trailer and synopsis
There is another world that waits for all of us when we close our eyes and sleep — a place called the Dreaming, where The Sandman, Master of Dreams (Tom Sturridge), gives shape to all of our deepest fears and fantasies. But when Dream is unexpectedly captured and held prisoner for a century, his absence sets off a series of events that will change both the dreaming and waking worlds forever. To restore order, Dream must journey across different worlds and timelines to mend the mistakes he's made during his vast existence, revisiting old friends and foes, and meeting new entities — both cosmic and human — along the way.

Based on the beloved award-winning DC comic series written by Neil Gaiman, THE SANDMAN is a rich, character-driven blend of myth and dark fantasy woven together over the course of ten epic chapters following Dream's many adventures. Developed and executive produced by Gaiman, showrunner Allan Heinberg, and David S. Goyer.