The Sandman: A Guide To Every Member Of That Giant Cast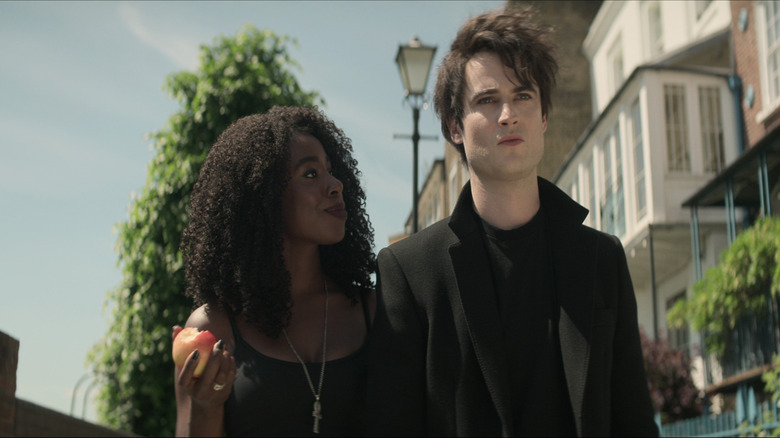 Netflix
Netflix's adaptation of "The Sandman" is finally here. It's taken more than 30 years to translate the story of Dream and his six eternal siblings from the comic book page to the screen, but by gods, they've done it. "The Sandman" is a sprawling epic that transcends genres and comic conventions, courtesy of writer Neil Gaiman and a whole cadre of talented artists over its 75 issues. There are a lot of characters in both the comic book "The Sandman" and the Netflix series. Gaiman has also made some changes to update the characters  to a contemporary setting and to fit whichever performer clicked best in auditions, so I've assembled a handy-dandy little (or rather, large) guide to the many characters who appear in "The Sandman" on Netflix, along with some information about who's playing them. 
This guide is as spoiler-free as possible, but will contain some information about the character's comic book version, and that could influence a person's viewing of the series if they've never read the comics before. So read at your own risk! 
Tom Sturridge is Dream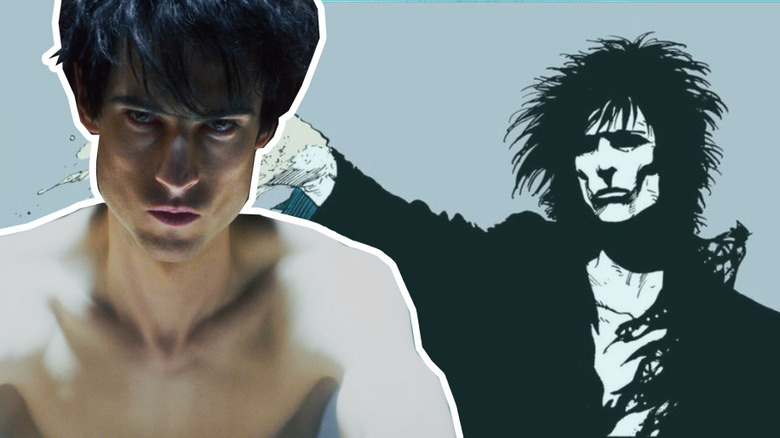 Netflix/Vertigo
This character has a number of names, but he's also the most important in "The Sandman" since he's, well, the sandman. He is Dream of the Endless, sometimes going by Morpheus, and he's a chisel-jawed pout-machine with a mane of messy black hair and a tendency for the dark and dramatic. Netflix's "The Sandman" begins exactly where the comic books do, with Morpheus summoned from his realm, The Dreaming, by some meddling sorcerers. The comics follow Morpheus as he deals with the aftermath of being held captive for many years, traveling to Hell and back (literally!) to put his existence back together. 
Dream is a powerful immortal being, but he's not a god, exactly. Gods in "The Sandman" require worship, and many deities and creatures from various faiths appear in the comic series, ranging from Lucifer Morningstar, the fallen angel and ruler of Hell (played by Gwendoline Christie in the show) to Bast, the ancient Egyptian goddess of cats. The Endless are, well, endless. They're the physical embodiment of whatever they represent. Dream isn't just some god of dreams, he is the very concept of dreaming. When he is kidnapped, it causes a sleeping sickness to spread across the world, though thankfully only a small percentage of the population is affected. He's capable of controlling and traveling through dreams, and is second in power only to his sister, Death. 
Dream is played by Tom Sturridge, who fans might know as Eamonn on the TV series "Irma Vep," Jake on the TV drama "Sweetbitter," Jon Dondon in the indie horror movie "Velvet Buzzsaw," or Lord Byron in the 2017 Elle Fanning-starrer "Mary Shelley." 
Kirby Howell-Baptiste is Death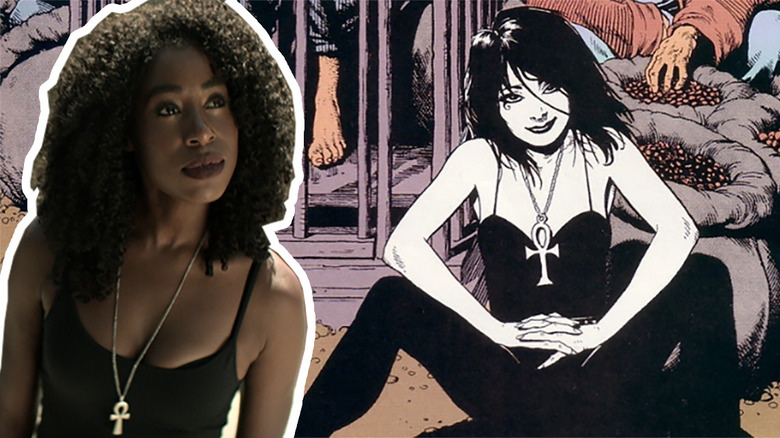 Netflix/Vertigo
Death is the literal embodiment of death, but she's not exactly the hooded Grim Reaper some folks might picture when her name is conjured. Instead of a ghastly, grim figure, Death is a kind, gentle soul with a sharp sense of humor and a penchant for wearing black. She's a prototypical goth girl with a heart of gold, designed by artist Mike Dringenberg and inspired by Salt Lake City punk icon Cinamon Hadley. When it's time for someone to go from the world of the living to whatever lies beyond, she's there to help them through the process, and she's gentle and nurturing while she does it. She's perhaps the most reassuring version of death possible. She's the person you want to be there waiting for you when it's all over, because you know you'll be in good hands. 
Death is the second-oldest and most powerful of all of the Endless, and she's the most patient with her eternal siblings. In the Netflix series she's played by Kirby Howell-Baptiste, who got plenty of experience dealing with the afterlife as Simone on the NBC series "The Good Place." Fans may also recognize her as Anita Darling from "Cruella," Elena from "Killing Eve," or Sasha from "Barry." 
Gwendoline Christie is Lucifer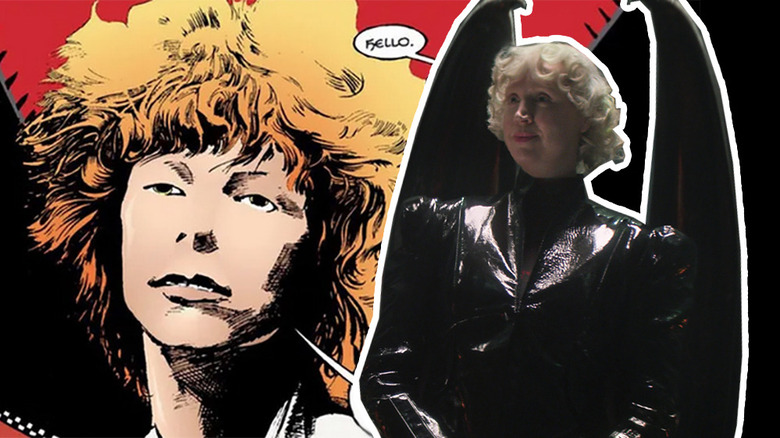 Netflix/Vertigo
Lucifer is the ruler of Hell, a fallen angel who was cast out of Heaven by the Christian God. He is an androgynous angelic being that sometimes appears with demonic bat wings and sometimes feathered angel wings, though later the character started to look more masculine. (After all, Tom Ellis played a version of the same character for his own Netflix series and was also fairly comics-accurate!) The original design was inspired by David Bowie, however, and gender-bending was kind of the point. Lucifer is, after all, the most beautiful of all the angels. 
The Netflix series version of the character is played by Gwendoline Christie, which spawned some online criticism because of the "gender swap," but Christie's Lucifer is perfectly androgynous. One fan even petitioned on Twitter for Bowie to play the character, and Gaiman had to point out that sadly, Bowie has been dead for years, so that's impossible. 
Christie is best known for playing the extraordinary knight Brienne of Tarth on "Game of Thrones" and the chrome Stormtrooper Captain Phasma in the "Star Wars" sequel trilogy.
Charles Dance is Roderick Burgess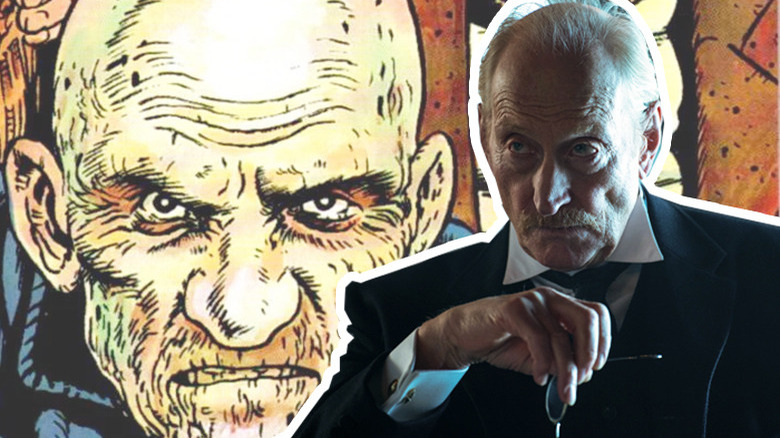 Netflix/Vertigo
The leader of the human cult that captures Dream and holds him captive in the waking world is Roderick Burgess. Burgess is the Lord Magus of the Order of Ancient Mysteries, and he studies occult magic in order to gain more power and wealth. In the comics he's depicted as a very old man with a bald head, wrinkled face, and he's kind of a self-centered jerk who only cares about himself. He was attempting to capture Death, not Dream, in order to give himself eternal life, but he settles for the younger sibling anyway and eventually passes his captive onto his son, Alex. 
In the Netflix adaptation, Burgess is played by Charles Dance. Dance is best known worldwide for playing the scheming patriarch Tywin Lannister on "Game of Thrones," though he has starred in more than 150 films and television shows, so fans could potentially recognize him from just about anywhere. If anyone can play a mean, bitter old miser, it's gotta be Dance. 
Vivienne Acheampong is Lucienne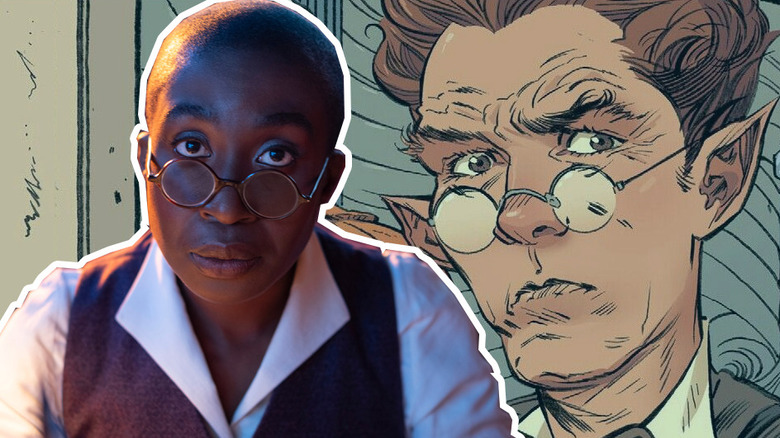 Netflix/Vertigo
Someone has to look after Morpheus' kingdom, the Dreaming, while he's trapped in the waking world, and that someone is Lucien, a character originally borrowed from DC Comics "Tales of Ghost Castle." He's a librarian with fierce dedication to protecting his books, and since Gaiman had the existing DC Comics cast of characters to work with, he pulled the character into "The Sandman." Lucien is one of Dream's closest friends and strongest devotees, though he is even more devoted to protecting the library. Dream's library contains all of the books that have ever have or ever will exist, as long as they've been dreamed up. He's a thin, bookish man with pointed ears and rounded spectacles, and he dresses like a very formal librarian, in a collared shirt and vest. 
In the Netflix series, Lucien has become Lucienne, and is being played by Vivienne Acheampong. Acheampong previously starred in the Netflix series "The One" and has appeared in several sketch comedy shows, including "Famalam," "The Emily Attack Show," and "Ellie & Natasia." Lucienne may look a little different than her comic book counterpart, but Acheampong nails Lucien's quiet exasperation and seriously rocks a sweater vest. 
Jenna Coleman is Johanna Constantine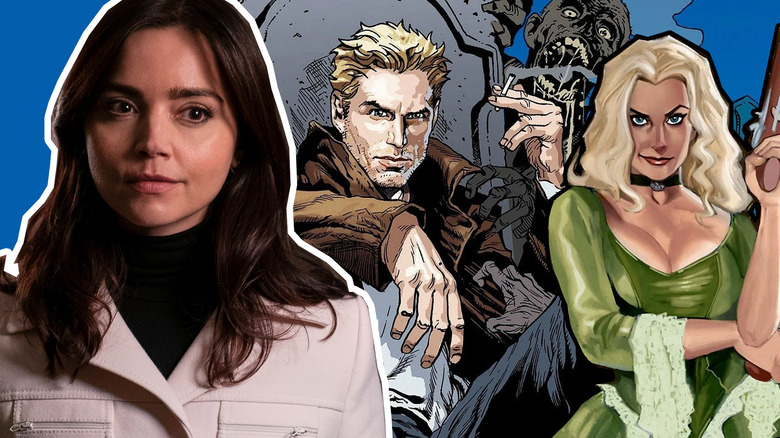 Netflix/Vertigo
This one's a little more complicated, because "Doctor Who" star Jenna Coleman is technically playing two characters in the Netflix adaptation. She's playing both the comics-accurate 18th-century mystic aristocrat Johanna Constantine and her descendant, the 21st-century mystical mercenary John Constantine. Instead of casting someone else to play John, Gaiman and Netflix series screenwriter Allan Heinberg decided it made more sense to just have Coleman play both and gender-swap the younger Constantine, since they both appear in "The Sandman" at some point. 
Johanna Constantine had her own comic book series, "Lady Constantine," that followed her exploits as a magic user of some renown in the late 1700s. She appears in "The Sandman" to meet with Morpheus while he's having his once-a-century drink with the immortal Hob Gadling, and tries to strike up a devilish bargain with the Lord of Dreams. John Constantine is her modern-day ancestor, a sarcastic sorcerer with a serious cigarette addiction. He originally appeared in Alan Moore's "Swamp Thing" before getting his own series, and Gaiman introduced him to "The Sandman" in order to hopefully get a few readers to check out his new comic. John Constantine has been played by Keanu Reeves and Matt Ryan in previous adaptations, though Gaiman maintains that Coleman is the best version so far. 
In "The Sandman" on Netflix, Coleman plays both Johannas, providing the voice and face for both descendant and ancestor. Her modern Johanna is everything you'd expect from a Constantine: she's lovable, rough around the edges, and perfectly doomed.
Boyd Holbrook is The Corinithian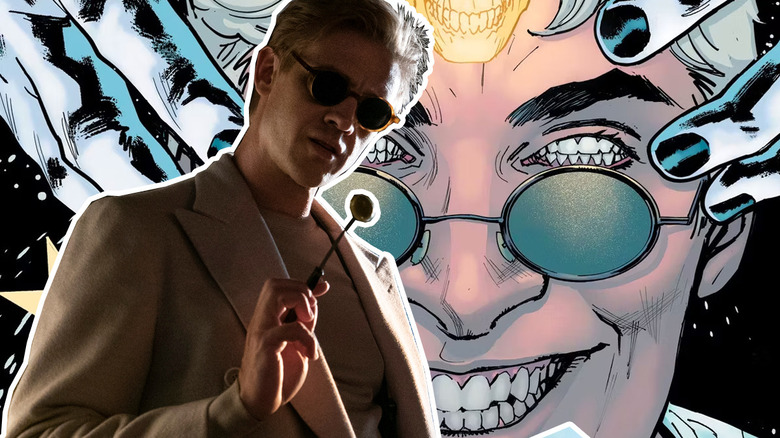 Netflix/Vertigo
If Morpheus is the personification of dreaming, then shouldn't there be some walking nightmares, too? There certainly are, and one of the most terrifying among them is the Corinthian. The nightmares are all a part of Dream's domain and were created by him, but some of them are incredibly powerful by their own right and can get up to a lot of trouble. With Morpheus trapped by the Burgess family, the nightmares are free to do as they please, and for the Corinthian, that means a whole lotta murder. He was designed by Morpheus to be "a black mirror, made to reflect everything about itself that humanity will not confront." While Morpheus was away, the Corinthian let himself out to play. 
The Corinthian is a serial killer with a creepy calling card; he takes the eyes of his victims. His decades-long run in the waking world has inspired other serial killers, who look up to him and want to get him onboard as a speaker for their serial killer convention. He's pretty stinking scary, and that's without seeing the horrors that lie behind his mirrored sunglasses.
The Corinthian is played by Boyd Holbrook in the Netflix adaptation, and as far as comics-accurate casting goes, this one's spot-on. Holbrook is terrifically creepy in the trailers, and it looks like the series will give him a bit more to do than just get on his creator's nerves. Is it wrong to find him kind of attractive? If it is, maybe I don't want to be right, but I also like having my eyes where they're at. 
Mason Alexander Park is Desire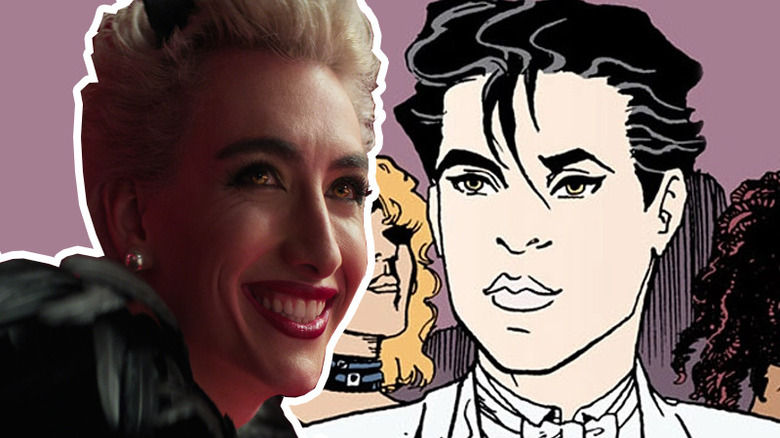 Netflix/Vertigo
There are seven siblings of the Endless, though they don't all appear in the first season of the Netflix adaptation. Destruction, Delirium, and Destiny don't show up until later in the comics, but the often antagonistic Desire shows up in the second collection of stories, "The Doll's House." Desire appears as a beautiful androgynous person with bright golden eyes, and their gender is left completely ambiguous. Sometimes they appear as a man, sometimes a woman, but they're always the object of someone's desire. Because they are desire personified, Desire is a creature of intense want, and that often leads them to trouble. They want more power and respect, in particular, and will stop at almost nothing to get them. Desire often enlists the help of their twin sister, Despair, who also appears in the first season of the Netflix series. 
Mason Alexander Park, who previously starred in the Netflix live-action adaptation of "Cowboy Bebop," was one of the first people cast. In the official cast announcement, Gaiman expressed his excitement about Park's casting:
"We had barely started looking when Mason Alexander Park (they/them) reached out on Twitter, and threw their hat into the ring. We were thrilled when they got the part."
Park is honestly perfect for the role, and will be a delight to watch even as they're wreaking havoc. They are clearly having a lot of fun strutting their stuff as the mischievous and most deliciously arch member of the Endless, and it's hard not to have a blast right along with them.
Donna Preston is Despair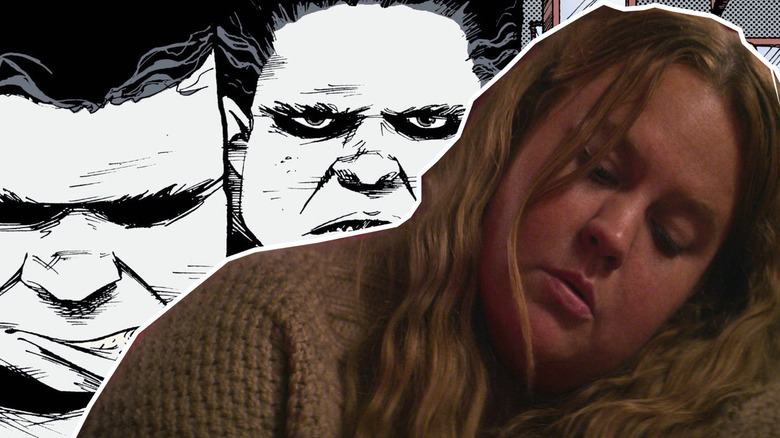 Netflix/Vertigo
In the comics, Desire's twin sister is Despair, a heavyset naked woman with deep circles under her eyes. She wears only a ring with a hook on it, which she uses to injure herself. Despair is self-loathing and depression and grief and every other kind of despair all rolled up into one entity, and she's pretty miserable about it. She doesn't really do much, though she does sometimes get wrangled into the schemes of her twin, Desire. Desire and Despair work in tandem, after all; those who cannot have what they desire tend to despair, and those who despair tend to have many desires. 
Despair in the Netflix series is played by British comedy actor Donna Preston, who has starred in the series "Apocalypse Wow" and "Hard Cell," along with the film "The Hitman's Bodyguard." She appears fully clothed in baggy sweaters and pants, though her long wavy hair and hook from the comics both remain. 
Sanjeev Bhaskar and Asim Chaudhry are Cain and Abel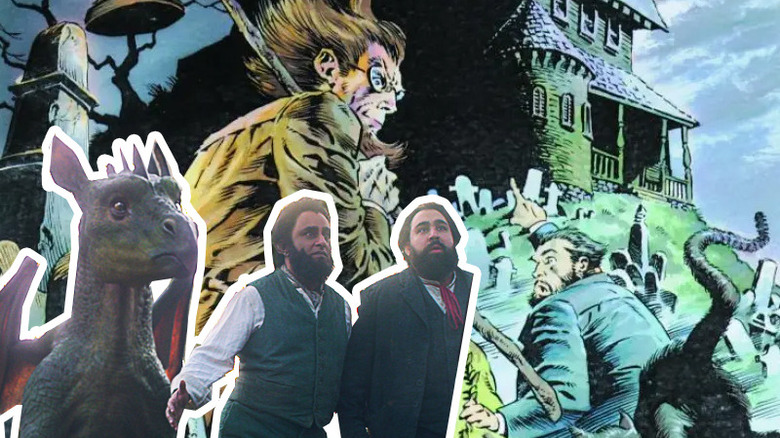 Netflix/Vertigo
Just as Lucifer exists in "The Sandman," so do the Biblical Cain and Abel, though these versions originate from the same horror comics as Lucien. In the "Sandman" comics, they live in the Dreaming after Morpheus takes them there. They live as next-door neighbors with a pet gargoyle named Gregory. They bicker and fight as most siblings do, but unfortunately Cain has a tendency to kill Abel. He kills his brother a lot, actually, though Abel always comes back to life because of the whimsical nature of the Dreaming. They eventually become the parent figures to another gargoyle as well; a small golden one that Abel names "Irving" but Cain insists all gargoyle names must start with a "g" and he names her Goldie instead. 
In the Netflix series, Cain is played by "Goodness Gracious Me" and "The Kumars at No. 42" star Sanjeev Bhaskar, while his brother Abel is played by Asim Chaudhry, best known for his work in "People Who Just Do Nothing," "Wonder Woman: 1984," and "Black Mirror: Bandersnatch." 
Joely Richardson is Ethel Cripps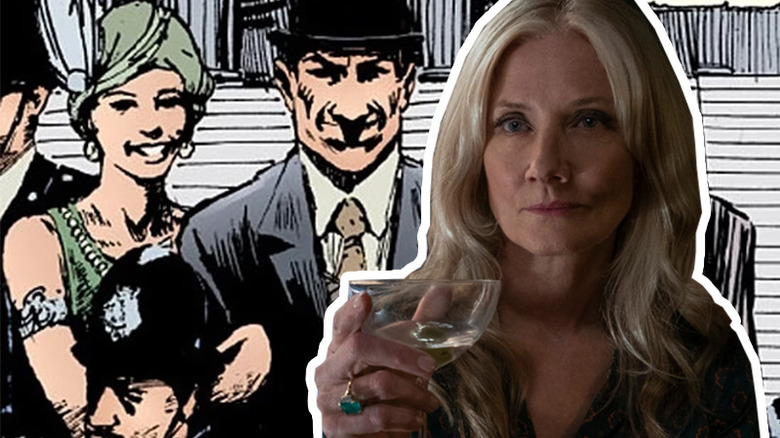 Netflix/Vertigo
On top of all of the magical beings in "The Sandman," there are some full-fledged humans too. One of them is Ethel Cripps, who was the mistress of Roderick Burgess for years. She is the mother of John Dee, who goes on to become the supervillain Doctor Destiny. She left Roderick Burgess for another sorcerer, Ruthven Sykes, who stole Dream's magical items from Burgess. Later, Ethel left Sykes as well, taking a magic protection amulet and Dream's ruby with her. The protection amulet prevents her from aging further, as she should be well into her 90s by the time the events in the first few issues of "The Sandman" take place. She's a cunning and ruthless woman with an appreciation for the finer things in life, and she's not afraid to play a little dirty if she has to. 
In the Netflix series, the modern-day version of Ethel is played by "Nip/Tuck" and "Color Out of Space" star Joely Richardson, while young Ethel, shown in flashbacks, is played by Niamh Walsh of "Smother" and "Good Omens" fame.
David Thewlis is John Dee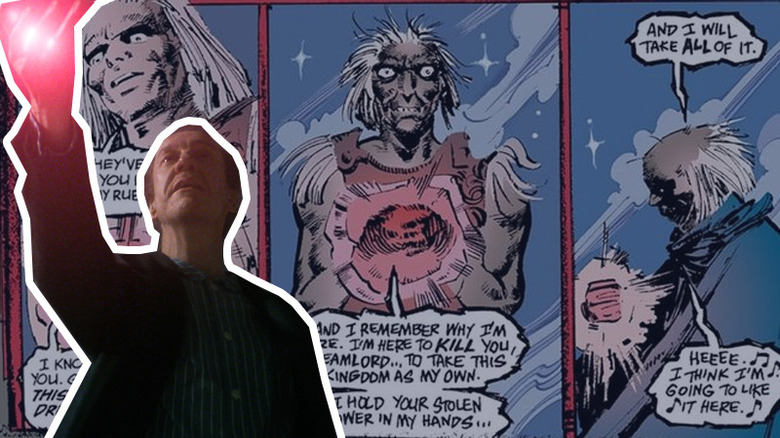 Netflix/Vertigo
You might imagine that a woman of Ethel Cripps' means would have a somewhat extraordinary child, and you'd be right. Her son is John Dee, who was revealed in the comics to be a version of DC Comics villain Doctor Destiny, and he is one nasty character. He ends up with Dream's ruby and abuses its powers, using them to manipulate dreams for petty criminal reasons. He starts going mad and uses the ruby to drive others insane as well, forcing them to face their darkest desires. He eventually uses the ruby over 24 hours in a cafe, driving the people inside to do horrific things. The comic issue that contains this story, "24 Hours," is a brutal nightmare that will be unnerving to see in live-action for the first time, and it's a big part of John Dee's arc. 
In the Netflix adaptation, John Dee is played by David Thewlis, who is best known for playing Professor Remus Lupin in the "Harry Potter" films. He also recently starred in the third season of the FX series "Fargo" and is the voice of the Shame Wizard on the Netflix animated comedy "Big Mouth."
Vanesu Samunyai is Rose Walker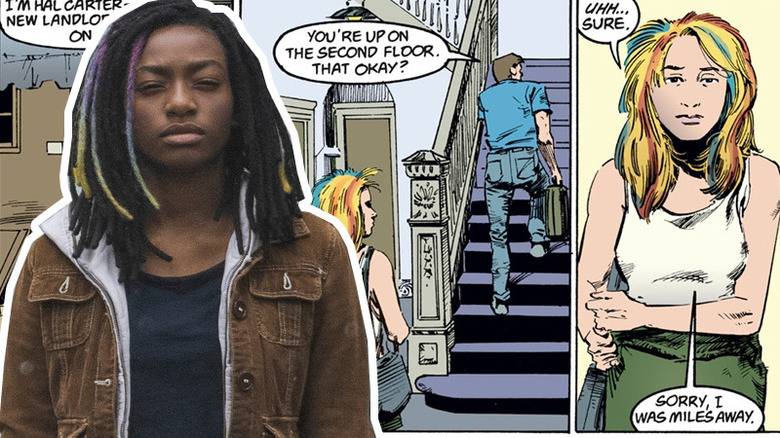 Netflix/Vertigo
Rose Walker is one of the most important human(ish) characters in all of "The Sandman," and it's almost impossible to comment on her story in the comics without revealing potential spoilers. She's a strong-willed young woman with streaks of color in her hair, and she goes on some wild adventures because of her connection to Dream. 
In the Netflix adaptation, Rose is being played by newcomer Vanesu Samunyai. The cast announcement, written by Gaiman, said that Rose is a "a young woman on a desperate search for her missing brother, who finds a family she didn't know that she had, and a connection to Dream that neither of them can escape." Samunyai has no other major acting credits, and she's definitely jumping into the deep end with "The Sandman." But whoever plays Rose should feel a little like a fish out of water, so it's honestly perfect.
Sandra James-Young is Unity Kinkaid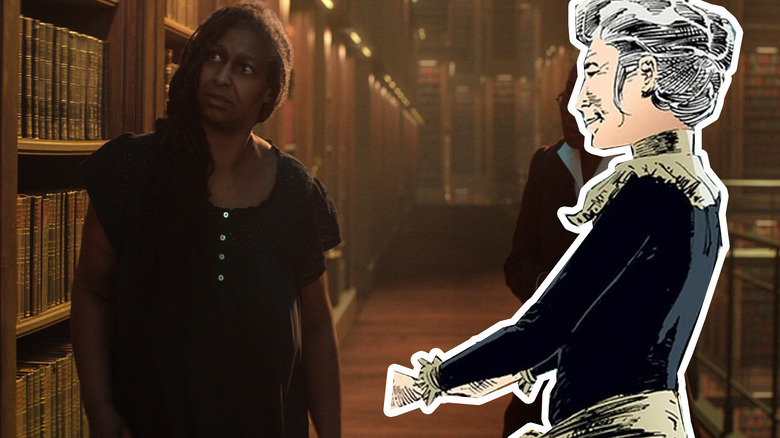 Netflix/Vertigo
In "The Sandman" comics, Unity Kinkaid is a kindly old British woman who was one of the people who suffered from sleeping sickness during Morpheus' captivity. She slept until he escaped, then woke up and started trying to live for the first time in decades. Like Rose, Unity's story is tied heavily to the plot and full of spoilers, so just know that she's a sweet, mysterious old lady who slept for a very long time, like a femme Rip Van Winkle. 
In the Netflix series, Unity is played by Sandra James Young, a British performer with a long and varied career best known for her work in the BBC series "EastEnders."
Razane Jammal is Lyta Hall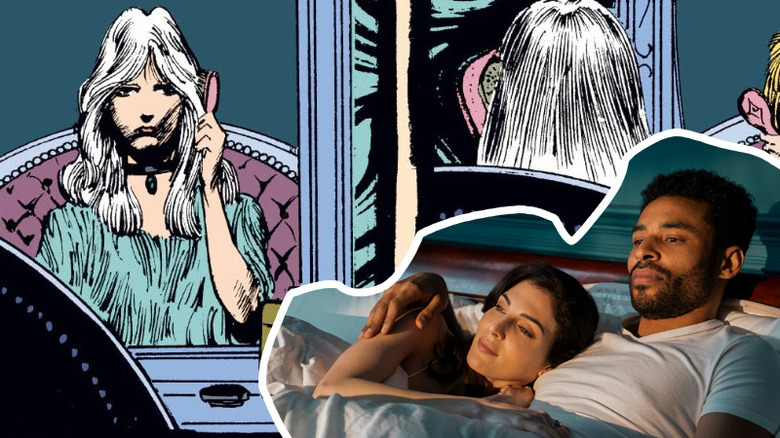 Netflix/Vertigo
While Rose is out on her travels, she meets a whole bunch of other humans who have been affected by the Dreaming in some way, including a whole bed and breakfast full of folks in the story collection "The Doll's House." (The most recognizable of these is probably Hal, the owner of the B&B, played by "Hedwig and the Angry Inch" star John Cameron Mitchell, but adding the whole B&B cast would make this list longer than "The Doll's House" itself!) She also meets a young woman named Lyta, who will play a major role in the future of the Dreaming. 
In the Netflix series, Lyta is a young widow grieving her recently deceased husband, and she joins with Rose on the search for her brother. She's played by Razane Jammal, best known for her work starring on the Netflix series "Paranormal." 
Stephen Fry is Gilbert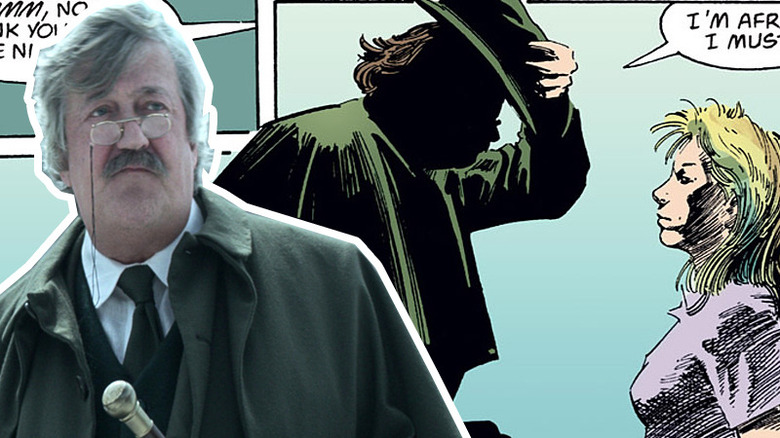 Netflix/Vertigo
In the "Sandman" comics, Gilbert is a kind, older man with spectacles. He was based on writer and philosopher G.K. Chesterton, both in appearance and behavior, and he's a paradoxical fellow who meets Rose Walker and befriends her. He is sort of like her knight, her protector, and he helps her on her search for her brother Jed. 
In the Netflix adaptation, Gilbert is played by Stephen Fry, and he looks almost exactly like his comic book counterpart — he's just a tad more of a silver fox. He carries a sword cane and wears Gilbert's signature green coat, and it's honestly kind of impressive how much he looks like the comic come to life. Fry is a British comedy legend, starring in shows like "Blackadder," "Bones," and "A Bit of Fry and Laurie," along with big Hollywood films like "V for Vendetta."
Patton Oswalt is the voice of Matthew the Raven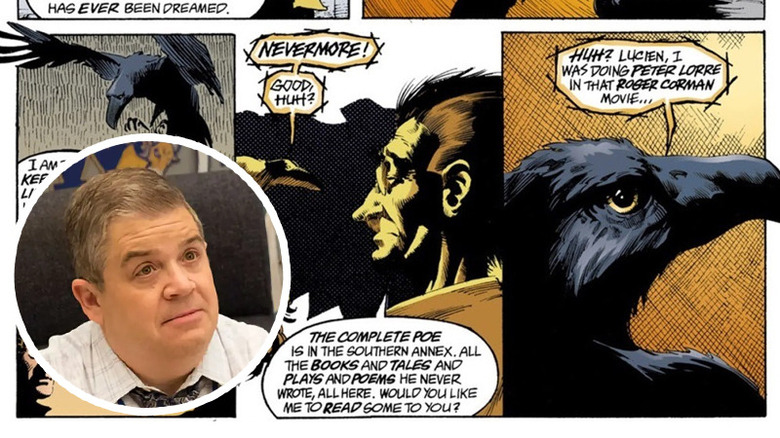 NBC/Vertigo
There are a few characters in "The Sandman" that aren't human or even humanoid, like Goldie the Gargoyle, but perhaps the best of them all is Matthew the Raven. Morpheus keeps talking ravens around as companions, and it's revealed fairly early on that they're reincarnations of people who once lived. In the comics, Matthew fell asleep while in the Dreaming, so Morpheus offered him the chance to serve him as a raven. Matthew is a smart-aleck with a sharp wit and even sharper beak, though he loves Dream and is one of his most faithful servants.
Matthew's voice in the Netflix adaptation is provided by none other than beloved comic book nerd Patton Oswalt, and his brand of sarcastic humor is absolutely perfect for Matthew. This isn't Oswalt's first foray into voicing a comic book character, as he voiced the titular characters in both Marvel and Hulu's "M.O.D.O.K." series and in SyFy's "Happy!" Of all of the casting in "The Sandman," Oswalt's might be the most on point. 
Mark Hamill is the voice of Mervyn Pumpkinhead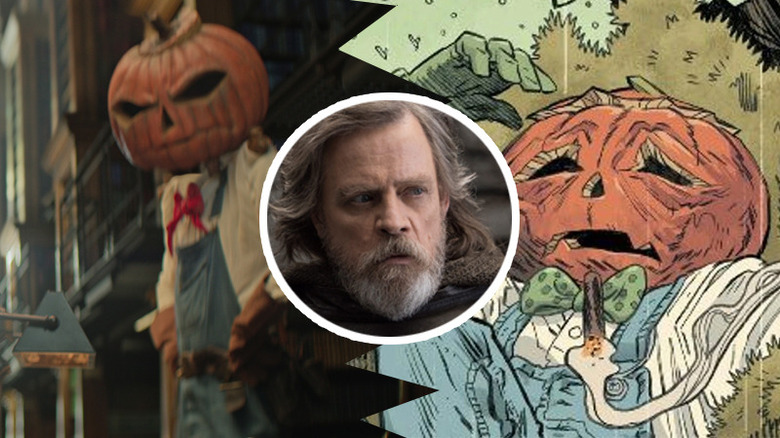 Lucasfilm/Netflix/Vertigo
Another one of Dream's faithful (but incredibly grumpy servants) is Mervyn Pumpkinhead, the library's janitor and an animated scarecrow with the head of a jack o'lantern. He's in charge of quite a bit in the Dreaming, though he complains about his work fairly often because he doesn't understand why Morpheus can't just do everything himself with a flick of his magical wrist. Mervyn is kind of a sweetheart despite his gruff exterior, and he's beloved by fans of the comics for his devotion to Dream. 
Mervyn Pumpkinhead is voiced in the Netflix series by Mark Hamill, who fans might know as Luke Skywalker from a little film called "Star Wars," and as the voice of the Joker on "Batman: The Animated Series." Like Oswalt, Hamill is a geek god, and his connections to DC Comics through "Batman" makes it all the more serendipitous. If anyone knows how to play grumpy but sweet, it's Hamill. Just get Mervyn some green milk.