The Sandman Trailer: Dream A Little Dream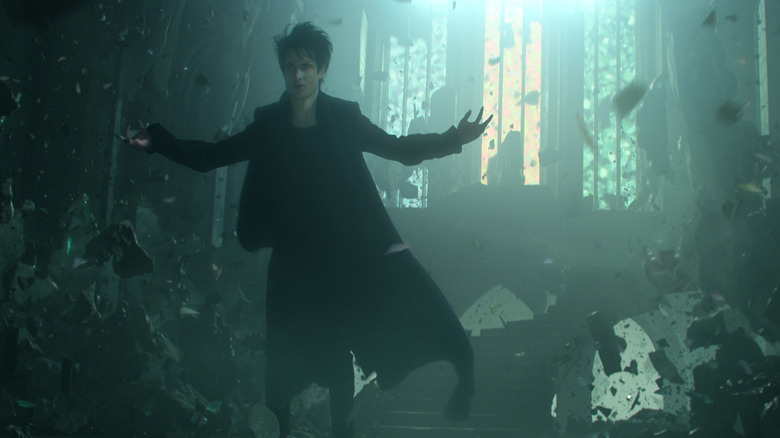 Netflix
Escaping development hell is no easy feat but if anyone was up to the task, then of course it would be Dream, the star of Neil Gaiman's beloved comic series, "The Sandman." Attempts to bring this dark fantasy to screens have been in the works since the '90s, but obstacles always arose and the sprawling nature of the story didn't make things easy. Among the could-have-been adaptations was a film set to be directed by "Pulp Fiction" co-writer Roger Avary, an HBO series developed by James Mangold ("Logan"), a Warner Bros. TV attempt from Eric Kripke ("Supernatural"), and a film version that had Joseph Gordon-Levitt starring in the lead role. But even though none of these came to be, fans kept the dream alive and finally, that patience has been rewarded.
Netflix ordered "The Sandman" to series in July 2019 and after a lengthy production (thanks to unavoidable pandemic delays), the series will premiere its entire first season next month. For longtime fans of Gaiman's comic book series, the hype is already very real! As for all "The Sandman" novices out there, there's still plenty of time to start reading the comic series and lots of reasons to do it. But what exactly are you signing on for? Here's how Netflix describes the upcoming series:
"A rich blend of modern myth and dark fantasy in which contemporary fiction, historical drama and legend are seamlessly interwoven, The Sandman follows the people and places affected by Morpheus, the Dream King, as he mends the cosmic — and human — mistakes he's made during his vast existence."
You can check out the latest trailer below!
The Sandman trailer
At the center of "The Sandman" is Tom Sturridge's Dream, one of the Endless — seven ageless beings that embody natural forces like desire and destruction. Dream's name is quite the giveaway for his identity — he is the King of Dreams and ruler of a kingdom called Dreaming. But things change when he is mistaken for his sibling, Death (Kirby Howell-Baptiste), and captured in an occult ritual that holds him captive for more than a century. When he finally escapes, he discovers that his kingdom has fallen into disrepair. Finally knowing what it feels like to be as vulnerable as the mortals whose dreams he shapes, Dream sets out on a journey with two missions: to restore the Dreaming and make up for his past mistakes. 
As if you need more reason to get excited, Gaiman has been heavily involved in the adaptation process — just as he was with the Prime Video adaptation of "Good Omens." This set the bar pretty high, but luckily, he's joined by a talented team: Gaiman is executive producing and co-writing "The Sandman" along with David S. Goyer ("Krypton," "Foundation") and Allan Heinberg (co-creator of the "Young Avengers" comic books and co-writer of the first "Wonder Woman" movie). The trailer shows off a tremendous cast: starring alongside Sturridge as Dream and Howell-Baptiste as Death, is Gwendoline Christie as Lucifer, Mason Alexander Park as Desire, Donna Preston as Despair, Boyd Holbrook as the evil Corinthian, Charles Dance as Rodrick Burgess, and Jenna Coleman as Johanna Constantine — an ancestor of John Constantine.
Prepare to enter the dreaming — "The Sandman" arrives to Netflix on August 5, 2022.