Our Flag Means Death Turned Editing Thor: Love And Thunder Into A 'Nightmare' For Taika Waititi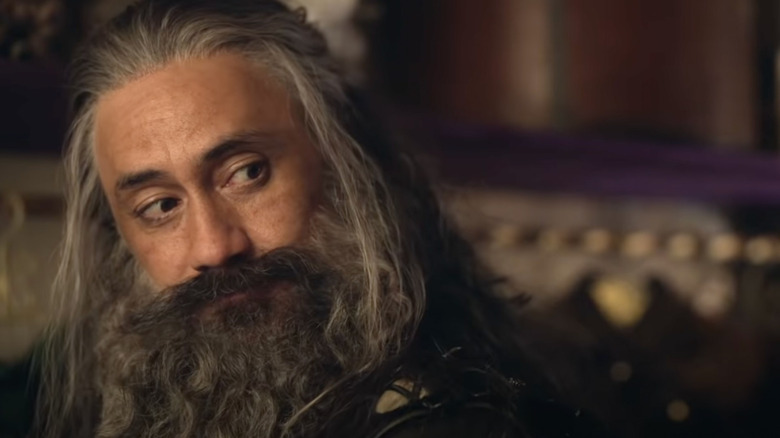 HBO
Taika Waititi is one busy dude. This week alone, he's been making headlines for his role in "Lightyear" and for the buzz surrounding his latest entry in the Marvel Cinematic Universe, "Thor: Love and Thunder." And that only accounts for a fraction of Waititi's busy schedule: he also serves as executive producer on two ongoing FX series, "Reservation Dogs" and "What We Do In The Shadows," starred in upcoming episodes of "The Mandalorian" season 3, and has the sports drama "Next Goal Wins" arriving later this year. That's in addition to multiple movies in the works: adaptations of "Flash Gordon" and "The Incal," plus a standalone "Star Wars" movie.
But despite his enormous pile of projects, Waititi made time in his overwhelming schedule to take the internet by storm by donning a leather jacket, copious amounts of eyeliner, and a giant fake beard. Sure, none of that sounds particularly attractive — especially with scurvy on the table — but I guarantee that after watching HBO's romantic pirate-comedy "Our Flag Means Death" you'll realize that daydreaming about Waititi is a common side effect.
The swashbuckling saga from David Jenkins is one season in, with a second on the way, and very easy to obsess over. It follows real-life English aristocrat Stede Bonnet (Rhys Darby) as he abandons his life of luxury and comfort to become a pirate and sail the high seas with his fellow buccaneers. Along the way, he crosses paths with the notorious pirate Blackbeard and ... slowly falls in love. The first season proved to be thrilling, hilarious, and endearing, so it's no wonder Waititi was compelled to hop aboard.
Balancing Blackbeard and the God of Thunder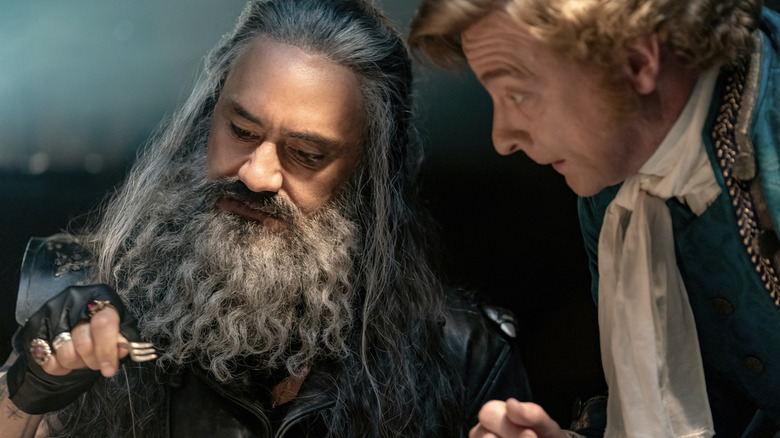 HBO
Predictably, Waititi's packed schedule was a considerable obstacle when "Our Flag Means Death" first landed on his plate. Jenkins had him in mind for the role from the very start, but it took a while for everything to fall into place. Waititi explained this during an interview with Hype:
"This is one of the rare occasions where I didn't put myself in my own thing; someone else asked me to do it. David Jenkins wrote Blackbeard with me in mind and, at first, I was just too busy to do it. But with some shuffling of schedules, we were able to do it, which was great because I really wanted to play the role. I would have been really bummed out if I had missed out on it.
But just because Blackbeard had his hands busy learning to use a fork doesn't mean Waititi could leave his other projects on the back burner. While filming the series, Waititi was also in the middle of editing the adventures of a certain Asgardian God. It proved to be an immensely tiring experience – but ultimately, very worth the trouble.
"I was Blackbeard by day and then was editing 'Thor' by night and doing various other things. I was trying to work from set with the shaggy hair and the beard. It was a management nightmare, but we pulled it off and it was probably one of my favorite roles that I've played because it's something I didn't have to write so I could bring a lot of myself to it."
In a way, it almost seems like fate that the two projects overlapped — after all, both are epic adventures doubling as love stories.
"Thor: Love and Thunder" hits theaters on Friday, July 8, 2022. Until then, "Our Flag means Death" is currently available to stream on HBO Max.