Jurassic World Dominion Is Stomping Its Way Towards A $142 Million Opening Weekend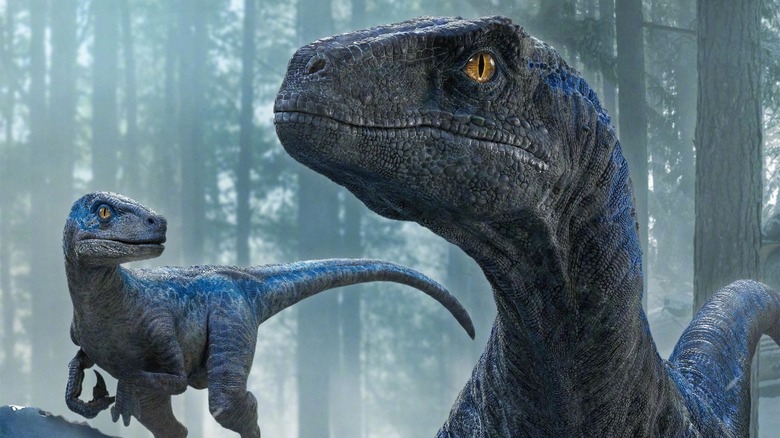 Universal Pictures
In news that is sure to put dollar signs in the mercenary raptor eyes of studio executives, "Jurassic World Dominion" will indeed hold dominion over the box office this weekend. The movie had an almost $60 million domestic opening on Friday and is now on track for a $142 million weekend overall, according to The Hollywood Reporter. It opened in some countries last week and is looking at an international haul of $386 million before Monday.
This will end the two-week reign of fellow legasequel "Top Gun: Maverick" as #1 at the U.S. box office, exceeding that movie's initial three-day gross of $126.7 million. "Maverick," however, had the benefit of kicking off the summer movie season on Memorial Day weekend, so its Monday holiday numbers pushed it up to a $156 million total. By comparison, the #2 movie of last week, "Doctor Strange in the Multiverse of Madness," had a $185 million domestic opening in May.
Juxtaposed with the other two installments in the "Jurassic World" trilogy, "Dominion" is projected to fall a little below "Fallen Kingdom," which raked in $148 million on its first weekend back in 2018. And it won't be anywhere near the $208.8 million opening of the first "Jurassic World," which remains Hollywood's most successful legacy sequel of all time. Yet "Dominion" is still doing superhero numbers and should have one of the best rollouts of the pandemic (beating "The Batman," for instance, which had a $134 million debut back in March). At the time, this was the second-best pandemic opening after "Spider-Man: No Way Home."
When legasequels and superheroes ruled the earth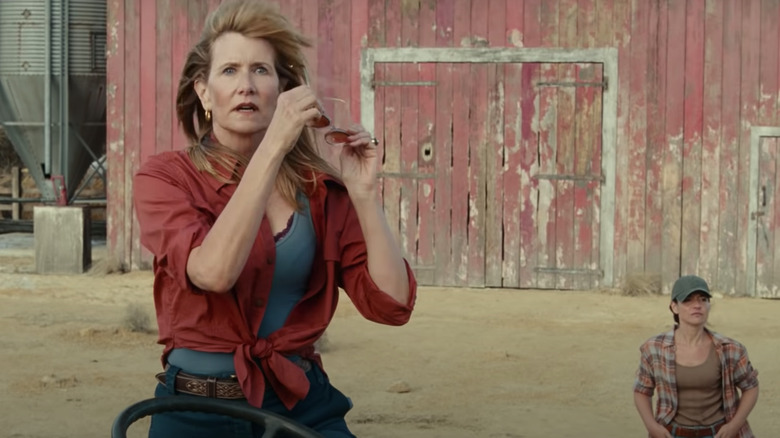 Universal Pictures
"The Batman" bombed in China, one of the world's biggest movie markets, but "Dominion" is faring better there (despite the closure of some theaters due to Covid restrictions), with $15 million on its first day alone. In this respect, it also has an edge over "Maverick" and "Doctor Strange," neither of which have been cleared for release in China.
Reviews for "Dominion" have not been kind, but as THR notes, the movie came away with an A- Cinemascore, and it has benefited from occupying some of the IMAX and Premium Large Format screens that "Top Gun: Maverick" held before. The movie also makes a clear play for nostalgia with the return of original "Jurassic Park" stars Sam Neill, Laura Dern, and Jeff Goldblum, who are joining Chris Pratt, Bryce Dallas Howard, and the new generation of characters.
The Colin Trevorrow-directed sequel, which ranks as the sixth feature film in the "Jurassic Park" franchise, takes place four years after Isla Nublar, the theme park island from "Jurassic Park" and "Jurassic World," has gone up in flames. Per the official synopsis, "dinosaurs now live — and hunt — alongside humans all over the world."
There are also giant locusts and human clones involved, but whatever wackiness its plot might hold, the brand-name appeal of a "Jurassic" flick was enough to keep moviegoers turning out and theaters bouncing back this weekend. That's good news for studios and their current business model of legasequels and superhero films, though it doesn't necessarily trickle down to would-be arthouse blockbusters like "The Northman" (the success of low-budget hit "Everything Everywhere All at Once" notwithstanding).
For now, "Jurassic World Dominion" rules commercially, at least until the next tentpole in the ever-revolving door of the franchise-of-the-week hits multiplexes.