Kathleen Kennedy Says The Lando Disney+ Series Starring Donald Glover Is Still In The Works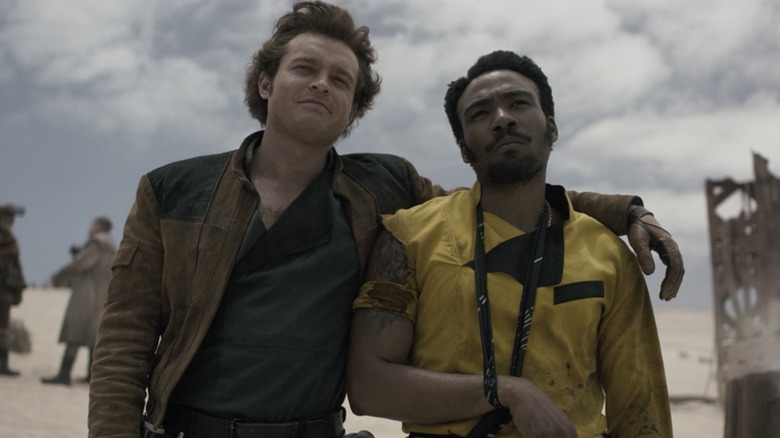 Lucasfilm
It's been four years since "Solo: A Star Wars Story" crashed and burned at the box office, but there may be hope yet if you were looking forward to seeing more of Donald Glover as the young Lando Calrissian. "Star Wars" once ruled the roost in movie theaters on Memorial Day weekend, but this year, "Obi-Wan Kenobi" is ceding the high ground to "Top Gun: Maverick," a film that pretty much feels like "Star Wars: A New Hope" in parts, anyway. However, while Ewan McGregor's return to the galaxy far, far away may be playing out on the small screen, there's been no shortage of news coming out of Star Wars Celebration, including but not limited to the first teaser trailer for "Andor."
Total Film caught up with Lucasfilm president Kathleen Kennedy at Star Wars Celebration (via Star Wars News Net), where Kennedy addressed some recent comments she made in a Vanity Fair interview that seemed to imply the franchise had learned its lesson with "Solo" and would move away from stories featuring legacy characters recast with younger actors. The one exception to this? Glover and Lando. Kennedy said:
"I never say never [about recasting]. It's certainly not something that we're doing with any intention right now. We're still talking about Lando with Donald Glover, for instance, but I don't think we would intentionally just look back at some of the characters like Luke and Leia and whatnot and decide arbitrarily to do a story. There would have to be a really strong reason why."
'There's always a future for Solo'
"Lando" was announced to Disney investors as an "event series" back in December 2020, with writer-director Justin Simien ("Dear White People," "Bad Hair") attached. In an appearance on "Jimmy Kimmel Live" in late March of this year (see above), Glover himself seemed to confirm that he still had a "Lando" project in development at Disney+, joking that Kimmel was "telling all [his] business," but then saying, "No, yeah. I have a lot of things. I like to blossom then go away."
Outside the "Star Wars" franchise, Glover does remain a busy dude. The third season finale of his FX series, "Atlanta," just aired this month, and the show's fourth and final season is coming this fall. He also has his Prime Video series, "Mr. and Mrs. Smith," on the way, which was originally set to reunite him with Phoebe Waller-Bridge, who played his Millennium Falcon co-pilot, L3-37, in "Solo: A Star Wars Story." It's now moving forward with Maya Erskine in the Mrs. Smith role instead.
There's also Glover's musical career as Childish Gambino, while Simien has been otherwise occupied in the Mouse House with a new live-action "Haunted Mansion" film. So it's understandable why development on "Lando" might be slow-going. It's always possible that "Lando" could fall through, but Kennedy also said, "There's always a future for Solo," and neither she nor Glover seem to have given up yet on "Lando," either.