How It's Always Sunny In Philadelphia Turned $100 Into A Fan-Favorite Series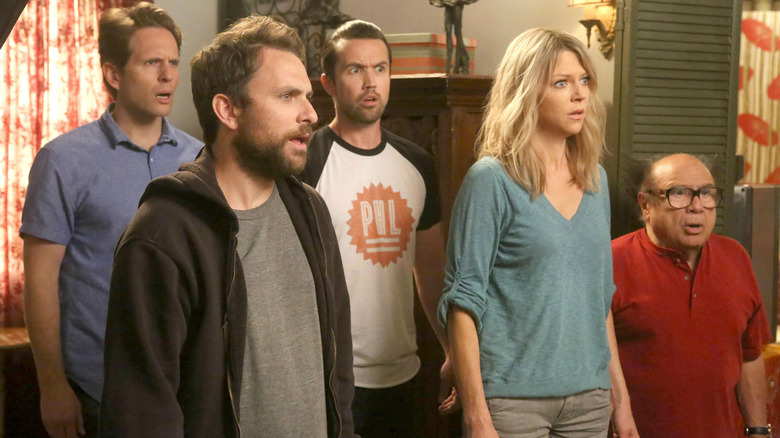 FX
There's nothing conventional about the FX sitcom "It's Always Sunny in Philadelphia." The show evolved from humble beginnings into a beloved guilty pleasure for millions of viewers. It broke the mold of the sitcom on its way to becoming television's longest-running live-action comedy series in American television history. The cringe-worthy dark comedy features ludicrous storylines like faking a baby funeral to avoid the IRS, fulfilling dreams of becoming a drug addict, and the creation of a product called kitten mittens. But the show also tackles taboo topics that most sitcoms won't dare touch, including an aggressive look at racism that would make Archie Bunker blush. And they do all of it with a cast of characters that simply refuse to grow as people.
Unlike your typical sitcom, no one learns their lesson at the end of each episode, recurring storylines are often ignored, and the budget was once so low the opening credits were filmed by the actors with their own camcorder. And quite frankly, the indiscriminate Mac (Rob McElhenney), Charlie (Charlie Day), Dennis (Glenn Howerton), Dee (Kaitlin Olson), and Frank (Danny DeVito) couldn't care less, which makes it ok if we as an audience don't care either.
So, it's not surprising that when it came time to pitch the show to FX network executives, the gang used an unconventional technique to sell the show.
They filmed a pilot for $100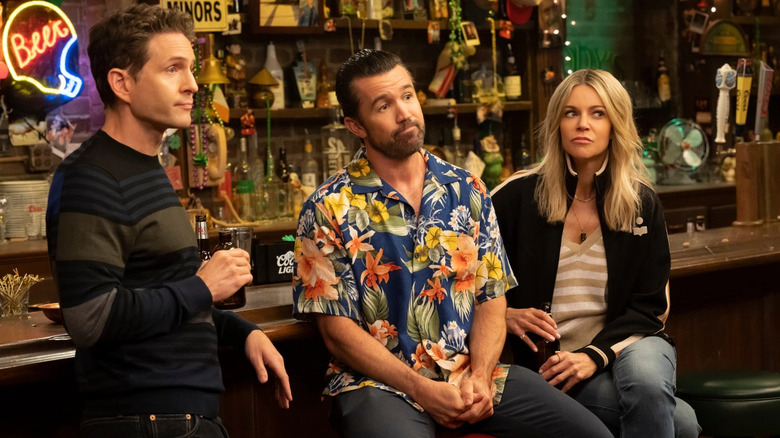 FX
After 15 seasons, it's hard to imagine "It's Always Sunny in Philadelphia" taking place anywhere other than a grungy South Philadelphia bar. But that's exactly the case when the show was just a concept being pitched by Rob McElhenney. The show was set in Los Angeles, and according to the L.A. Times, it created a blueprint for producing a sitcom at a quarter of the cost.
Unlike the misfortune of its characters, the show's success is largely a product of good timing and creative presentation. When FX General Manager John Landgraf arrived at the network in 2004, he wanted to add low-cost comedy to FX programming. Enter the gang — specifically, Rob McElhenney.
During a meeting with FX, McElhenny avoided a typical pitch and instead showed a pilot produced with Day and Howerton for $100 titled "Charlie has Cancer" (fans will recognize the title as it was re-done for season 1 episode 4 of the series). In this version of the show, the gang was a trio of struggling actors who all fake a terminal illness in the hopes of landing an acting gig. The essence of the show that we know and love today shines through in a clip of the low-budget pilot. Specifically, Dennis' apathy towards feelings, Charlie's dumbfounded nature, and Mac's frenetic energy.
The concept and characters were there, the gang just needed a chance, and FX obliged, even with McElhenney making some unheard of demands as a first-time producer.
McElhenney demanded total control of the show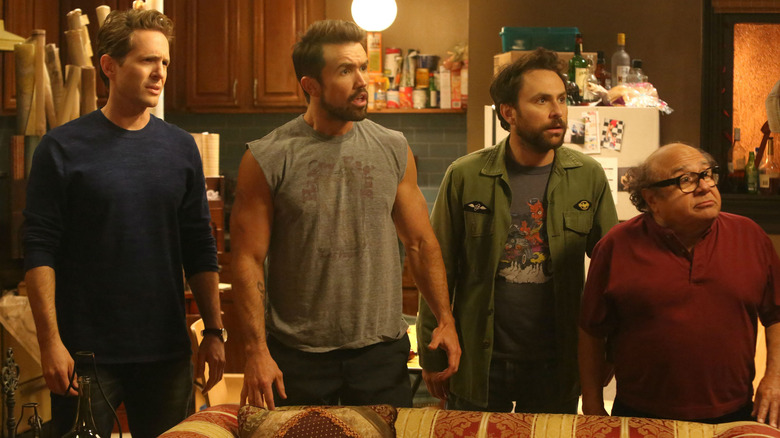 FX
One reason "It's Always Sunny" is different from other sitcoms is because FX never had a chance to interfere with the gang's vision. In an interview with FX, McElhenney said:
"I wanted to lay out exactly what it is that was going to happen if they (a network) bought the show. The only way that we'll do it is if I'm the showrunner and executive producer, Glenn and Charlie are executive producers, and we write the show and we act in the show and we can't change the cast."
FX met McElhenney's demands and gave the show a budget of $450,000 per episode for the first season, about a quarter of a standard sitcom budget. The network did have one request: Drop the struggling actor schtick. The decision was made to move the location of Paddy's Pub to Philadelphia, McElhenney's hometown, and Sweet Dee, initially played by Jordan Reid, was recast with Kaitlin Olson.
"It's Always Sunny" floundered for the first season, but Landgraf was a believer and liked the price tag of the show. He reached out to a familiar face – Danny DeVito. Landgraf was the head of DeVito's production company before joining FX and convinced the actor to make a regular return to television for the first time in more than two decades.
By season 2, DeVito was on board and the budget for each episode almost doubled, but there was one more surprise in store. In season 4 the series was added to Hulu and quickly became one of the streamer's most popular shows. Ten seasons later, the gang found itself negotiating a record-breaking deal. Quite a bit different from popping in a homemade pilot shot on a camcorder during a pitch meeting. From a $100 pilot made by a few friends to the longest-running live-action series in U.S. television history, things are indeed always sunny in Philadelphia for the gang.