The Reason Danny DeVito Had To Join It's Always Sunny In Philadelphia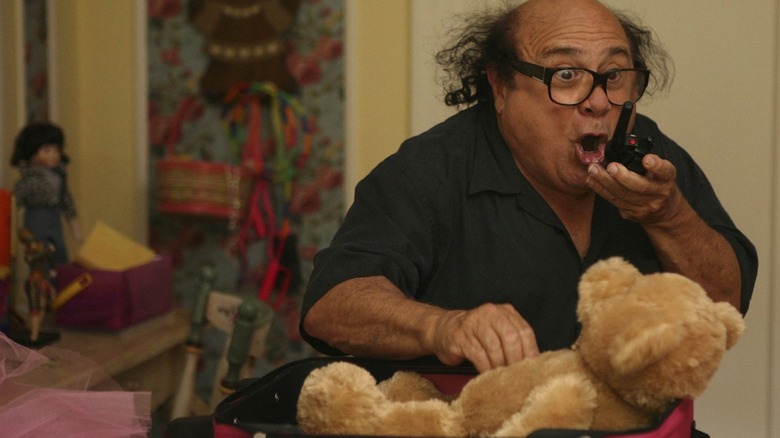 FXX
With fifteen seasons under its belt, it's almost hard to remember an era of "It's Always Sunny in Philadelphia" that didn't include Danny DeVito. But longtime fans will recall that the FXX show was actually DeVito-less for its entire seven-episode first season. It turns out, the famed actor was actually brought on to play Dee (Kaitlin Olson) and Dennis' (Glenn Howerton) dad, Frank, in a move to save the still-burgeoning series.
Last year, "It's Always Sunny in Philadelphia" celebrated its fifteenth season, which makes it the longest-running live-action comedy in TV history. There was a time when the series didn't seem like it'd make it past its first, though. When "It's Always Sunny" debuted in 2005, FX was much more well-known for its drama line-up, which already included "The Shield," "Nip/Tuck," and "Rescue Me." The network hadn't gotten the hang of lighter fare yet, though, with only two forgettable comedies ("Son of The Beach" and "Lucky") to its name.
Without A Big Name, The Show Would Be Canceled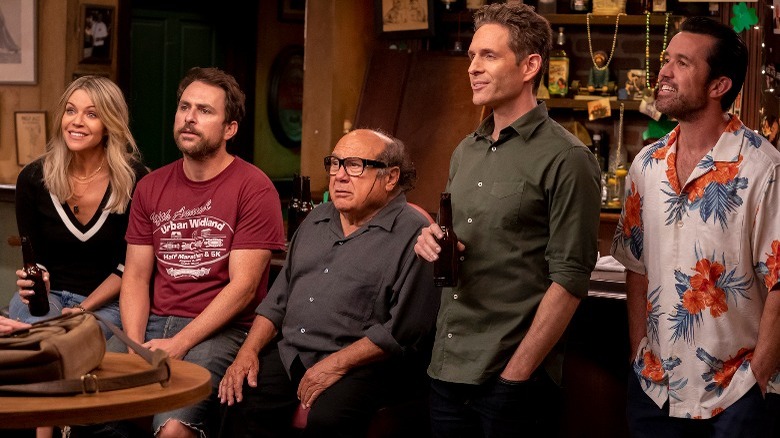 FXX
Enter "It's Always Sunny," a show that all but created FX's signature brand of dark comedy. The show's first season is purposely deeply offensive, with plotlines revolving around racial slurs and molestation. Yet when it came time to renew or cancel, FX was apparently more concerned with its viewership problems than anything else.
"We knew that no one was watching the show, and the network said that we needed to bring in someone with cachet to draw attention," creator and star Rob McElhenney said in an interview with The Hollywood Reporter. Basically, the series needed to add an actor with more name recognition than its ensemble of unknowns, or else its future couldn't be promised. Glenn Howerton made the bottom line clear, saying, "Our season-two pickup was predicated on if we could bring in that high-level name."
McElhenney says DeVito wasn't the only actor they considered bringing on board, but that he "just made a lot of sense." It helped that when McElhenney met the actor at his home to discuss the role, DeVito's kids were already big fans of the series. DeVito was also apparently friends with John Landgraf, who had just been promoted to President and General Manager of the network.
When he met with DeVito, McElhenney says he didn't know exactly who amoral businessman Frank Reynolds would be, but that he came up with some ideas on the spot. "Danny kept asking all of these questions, and I was really winging it with the character," he admitted. He says that by the time he left, they had "a rough idea" of the character and that Landgraf called to tell him DeVito was in no more than 15 minutes after the meeting.
It's impressive that McElhenney was able to look at Danny DeVito's career — which includes such wide-ranging roles as The Penguin in "Batman Returns" and Martini in "One Flew Over The Cuckoo's Nest" — and recognize that he'd be game to embody someone as creatively deranged as Frank Reynolds. But "It's Always Sunny" wouldn't be the same without the actor. Fourteen seasons later, it's clear his and FX's gamble paid off big time.