Shows Like It's Always Sunny In Philadelphia You Definitely Need To Watch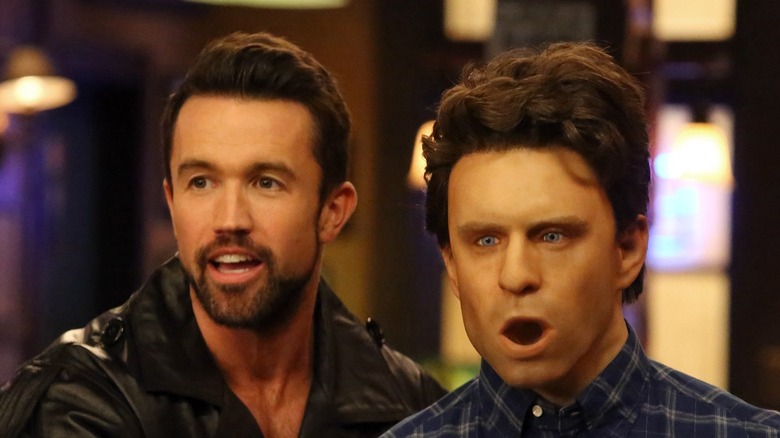 FX/Hulu
When a group of struggling L.A. actors put together a cheaply-made pilot for what would eventually become "It's Always Sunny in Philadelphia" in the early 2000s, no one really expected it to go anywhere. But it has since grown to be a massive hit, breaking records as the longest-running live-action American sitcom with its 15th season in December 2021. The concept is simple: Four friends (and, let's be honest, sometimes enemies) own a bar in Philadelphia, where they engage in increasingly anarchic schemes, seemingly unable to stop themselves from growing ever more malicious as the series goes on. It represents the next logical step from 1990s sitcoms — where the former were cynical, "It's Always Sunny in Philadelphia" is downright nihilistic.
But if you're a fan, the hostile tones and outlandish beefs are what you tune in for. And although some would argue that "It's Always Sunny in Philadelphia" is one of a kind, there are plenty of other comedy shows that'll do in a pinch if you're looking for something with a similar vibe.
Cheers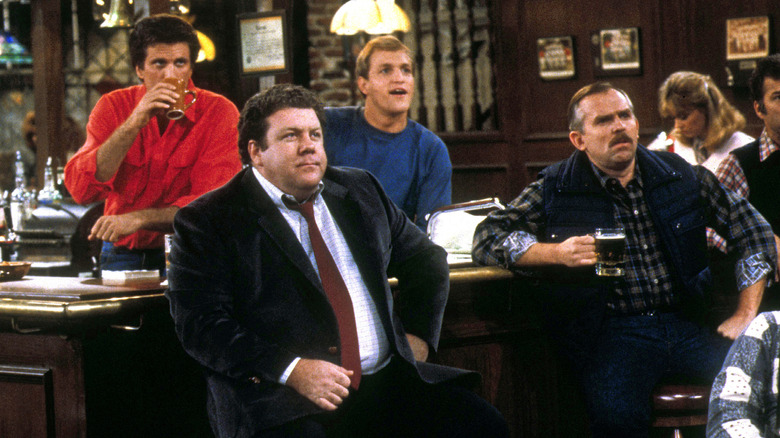 NBC
If you've watched "It's Always Sunny in Philadelphia," you know that the primary location of the show is Paddy's Pub, an Irish-themed bar in Philadelphia where the four main protagonists work. So how could we talk about that without mentioning the single most famous sitcom ever to be set in a bar? That's right: "Cheers." Running for 11 seasons beginning in 1982, "Cheers" stars Ted Danson as Sam Malone, a former baseball player for the Boston Red Sox who now owns a bar (arguably not the best career choice for a recovering alcoholic, but we're not here to judge). 
The show is best known for its large, beloved ensemble cast of bartenders and customers who frequent Cheers, creating an atmosphere that is not just hilarious, but warm and inviting. No other show comes close to giving audiences the comforting feeling of walking into their neighborhood bar and chatting with the regulars. Over the course of its series run, "Cheers" took home an astonishing 28 Emmy Awards, making it a valid contender for one of the most critically acclaimed sitcoms of all time.
South Side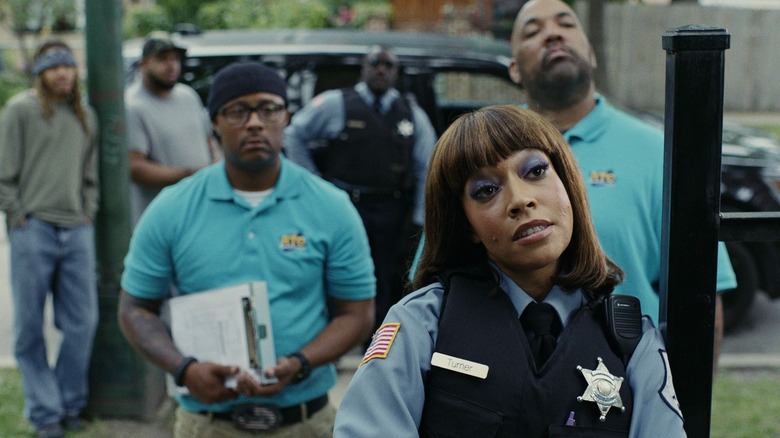 HBO Max
Although there are tons of sitcoms that revolve around characters who live in either New York or Los Angeles, some of the best are the ones that highlight the unique charms of other cities. "South Side" takes place in Inglewood on the south side of Chicago, starring Sultan Salahuddin and Kareme Young as two employees at a rent-to-own shop who are continually caught up in a wide variety of schemes. It's one of those shows where the longer you watch it, the more you fall in love with its ensemble cast of eccentric hustlers.
The characters in "South Side" struggle to earn a living and follow their dreams, but rather than looking down on or pitying them, it celebrates their day-to-day successes. Tambay Obenson from IndieWire wrote of "South Side," "The creators and cast know this world intimately, and instead of turning their camera on the usual crime and poverty, they find the humor that exists within the mayhem."
Big Mouth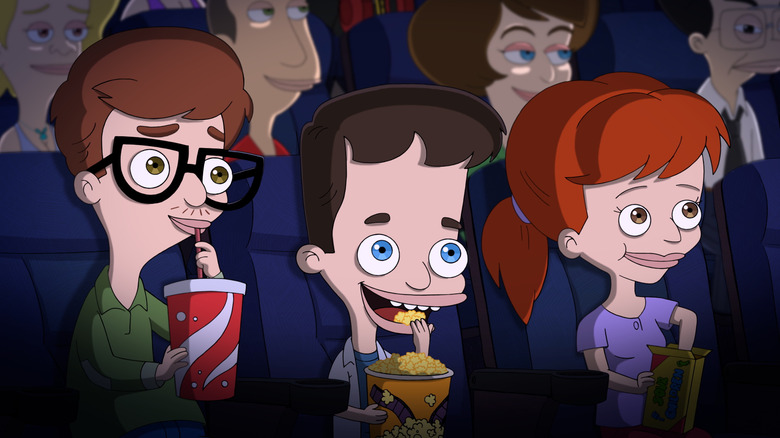 Netflix
A bunch of borderline sociopathic adults don't just spring up out of nowhere, they grow that way from childhood. And while the frankly outrageous behavior of the characters on "Big Mouth" is likely a result of the charming effects of puberty, it's easy to imagine the pint-sized versions of Dennis, Dee, Mac, and Charlie as being similarly inclined. "Big Mouth" stars Nick Kroll, John Mulaney, and Jessi Klein as a trio of friends on the cusp of adolescence, struggling to deal with life changes with the help of their hormone monsters, anxiety mosquitos, depression kitties, lovebugs, and of course, the Shame Wizard. 
The storylines are exaggerated for comic effect, but the way that it personifies mental health issues amidst the challenges of growing up feels very accurate. For a potty-mouthed comedy, it does a surprisingly good job of serving as a sex education primer. "Big Mouth" is a fun show for adults but honestly, you could make an argument that it should be required viewing for the teen and pre-teen set.
Curb Your Enthusiasm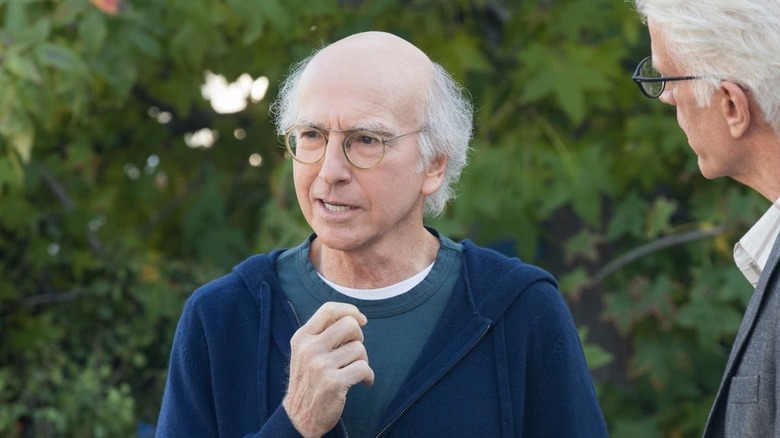 HBO
You might watch "It's Always Sunny in Philadelphia" and think that the Paddy's Pub gang share way too many beefs, but they've got nothing on Larry David. The famously misanthropic showrunner of "Seinfeld" plays an only slightly exaggerated version of himself on "Curb Your Enthusiasm," living in Los Angeles and getting into constant pickles. Sometimes these are caused by comic misunderstandings, but most often they are the result of Larry either adhering too closely to a strict interpretation of social cues that he thinks have value, or completely ignoring the ones he views as pointless. 
This is a man who will be bothered for a week by someone sitting directly next to him instead of leaving a buffer seat between them, but is perplexed by the idea of taking your shoes off inside someone else's house if they ask you to. Probably annoying to live with, but hilarious to watch. "Curb Your Enthusiasm," has aired on HBO for 11 seasons, with an impressive 47 Emmy nominations (although it's only actually won twice).
Silicon Valley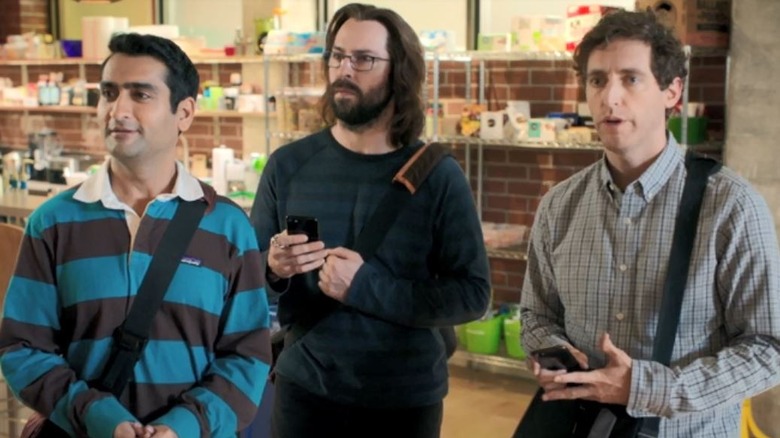 HBO
The tech world of Northern California may be miles away from working-class Philadelphia both geographically and metaphorically, but they're both apparently just packed with people ready to stab each other in the back at a moment's notice. "Silicon Valley" stars Thomas Middleditch as Richard Hendricks, an unceasingly awkward computer programmer, and his journey to bring to life "Pied Piper," an app containing an algorithm for data compression that Hendricks is convinced will redefine the way people use the internet. 
But the road to success in Silicon Valley is never simple: Every time he seems as though he's making progress, someone comes along to hurl him back into the mud. Together with his intrepid band of misfit programmers and hype men (played by Kumail Nanjiani, Martin Starr, and Zach Woods), Hendricks will fight to keep his precious app alive, giving a giant middle finger to media conglomerate Hooli (a thinly-veiled reference to Apple) along the way.
A.P. Bio.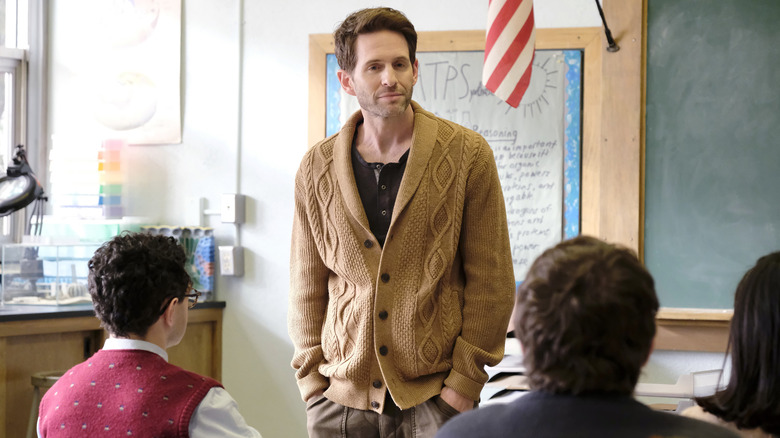 NBC
"It's Always Sunny in Philadelphia" has been on the air for a long time, and it's only natural that its central cast of characters would occasionally take on side projects, just to keep themselves creatively stimulated after so many years of playing the same character. For Glenn Howerton, this would involve the NBC sitcom "A.P. Bio." In many ways, his character here is similar to Dennis from "It's Always Sunny in Philadelphia": He's self-absorbed, amoral at best, and often dedicates a great deal of energy in maintaining entirely one-sided conflicts.
As Ivy League philosophy professor Jack Griffin leaves Harvard in disgrace, he is forced to return to his hometown in Ohio, living in his late mother's house and taking on a job as a teacher at his local high school. But rather than teach his students anything that might actually show up on the A.P. test, he ropes them into a myriad of outlandish revenge plots. Although the show originally focused primarily on his character, it has since shifted focus to capture the bizarre personalities of his outcast students, a move that has kept the comedy fresh and always surprising.
Arrested Development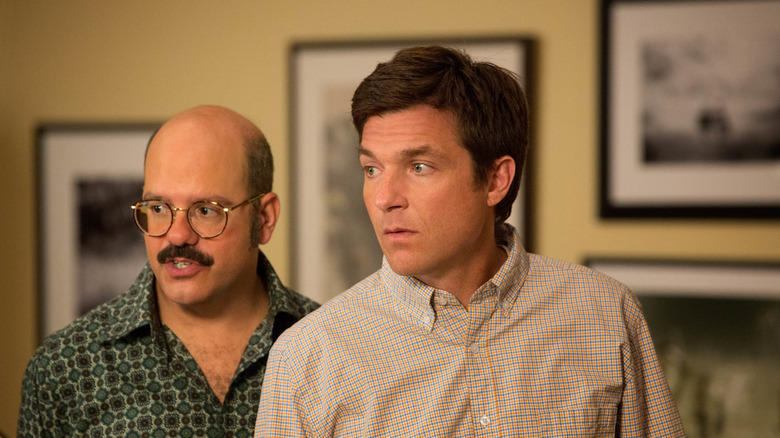 Fox
You can make the argument that Dennis and Dee are the way they are at least partially because of their incredibly dysfunctional childhood, having been raised by the ghoulishly unpredictable Frank (Danny DeVito). But the Reynoldses have some serious competition, as far as maladjusted families go: The Bluths on "Arrested Development" can give them a serious run for their money. This NBC comedy stars Jason Bateman as Michael Bluth, the self-appointed straight man who suffers through his family's unrelenting chaos. 
With an incredible cast of comic talents including Jessica Walters, David Cross, Will Arnett, Tony Hale, and many others, "Arrested Development" quickly gained a passionate fanbase. More than anything else, the show is defined by an uncommon patience that would allow jokes to play out over the course of several episodes, even entire seasons, making "Arrested Development" incredibly rewatchable. The proud owner of six Emmy awards and dozens of nominations, "Arrested Development" has cemented its position in television history.
Workaholics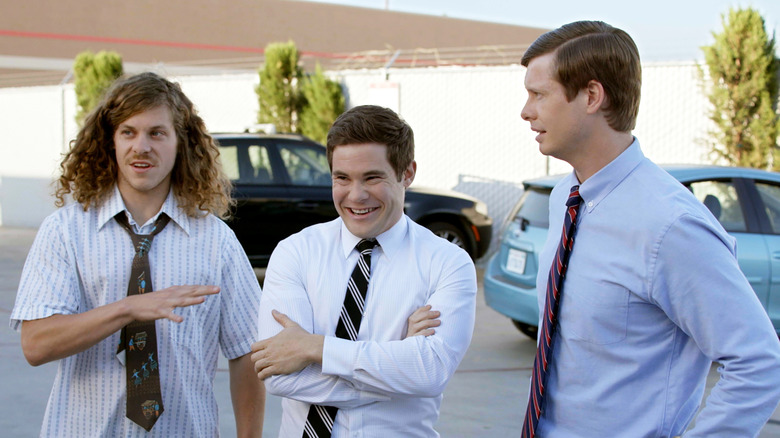 Comedy Central
Running for seven seasons on Comedy Central, "Workaholics" revolved around a group of aimless telemarketers whose lives are as shamelessly perverse as the crew over at Paddy's Pub. The show stars Adam DeVine, Blake Anderson, and Anders Holm, who are also its creators and writing team. The trio are a group of college friends who now also work together, live together, and get into various mishaps together. A natural successor to "Office Space," "Workaholics" taps into less wholesome but similarly good-natured style of humor that "The Office," which aired at the same time, was best known for.
Even mixed reviews of "Workaholics" found something to appreciate within its quirky charms. Robert Lloyd of the Los Angeles Times said of the show, "I can't say I found much of 'Workaholics' especially funny, but neither do I have it in my heart to hate it. On a craft level, it's very nicely made, the actors are weirdly appealing, and its spirit is not mean, but sweet."
Bojack Horseman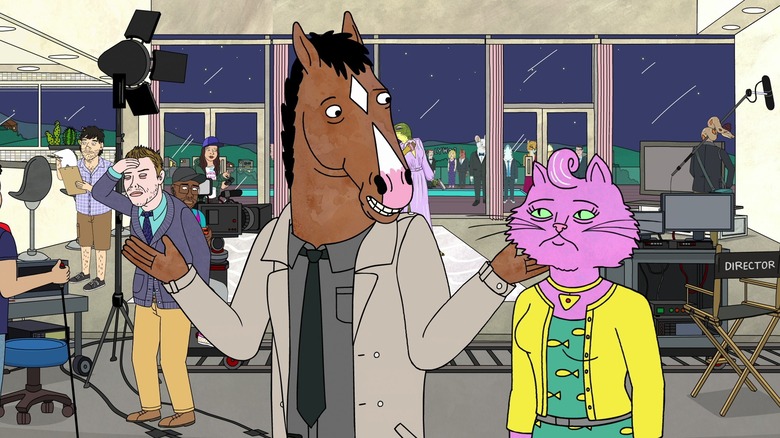 Netflix
Sometimes it seems like the characters on "It's Always Sunny in Philadelphia" do bad things because they lack a moral compass, but other times it's clear that they simply can't stop themselves, their capacity for self-sabotage is so great. That's certainly the case with Bojack on "Bojack Horseman." An alcoholic has-been clinging to the fame brought to him from a starring role on an early 1990s family sitcom, Bojack Horseman (Will Arnett) is a complete and utter mess. 
Throughout the series, we see him essentially destroy everything he touches, because he believes himself to be a terrible person. And if he's that irredeemable, why put forth the effort to try to change? It's a breath of fresh air in that it never balks at the prospect of going to a truly dark place, whether it's an episode with two-and-a-half minutes straight of Bojack's disturbingly negative internal monologue, or one that explores his mother's fractured memories of her own childhood. But at the same time, it finds a remarkable well of humor, even amidst the bleakness.
The Other Two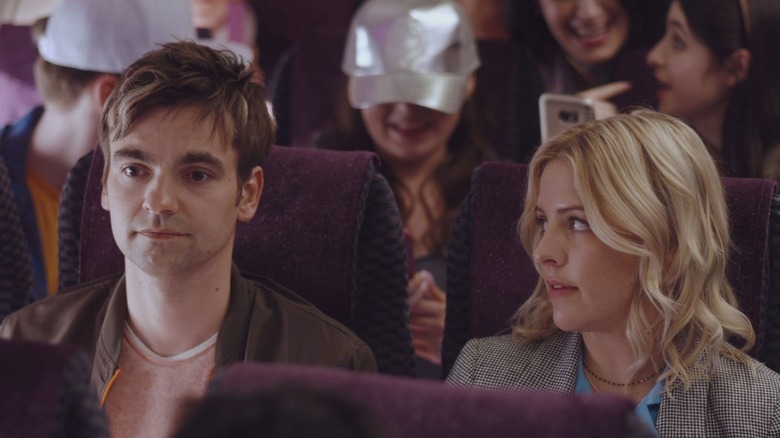 HBO Max
Imagine if you and your sibling had spent your entire careers trying to break into a notoriously difficult industry, only for your little brother to go viral and become TikTok famous overnight. That's the central plot of "The Other Two": An actor (Drew Tarver) and dancer (Heléne Yorke) grapple with the fact that their teen brother (Case Walker) has accomplished everything they've ever wanted. At least, that's how the story begins. 
After its two-and-a-half-year hiatus (thanks, COVID!) and a transfer from Comedy Central to HBOMax, it switches gears, bringing the same sense of humor that made it popular in the first place, but still keeping things fresh. It loses a bit of the focus on cameos that defined the first season, and feels more confident, more mature in the second. Esther Zuckerman of The Thrillist said, "The Other Two's melancholic moments wrestle with what achievement actually means, and they challenge the idea that success can somehow make sadness and loss disappear."
Seinfeld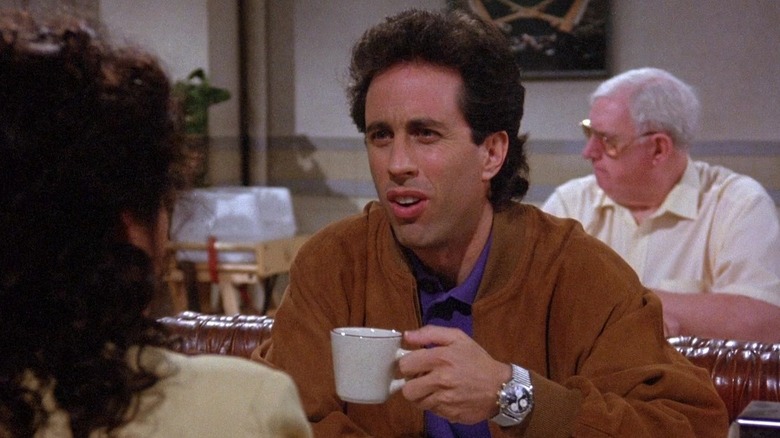 NBC
There's no way around it: "It's Always Sunny in Philadelphia" simply would not exist if "Seinfeld" hadn't come before it. Pioneering the art of unlikeable protagonists on the American sitcom, "Seinfeld" revolves around the petty antics of comedian Jerry Seinfeld and his three closest friends: George Constanza (Jason Alexander), Elaine Benes (Julia Louis-Dreyfus), and Kramer (Michael Richards). Together, they find ways to turn minor annoyances about life in New York City into full-blown catastrophes, generally with humorous results. 
In a send-up of modern dating, Jerry breaks up with people for a variety of ridiculous reasons, ranging from their laugh to the size of their hands, and even the fact that they eat peas individually. And in the now-infamous finale, it's clear that the "Seinfeld" crew has behaved badly to pretty much every person in the greater New York metropolitan area. But just imagine what that trial would look like the guys from "It's Always Sunny in Philadelphia" had to face everyone they'd ever wronged in open court!
Trailer Park Boys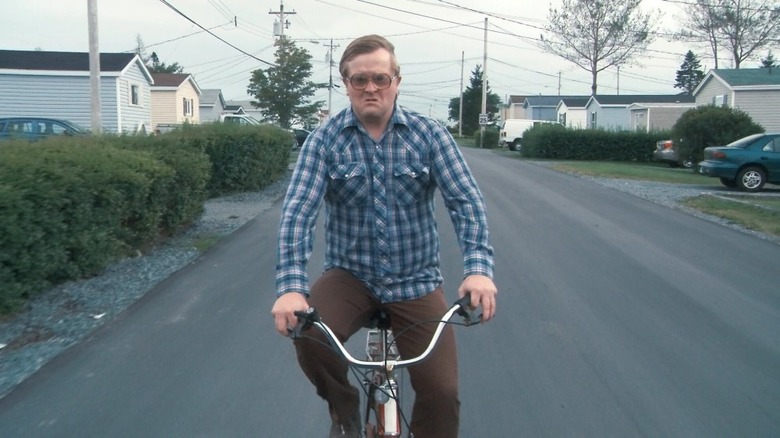 Showcase
An oddball Canadian mockumentary, "Trailer Park Boys" doesn't feel quite like anything else on television. And it's been going strong for a while now — the series has been airing (albeit inconsistently) since 2001, to say nothing of the various films and TV specials that have been released over the years. The show revolves around a group of misfits who live at the Sunnyvale Trailer Park in Nova Scotia, and is the continuation of a 1999 film from director and showrunner Mike Clattenburg. 
Together, the gang engages in a series of petty crimes in order to make ends meet, but things never seem to turn out the way that they're intended. "Trailer Park Boys" is one of the most quintessentially Canadian shows, capturing an eccentric spirit that can't help but endear itself to audiences — it developed a cult following before it even aired in the United States.
Black Books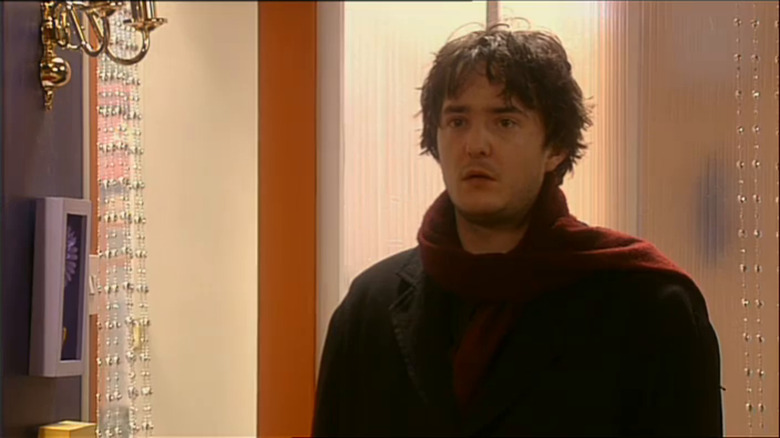 Channel 4
It would be hard to find anyone who cares less about the actual day-to-day aspects of their job than the famously negligent owners of Paddy's Pub on "It's Always Sunny in Philadelphia," but Bernard Black is right here to defy the odds. Played by Dylan Moran, Bernard owns a bookstore (the titular "Black Books"), but God, does he hate it. The customers walking into the store all day, asking questions, wanting to buy things — who needs it? 
Bernard is intelligent in his own way, but is an Olympic-level underachiever: He's the kind of person who will invite a group of missionaries into his home to discuss religion just to put off doing his taxes. Together with his best friend Fran (Tamsin Grieg), who owns a novelty shop next door, and his assistant Manny (Bill Bailey), he represents the charmingly misanthropic nature that every independent shopkeeper secret aspires to. "Black Books" ran for three seasons on Channel 4 in the U.K., and went on to win two BAFTAS.
I Think You Should Leave with Tim Robinson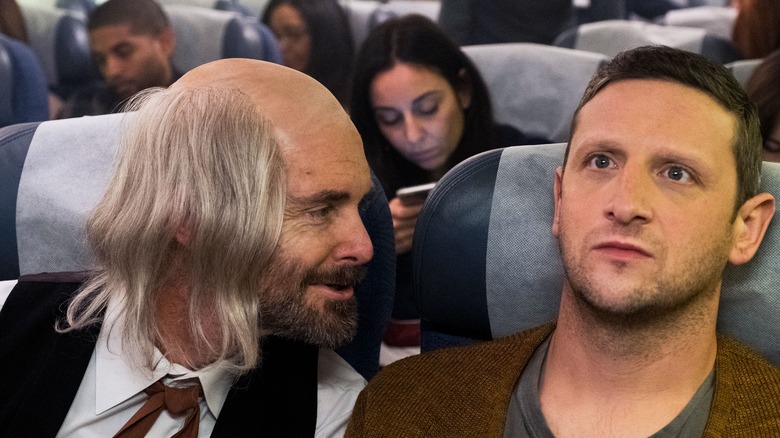 Netflix
An anarchic, often surreal take on sketch comedy, "I Think You Should Leave with Tim Robinson" takes audiences to unexpected but always hilarious places. Former SNL writers Tim Robinson and Zach Kanin are the creative force behind the show, and its their chaotic vision that makes it such a delight. Robinson himself features in almost every single sketch, but thanks to their comedy connections, they have amassed an impressive roster of guest performers, including Vanessa Bayer, Steven Yeun, Sam Richardson, Bob Odenkirk, and so many more. 
The humor frequently revolves around awkward scenarios, but it seems to exist in some sort of heightened reality, so much so that the normal cringe factor of this type of show doesn't apply. Judy Berman of Time says of its concepts, "they stick around in the cultural ether, I think, because his characters — usually men throwing tantrums for nonsensical reasons — evoke the incoherent anger that defines our era in a way more serious shows never could."
Mythic Quest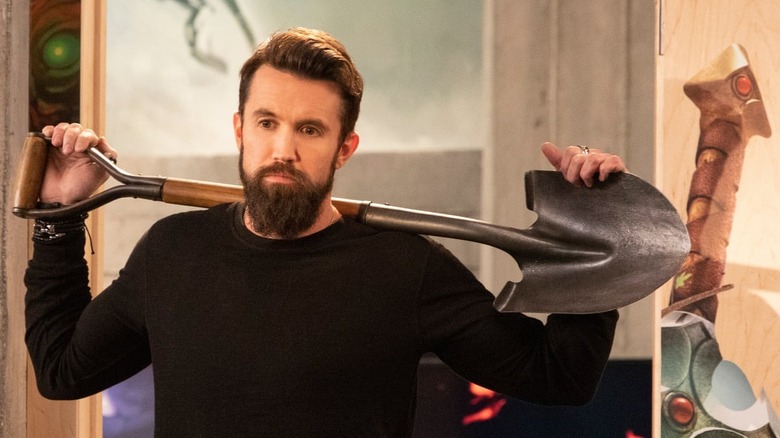 Apple TV+
While "It's Always Sunny in Philadelphia" creator Rob McElhenney has been working on the show for nearly two decades, he's still got time in his schedule for a side project or two. With "Mythic Quest," McElhenney teamed with his fellow "Sunny" executive producers Charlie Day and Megan Ganz to create a comedy for Apple TV+ revolving around the video game industry. It stars McElhenney as the owner of a video game design studio, riding the success of their first popular game, "Mythic Quest," as he and his employees struggle to put out an expansion pack. 
A new spin on a workplace comedy, "Mythic Quest" moves beyond the star power of its lead, creating a strong ensemble of characters who are incredibly endearing. Troy Patterson of the New Yorker wrote that, "The show addresses anxieties about digital tyranny with a few satirical pinpricks, in the course of unevenly excavating humor from open-plan angst, casual sexism, and inadequate management skills; it's most powerful when dealing in pettiness."