If You Believe Bruce Campbell, Doctor Strange 2 Has Been Chaotic To Make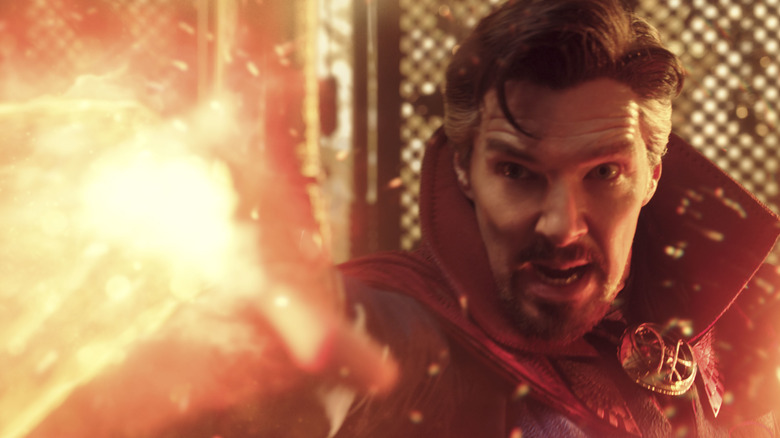 Marvel Studios
Every day that passes brings us ever closer to the premiere of "Doctor Strange in the Multiverse of Madness," the superhero movie sequel that pretty much every invested fan has been eagerly looking forward to for years. The blockbuster promises to throw open the doors of the Marvel Cinematic Universe even wider, introducing more multiverse-related chaos, thrilling action sequences with some pretty gnarly new monsters ripped straight out of the pages of Marvel Comics, and appearances by new and returning characters alike — hopefully including a few, ah, outside-the-box choices, too.
But where comic book fans have their hearts set on potential cameos by the Illuminati or any other unexpected pulls from the MCU, those who've followed director Sam Raimi's career know that the real star of the show could very well be Bruce Campbell, who's consistently caused certain viewers to go full Leonardo DiCaprio at the screen whenever the actor makes his usual appearance in Raimi films. The duo's close friendship almost certainly resulted in another fun cameo for Campbell in the "Doctor Strange" sequel, making him privy to some of the more behind-the-scenes details about the production of the film that, at one point, looked to be in serious trouble after the departure of original director Scott Derrickson and writer C. Robert Cargill over "creative differences."
Though his reputation as a notorious prankster can make it hard to know when to take him at face value — look no further than his April Fool's social media post, for example — Campbell recently had some interesting comments about the very real-life chaos involved in filming "Doctor Strange in the Multiverse of Madness."
'I don't think Benedict Cumberbatch even knows if he's in this movie or not'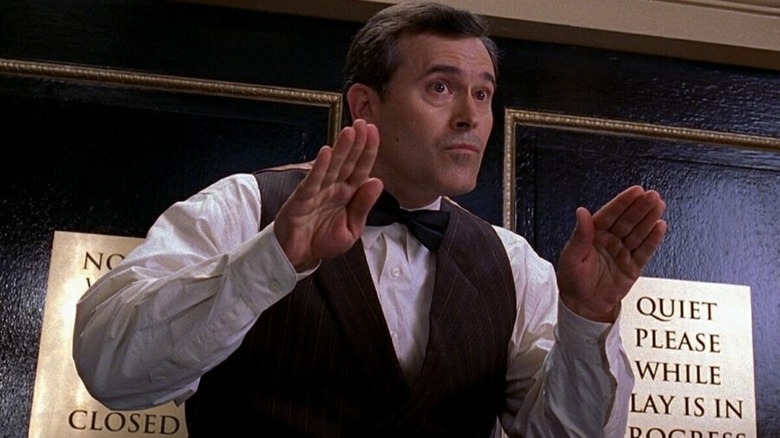 Sony Pictures
Like any blockbuster franchise that loses a director at an inopportune moment, Marvel has had prior experience with needing someone to step in and guide a film to completion by a certain deadline. Many fans certainly hoped that wouldn't be the case with "Doctor Strange in the Multiverse of Madness," particularly when a filmmaker as talented as Sam Raimi was recruited to work his own magic on the film. Unlike directors with vastly less experience and clout in the industry, Raimi would never allow himself to be pushed around by a major studio again, especially after the less-than-ideal circumstances of "Spider-Man 3" ... right?
Well, here's where Bruce Campbell comes in. In an interview with Game Informer, the actor and longtime Sam Raimi collaborator shed some light on the production of "Doctor Strange." After answering some questions about the possibility of portraying the villainous Mysterio in Raimi's hypothetical "Spider-Man 4" ("Look, this was all fan s***, it was somebody saw a storyboard that kind of looked like me as he turned around," he good-naturedly responds with a laugh), Campbell mentioned some of the challenging conditions Raimi had to work with to bring the MCU sequel to the finish line.
"The Marvel guys, they make eight of these movies at the same time, so they're always updating storylines. My buddy Sam [Raimi] has had to add scenes that they told him he had to shoot, and he's removed scenes that no longer apply, so until May rolls around I don't think Benedict Cumberbatch even knows if he's in this movie or not."
Again, the crack about Cumberbatch certainly points to Campbell joking around with tongue firmly planted in cheek, but the murky filming situation he describes isn't exactly all that unheard-of, either. Those looking for definitive "evidence" of how "Doctor Strange in the Multiverse of Madness" may turn out will probably need to keep looking, but luckily we'll all find out for ourselves on May 6, 2022.