The 2022 Oscars By The Numbers: Which Movies Lead The Pack?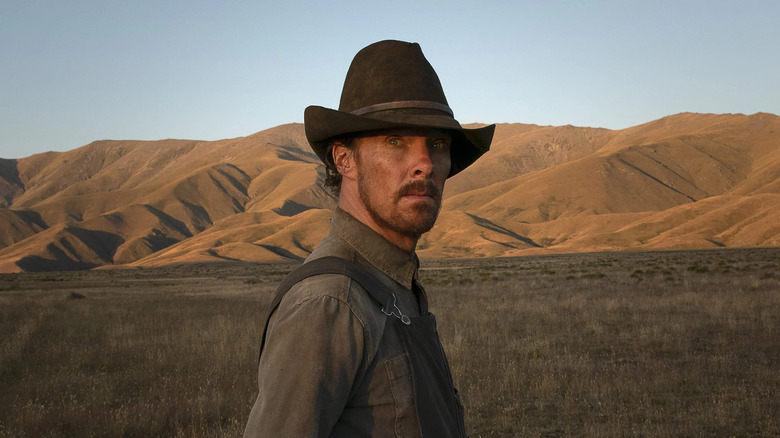 Netflix
The 94th Academy Awards were ... odd. After months of promising that this year's show would be a return to normalcy, the Academy of Motion Picture Arts and Sciences played host to a bizarre show that started off rough, didn't get much better from there, then took an unexpected turn in the middle. I'm talking, of course, about The Flash entering the speed force! That s**t was wild. Who could've seen that one coming? The oncoming barrage of think-pieces will try to unpack this world-altering event but there's truly no way to ever make sense of it. Let us simply surrender ourselves to the unknown. 
But, seriously, difficult as it may be, we shouldn't let controversy overshadow what we all tuned in for — the awards! Lots of little gold men made their way around The Dolby Theater, into the hands of many deserving contenders. Among the many reasons this year's show will go down in the Hollywood history books is what these awards represent on a larger scale. Many of the winners mark huge strides forward in diversity: "CODA" marked a historic moment by winning big, while some of the acting categories stand tall as significant markers of how far we've come since April Reign first kickstarted the #OscarsSoWhite conversation. And yet, each historic win also serves as a sharp reminder of how far along in the Academy's history it took for these milestones to come. 
With awards season finally over, there's a lot to unpack — so let's take a closer look at where everyone landed, who swept, who went home empty-handed, and what grand records The Academy finally managed to break nearly 100 years into its existence.
How about those ratings?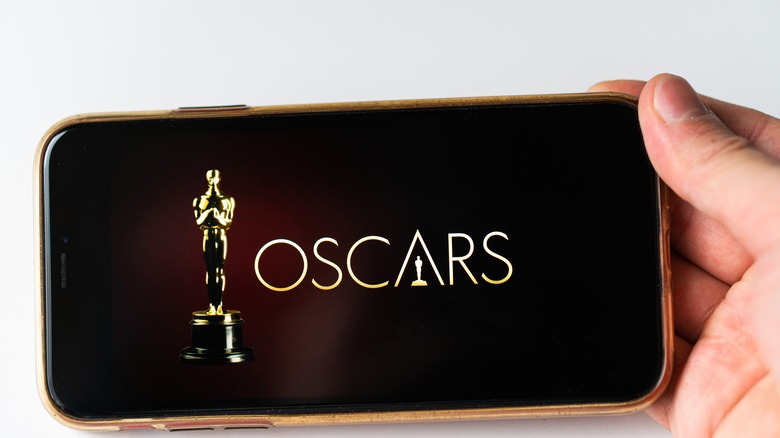 Jimmy Tudeschi/Shutterstock
First thing's first — the leadup to the Oscars included a lot of terrible decisions on the part of The Academy in the hopes of spicing things up and attracting more viewers. Why else feature the speed force if not to win over the masses? But seeing as we all had to endure Amy Schumer hanging from the ceiling in a Spider-Man costume, at the expense of missing out on eight major awards and the show still managed to cross the three-hour mark, the question remains —did people actually tune in this year? Was it worth all the changes? It probably depends on who you ask. 
At a glance, Oscar viewership saw an increase from last year's show, which was the lowest in the ceremony's broadcast history. According to the early numbers from Nielsen, ABC's broadcast of the Oscars drew 15.36 million viewers. There's still more data to come — this doesn't include out-of-home viewing or streaming numbers —  but the early figures still put Sunday's show well ahead of the final numbers we got for last year's scaled-down, mid-pandemic ceremony. That all-time low brought in only 10.4 million viewers. But despite this improvement, Sunday's Oscar still goes down as the second least-watched ceremony since the Nielsen tracking began in the mid-1970s. This is now the second ceremony to come in below 20 million viewers, meaning it still trails behind by a large margin.
The night's biggest winner was... DUNE!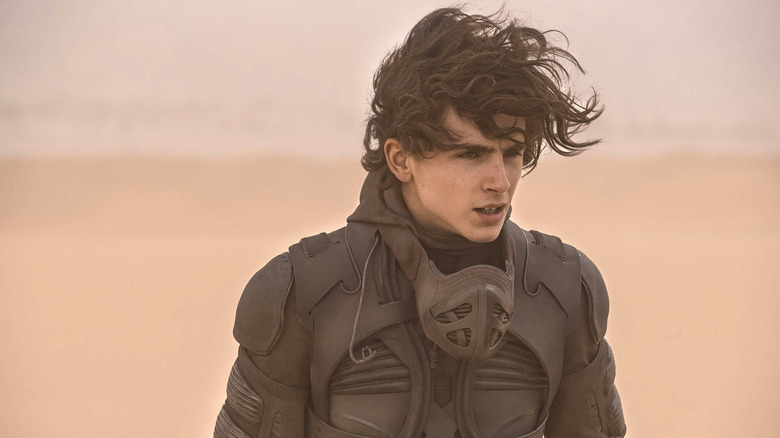 HBO Max
"Dune," the technical marvel, took home a whopping six awards, making it the most gilded winner of the night. Sure, most of these categories were amongst those that the Oscars deemed unworthy of our time, but they were very, very wrong because clearly the love and appreciation for the craft of this film are very real. It was rather reminiscent of the 2016 Oscars, when "Mad Max: Fury Road" dominated the technicals, also taking home six trophies. For "Dune," this lineup included the second career-win for Hans Zimmer for Best Original Score. Which he accepted in a bathrobe, like a badass.
Outside of losing Best Picture and Best Adapted Screenplay, "Dune" only fell short in two other categories — Best Costume Design and Best Makeup and Hairstyling. But what really hangs over the film's glorious night is the ridiculous reality that despite being widely upheld for its visual achievements, "Dune" didn't land a directing nod for the man behind the powerhouse sci-fi flick, Denis Villeneuve. With only one director nomination for his 2016 film "Arrival," one can't help but wonder if his time will finally come in the form of "Dune 2." But let's not get ahead of ourselves. Here are all the awards that "Dune" took home:
Best Sound

Best Original Score

Best Film Editing

Best Production Design

Best Visual Effects

Best Cinematography
CODA makes history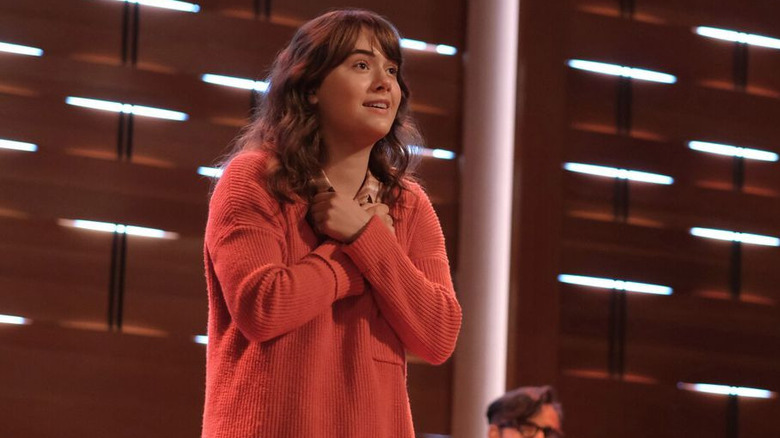 Apple TV+
"CODA" made history on several counts last night, even before snagging Best Picture. When Troy Kotsur's name was called for Best Supporting Actor, he became the first male deaf actor to win an Academy Award and the second deaf actor overall to win an Oscar (joining his co-star and on-screen wife, Marlee Matlin). Taking to the stage, he gave a heartfelt speech paying tribute his father and dedicating his award to "the deaf community, the disabled community, the 'CODA' community." Later in the night, Sian Heder won for Best Adapted Screenplay, confirming that the "CODA" surge was very real. And sure enough, the night ended with the film taking the top prize, making Apple the first streamer to ever win Best Picture. Quick — somebody go check on Netflix!
"CODA" marked a couple more big firsts for this category: this is the first time a Sundance winner has ever taken home Best Picture. Those who like to put their betting hats on for the ceremony will also note that this is the first time since 1932's "Grand Hotel" that a Best Picture nominee has managed to snag the big prize without a nomination for Best Director or Best Editing. Whereas previous years have used those categories to project who will win big, "CODA" might be signaling a shift in the Academy's voting trends. The biggest takeaways are what this film marks for strides in diversity: "CODA" is the first time a predominantly deaf ensemble has won Best Picture, and thanks to "Nomadland" winning last year, this marks the first time that two movies directed by women have won the award in back-to-back years.
Best Picture

Best Adapted Screenplay

Best Supporting Actor
Two for Tammy, thanks to The Eyes of Tammy Faye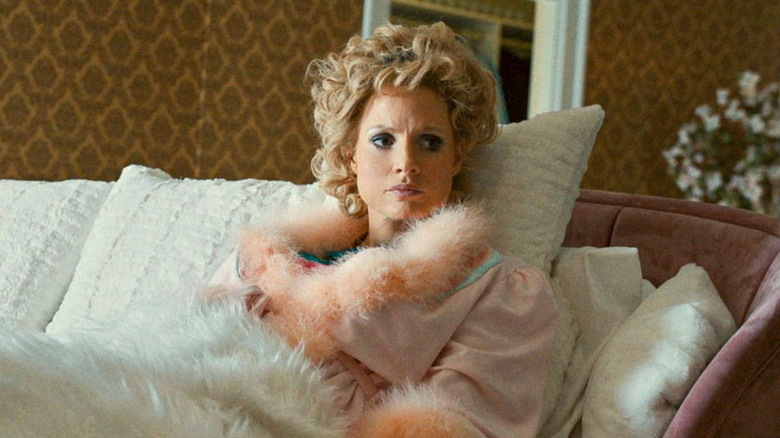 Searchlight Pictures
Huh. It looks like the three biggest winners of the night are "Dune," CODA" and... "The Eyes of Tammy Faye." By taking home just two trophies for Best Supporting Actress and Best Makeup and Hairstyling, this film comes in third. Other than a solid speech from Jessica Chastain, a Hollywood darling who's been overdue for her moment in the spotlight, "The Eyes of Tammy Faye" proves what we've long known to be true: boy, does this show love biopics. The win for Makeup and Hairstyling is especially notable because it continues the recent trend of this category going to biopics including, "Ma Rainey's Black Bottom," "Bombshell," "Vice," and "Darkest Hour." Make-up artists Linda Dowds, Stephanie Ingram, and Justin Raleigh accepted this award, and were among those below-the-line teams whose wins were presented before the televised portion of the ceremony began. While a segment of their acceptance was included in the show, it left out a key moment where Dowds called attention to the Academy's controversial decision to shut the crafts teams out of the telecast.
Best Makeup and Hairstyling
The Power of the Dog falls from grace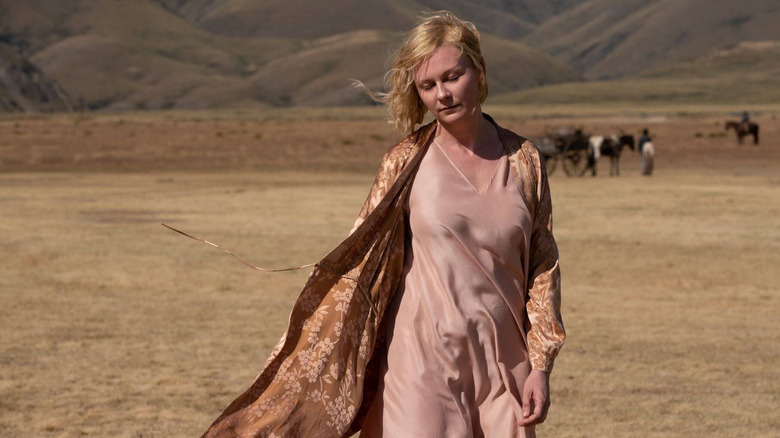 Netflix
"The Power of the Dog" led the pack when it came to nominations, but ultimately lost out to rivals like this year's underdog and Best Picture winner, "CODA." Just a few weeks ago, "The Power of the Dog" seemed like a surefire winner, in large part because it secured 12 nominations, putting it just on the outskirts of making history for most nominations in a single year; the film was just two spots shy of matching up to previous record-setters, "All About Eve," "Titanic" and "La La Land" which are tied with 14 nominations each. In the end, the stunning neo-western from Jane Campion only took home one trophy — but still made Oscars history. 
With her win for Best Director, Jane Campion has become the third woman to win the award, after Chloe Zhao and Kathryn Bigelow. Campion is also the first woman to ever receive two Best Director nominations (her first being 1993's "The Piano"). This win marks one of those big milestones that, while worthy of celebration, just stands to remind us how slowly The Academy has progressed over the years. On the bright side, this might be the start of a streak — with Zhao last year and Campion this year, perhaps women will keep taking home Best Director. Any chance we can keep this up for, I dunno, another 94 years?
Ariana BeBose shines with West Side Story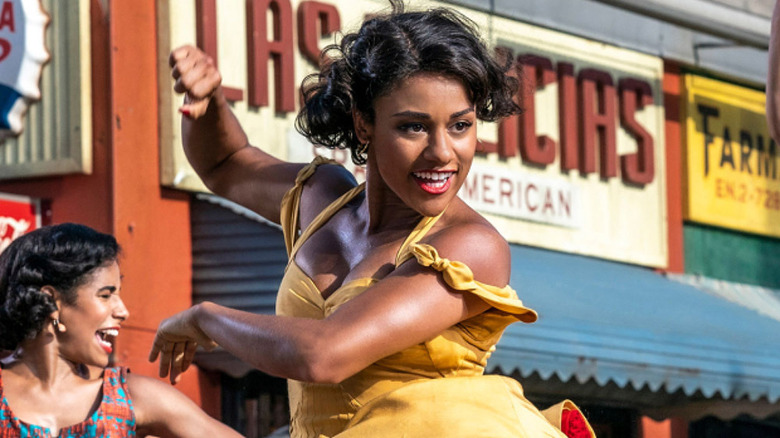 Disney+
Ariana DeBose gave the performance of a lifetime in "West Side Story," quickly becoming one of the film's brightest stars for her standout performance as Anita. Following it up, she offered us yet another dazzling onscreen moment when accepting her trophy for Best Supporting Actress. With the first speech of the night, DeBose brought the room to tears by pulling us out of cynicism and reminding us of the power behind a historic win like hers: DeBose is the second Latina and first openly queer woman of color to win an acting Oscar. She took special note of this during her speech, saying, "You see an openly queer woman of color, an Afro-Latina, who found her strength in life through art. And that is, I think, what we're here to celebrate."
DeBose also makes history by winning for a role that previously won another actress an Oscar, her co-star Rita Moreno who starred as Anita in the 1961 adaptation of "West Side Story." Before this year, there have only been two instances in Academy history of two different actors winning for the same character: Marlon Brando ("The Godfather") and Robert De Niro ("The Godfather Part II") as Don Vito Corleone and Heath Ledger ("The Dark Knight") and Joaquin Phoenix ("Joker") as the Joker. Again, there is the frustrating reality that in all these years only two Latina actresses have won an Oscar and both were for the same exact role. But hopefully, DeBose's win is a signal that strides towards inclusion will continue.
Will Smith wins big as King Richard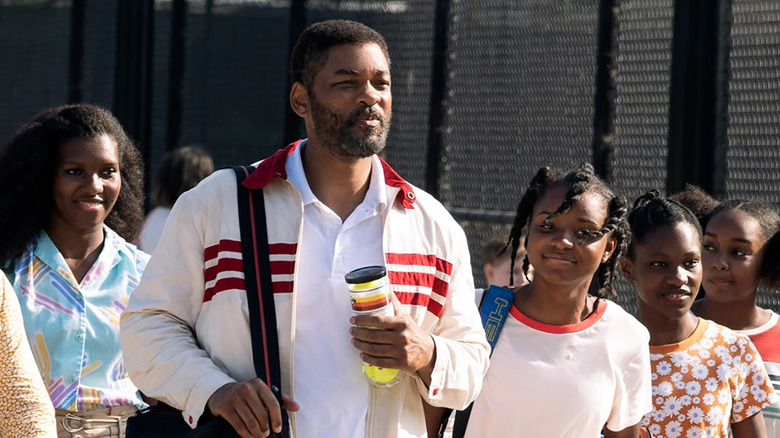 Warner Bros
You probably already know who won Best Actor, huh? For his performance in "King Richard," Will Smith took home a trophy that he's spent many years vying for. In his decades-long career, Smith has been nominated three times before, for "Ali" and "The Pursuit of Happyness." Finally, after years of chasing the gilded statuette, Smith has become the fifth Black man honored in the category, immortalizing him alongside Sidney Poitier (who won for "Lilies in the Field"), Denzel Washington ("Training Day"), Jamie Foxx ("Ray"), and Forest Whitaker ("The Last King of Scotland").
Other one-trophy wonders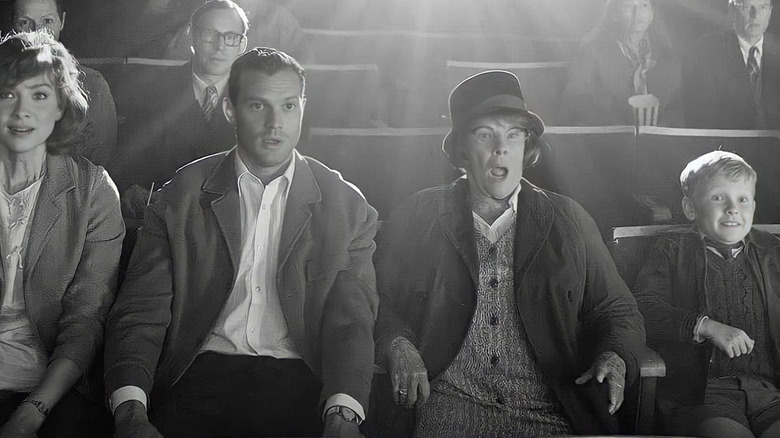 Universal Pictures
Quite a few films ended the night with only one trophy under their belt, but winning anything at the Academy Awards is no small feat. One memorable moment saw Questlove take home Best Documentary Feature for "Summer of Soul," a triumphant example of how archival footage can be preserved and reworked into a joyous piece of art. This film also won big at last year's Sundance Film Festival, the same festival that premiered "CODA." Both stand as examples of how the list of Sundance-winners turned Oscar-winners continues to grow.
Elsewhere in the night, "Encanto" took home Best Animated Feature, proving that Disney still reigns supreme in the animation category, which was a disappointment to many fans of "The Mitchells vs. The Machines." Speaking of Disney, "Cruella" made her way on stage in the form of Jenny Beaven, the Hollywood legend who celebrated her third win for Best Costume Design. Late in the night, "Drive My Car" became the second Japanese film to win Best International Feature, and "No Time To Die" proved the Bond song supremacy. Seven Bond songs have been nominated for Best Original Song, and now three winners have been crowned. Funnily enough, all of them are from the Daniel Craig era, including Adele's "Skyfall," Sam Smith's "Writing On The Wall" and now, "No Time to Die" from Finneas and Billie Eilish.
One of the night's most notable solo wins came from Kenneth Branagh, who took home Best Original Screenplay for "Belfast." With five previous nominations and three at this year's ceremony, Branagh holds the Oscar record for most nominations across different categories: this includes Best Picture, Best Director (twice), both acting categories(lead and support), both screenplay categories (original and adapted), and short film (live-action). So it's pretty hard to be mad about Branagh finally winning an Oscar after receiving his first nomination 32 years ago.
Best Documentary Feature – Summer of Soul
Best Animated Feature – Encanto
Best International Feature – Drive My Car
Best Original Song – No Time to Die
Best Costume Design – Cruella
Best Original Screenplay – Belfast
Army Of The Dead won ... a Twitter poll!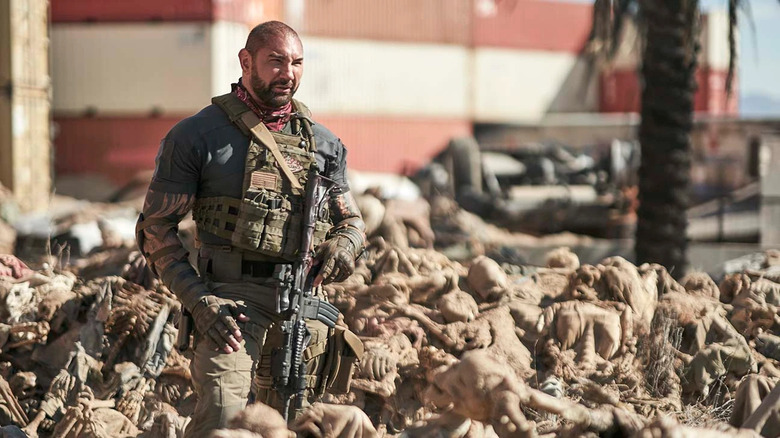 Netflix
Smack dab in the middle of the awards show were two very bizarre montages that probably confused the millions of people who missed the context for why they were seeing clips of "Avengers: Endgame" beside Camilla Cabello's feminist "Cinderella" retelling. Well, I regret to inform you that those moments were not hallucinations, they actually happened as part of the show. Perhaps you've heard tell of the Oscars "Cheer Moment" and "Fan Favorite Movie" polls, two weird attempts to get causal movie-goers interested in the ceremony by honoring popular movies. It went about as bad as we all expected, culminating with wins from two Zack Snyder-helmed movies, "Justice League" and "Army of the Dead." Snyder's zealous fanbase overtook the vote on both counts, which ended with the movies winning ... I dunno, a spiritual trophy? Despite this being the Oscars, neither of these films actually got little gold men for their troubles, just a brief shoutout in montage form that otherwise had zero impact on the rest of the show. Because why the hell not.
Flee wins nothing, but still makes history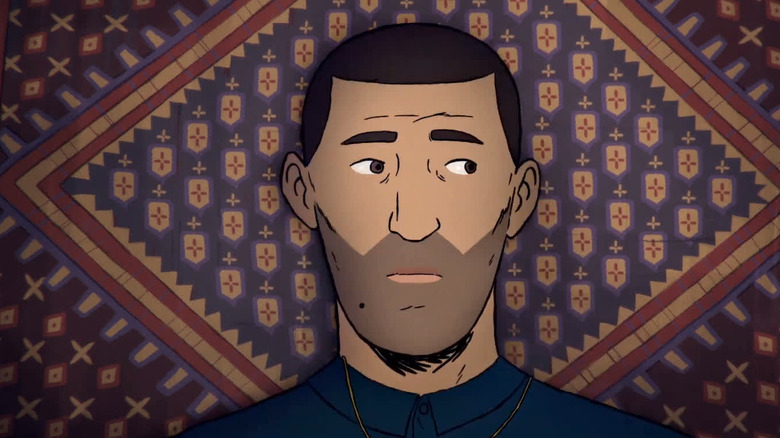 Vice Studios
Jonas Poher Rasmussen's animated documentary "Flee" is groundbreaking for many reasons, but unfortunately didn't end its awards season run with any new statuettes. But none of that changes the fact that this movie made waves just by being named among its fellow nominees. "Flee" made Oscars history by completing this trifecta of nominations: Best Documentary Feature, Best Animated Feature, and Best International Feature Film. While those awards were handed off to "Summer of Soul," "Encanto" and Drive My Car" respectively, "Flee" stood tall amongst its competitors and still earned a place in the history books for its many impressive accomplishments.
Who else went home empty-handed?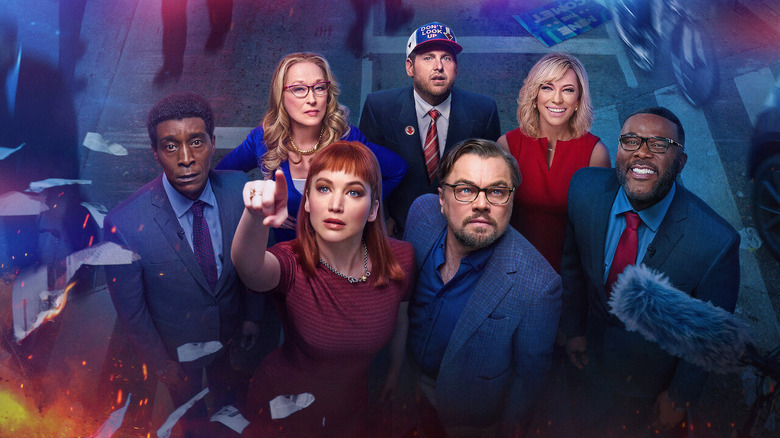 Netflix
With "Dune" dominating in the technicals and "CODA" taking home the night's biggest prize, many nominees went home without a trophy to tout. But on the bright side, they got to see DJ Khaled live in the flesh! Amongst the titles honored at the Oscars by name but no awards were: "Tick, Tick Boom," "Licorice Pizza," "Don't Look Up," "The Lost Daughter," "The Tragedy of Macbeth," "Nightmare Alley," "Being The Ricardos" "The Worst Person in the World" and "Parallel Mothers."