The 10 Greatest Fake Boy Bands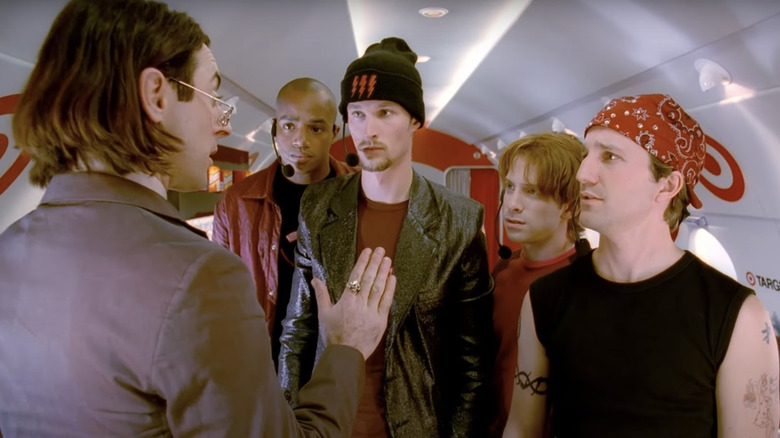 Universal Pictures
Now that the nostalgia pendulum is swinging the late 1990s and early 2000s back into public consciousness, boy bands are coming back in a big way. In real life, K-pop bands like BTS, EXO, Wanna One, and Got7 are international superstars, and film/television have continued creating fake boy bands to better build their Y2K worlds. If your fave isn't listed, it just means that you truly are their number one fan and deserve all of the glory. Obviously no one wants to pit strong fictional boy bands against one another, and music taste is still subjective even if the people singing it are hired guns.
That said, honorable mentions include Alvin and the Chipmunks, B12 from "American Dad," The Drama Brothers from "Total Drama Action," Paisley Sideburn Brothers from "Phineas and Ferb," Connect 3 from "Camp Rock," Oh Boyz from "Kim Possible," Boyz Next Door from "Girls5eva," and Room Temperature from "Crazy Ex-Girlfriend."
Time to frost our tips, bust out the moves we learned from "Darrin's Dance Grooves," and sing along to the greatest fake boy bands.
Sev'ral Timez – Gravity Falls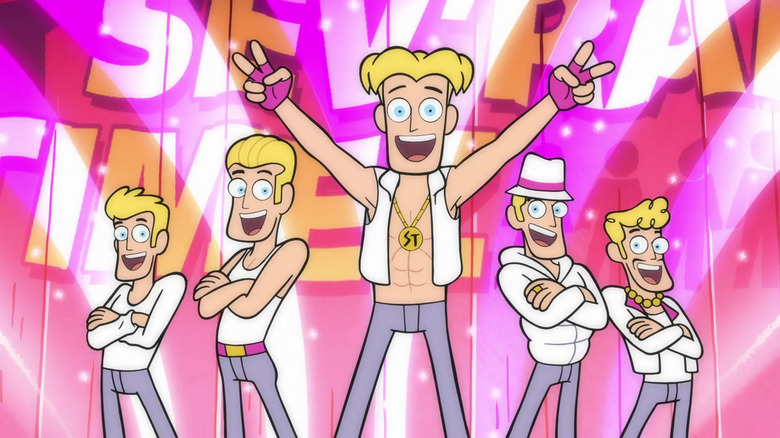 Disney+
After Ergman Bratsman got his hands on the technology to locate the DNA sequence to create the "perfect boy," the clone comprising boy band Sev'ral Timez was born. ​​Creggy G., Greggy C., Leggy P., Chubby Z. and Deep Chris may be the most popular band in the world of "Gravity Falls," but they're also kept like animals in a cage by Bratsman, and constantly hit with the threat of being replaced by existing clones in tubes in Bratsman's lab. Clearly an echo of real-life boy band supervillain Lou Pearlman, Bratsman's treatment of the boys offers young audiences their first insight into the predatory nature of the 1990s bubblegum pop machine hidden beneath killer vocal harmonies. While show creator Alex Hirsch and writer Matt Chapman provide most the band member voices, *NSYNC member Lance Bass lent his voice for the "Boyz Crazy" episode.
Best song: "Cray Cray" because it includes the band's catchphrase, "We're non-threatening!"
Boyz 'N Motion – That's So Raven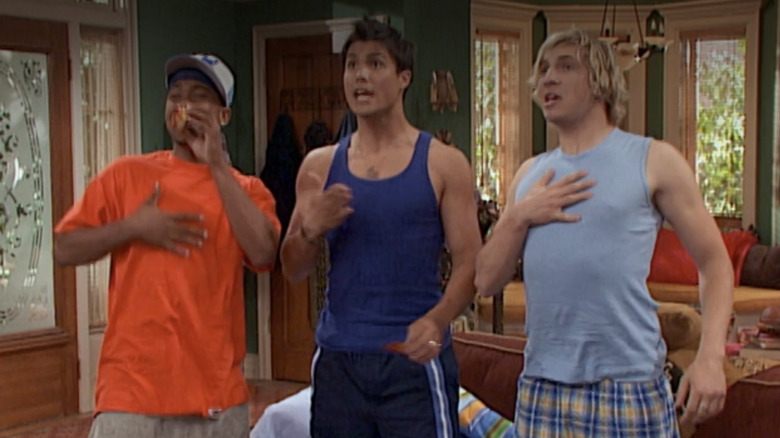 Disney+
One of the most popular Disney Channel Original series of all time, one of the most memorable episodes of "That's So Raven" features the fictional boy band Boyz 'N Motion. The group books a reservation at Raven's family restaurant while on tour, but after bragging about it at school, inadvertently unleashes a mob of screaming fans. The group hides out at Raven's house, her little brother Cory sells their used food scraps to rabid fans, and in typical "Raven" fashion, she and her best friends Eddie and Chelsea have to pose as the band and perform for their school. The band is referenced in future episodes, but Ricky, Trey, and JJJ (the third "J" is silent) made such an impact with their family-friendly twerking and three part harmonies that people have been making impassioned pleas to see them show up on the sequel series, "Raven's Home."
Best song: "Boyz 'n Motion" because obviously, duh.
Boys Who Cry – SpongeBob SquarePants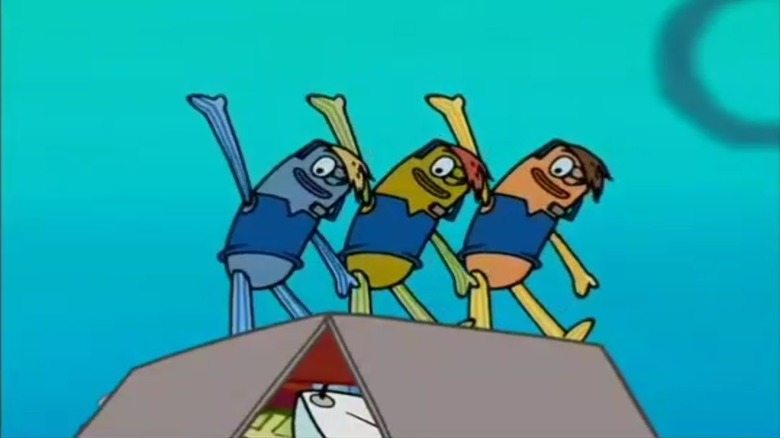 Nickelodeon
Nickelodeon wasn't about to be bested by the Disney Channel and created their own fake boy band for the "SpongeBob SquarePants" episode "Whale of a Birthday." Professional cheapskate Mr. Krabs' daughter Pearl is planning her sweet 16, and after years of lackluster parties due to her dad's wealth hoarding, has gotten her dad to promise that he will actually get her what she wants. Well, what she wants is a performance from the band Boys Who Cry, who charge $1,000,000 just to show up places. Krabs initially fumbles it by hiring Squidward to give his own nasally rendition of their big hits, but luckily SpongeBob saves the day by hiring the real Boys Who Cry to show up and serenade Pearl on her big day. The song they sing throughout the episode is a hell of an earworm and will become your new favorite thing to sing at your friends of a certain age on their birthdays.
Best song: "It's All About You" (Pearl's Birthday Edit). Sorry, Squidward, but your cover of "Four-Ply" just ain't cuttin' it.
PoP! - Music and Lyrics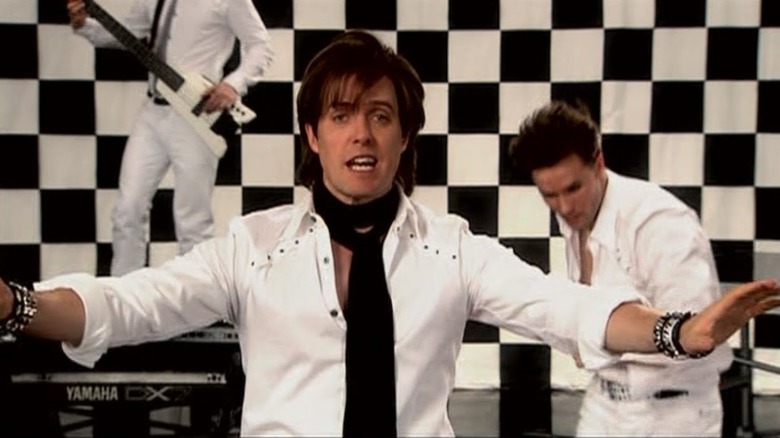 Warner Bros.
With music written by the late, brilliant, Adam Schlesinger, the film "Music and Lyrics" opens with a music video for the fictional '80s boy band PoP! filled with plenty of checkerboard decorations, skinny ties, and the same glowy filter that cursed the first season of "RuPaul's Drag Race." Clearly inspired by Duran Duran and Wham!, the introduction of the band is a brilliant way to set up the film's story centered on Hugh Grant's Alex Fletcher, a washed-up pop artist coasting off of his nostalgia status. While the 1990s may have been the explosion of boy bands, there were plenty of new editions on the block (see what I did there?) that paved the way for the boy band craze. PoP! is a perfect encapsulation of the new wave/pop hybrid boy groups that Gen X-ers grew up loving.
Best song: "PoP! Goes My Heart" because who doesn't love a synth solo and syncopated claps?
Party Posse - The Simpsons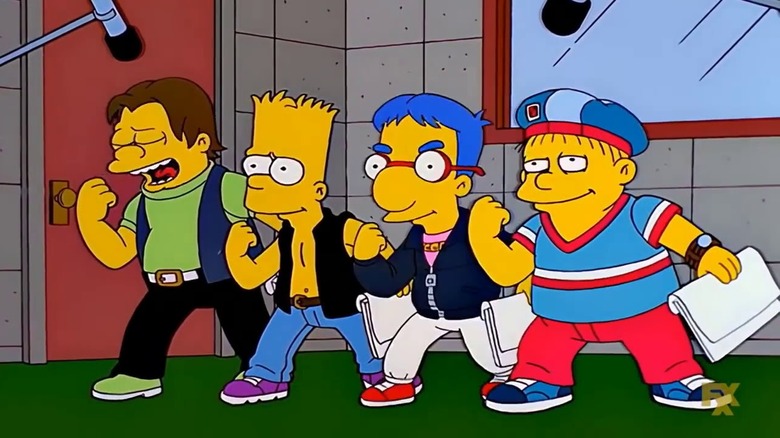 Fox
After nearly 33 years on the air, "The Simpsons" have seen it all and done it all. During the show's 12th season, the episode "New Kids on the Blecch" introduced music producer L.T. Smash, who offers Bart a spot in the boy band he's creating, Party Posse, alongside Nelson, Ralph, and Milhouse. The boys become huge stars thanks to the voice-enhancing software developed by NASA that helps improve their sound ... and also includes subliminal messaging trying to convince people to join the Navy. The episode really embraced the boy band craze, even including a cameo appearance from *NSYNC and a running gag of Justin Timberlake saying "Word" after nearly every line just to mess with him.
Best song: "Drop da Bomb" because the in-universe blatant war propaganda music video was directed by Ang Lee which will never not be funny to me.
Fingerbang – South Park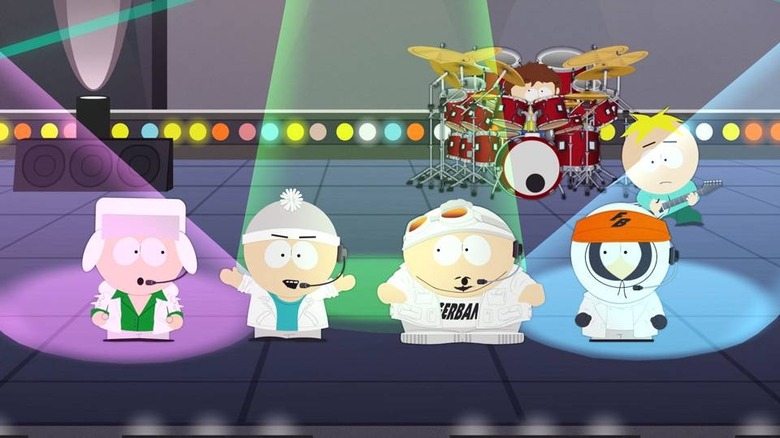 Comedy Central
The boys of "South Park" have satirized just about everything at this point, and the boy band craze is no different. In the episode "Something You Can Do with Your Finger," Cartman founded the band Fingerbang with his friends Stan, Kyle, and Kenny and subsequently Wendy Testaburger and later Stan's dad Randy, who replaced Kenny after he was killed by an elevator at the mall. This isn't the last time Cartman would pursue a musical career, as Cartman also convinces Tolkien and Butters to join his group Faith+1, a Christian act whose song lyrics are unintentionally double entendres about loving Jesus sexually. Real ones know where Cartman got his start though, because you never forget hearing him serenade us with the poetic greatness of "'Cause I'm the king of Fingerbang, let's not fight."
Best song: "Fingerbang" because it's a song plenty of pre-teens sang all the time in the year 2000 and drove their parents' absolutely bananas with annoyance ... or so I've been told.
Boyz 4 Now – Bob's Burgers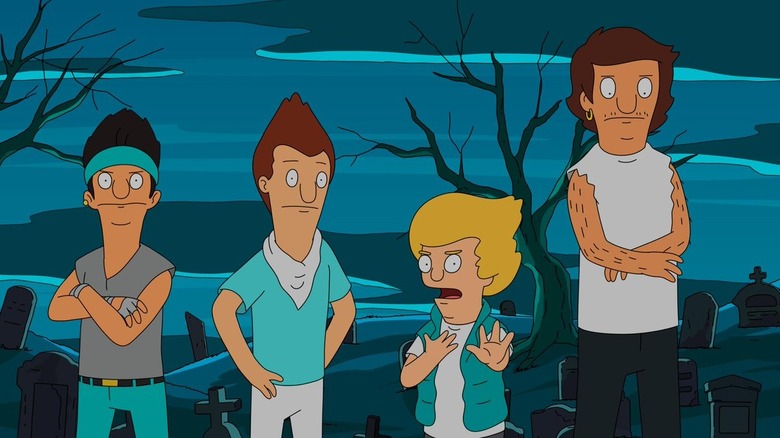 Fox
With a show as musically inclined as "Bob's Burgers," it was only a matter of time before the show got the boy band treatment. In the truly iconic episode "Boyz 4 Now," written by Lizzie and Wendy Molyneux, we learn that Louise Belcher does have a kryptonite, and it comes in the form of the swoopy-haired pop idol, Boo Boo. Louise and Tina embark on a journey to attend their first concert, while Louise struggles to figure out why this boy band makes her lose all cool and turn into a screaming fangirl. Boyz 4 Now has become a popular running cameo on the series, complete with new songs for each appearance. While the band is a hybrid of popular boy bands across the years, show creator Loren Bouchard confessed that the character designs were left to "some of the many talented women who work on the show who had much stronger feelings about boy bands."
Best song: "I Love You So Much (It's Scary)" because "Backstreet's Back (Everybody)" is my favorite boy band song of all time and this song and music video is playing clear homage to my favorite spooky boys.
4*Town – Turning Red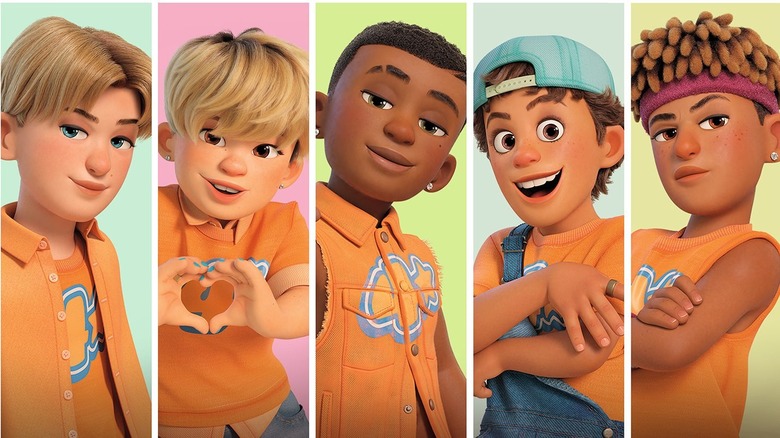 Disney+
Pixar's latest "Turning Red" is brilliant for a number of reasons, but its love letter to 2002 pop culture is absolutely superb. While the film's score comes from Oscar, Grammy, and Emmy-winning composer Ludwig Göransson, the boy band songs were written by actual pop stars, Billie Eilish and Finneas O'Connell. It's so very clear that the two grew up listening to these bands, because all of the songs by the fake band 4*Town are absolute bangers. Finneas O'Connell also lends his voice as Jesse, along with Topher Ngo as Aaron T., Grayson Villanueva as Tay Young, Josh Levi as Aaron Z., and Jordan Fisher as Robaire. Fisher's wailing high notes are sure to make the inner 13-year-old girl in all of us scream at the top of her lungs and make you think, JC Chasez, who? (I still love you JC.)
Best song: "Nobody Like U" because it's been stuck in my head since "Turning Red" hit Disney+ on Friday and I need someone else to sing along with me. Special shout out to "Pandas Unite / Nobody Like U (Reprise)" which slaps so unbelievably hard on its own but will also make you want to cry within the context of the film.
2GE+HER – MTV's 2GE+HER: The Movie / 2GE+HER: The Series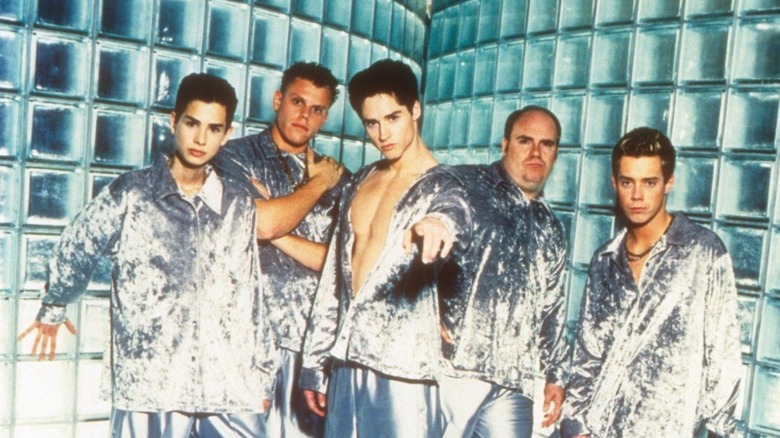 MTV
Once upon a time, MTV, the channel responsible for turning groups like Backstreet Boys and *NSYNC into certifiable superstars, made a fictional boy band called 2GE+HER with the help of creators Brian and Mark Gunn (Yes, as in the brother and cousin of James Gunn). There was a movie, a TV series, and two legitimately produced albums, but every member of the band was an actor playing a part. The most successful fake band in history, 2GE+HER opened for Britney Spears on several stops of her 2000 summer tour, never breaking character. The single "The Hardest Part of Breaking Up (Is Getting Back Your Stuff)" was released before their second album, charted at 87 on The Billboard Hot 100, and spent several days on MTV's Total Request Live. A pitch-perfect parody of boy bands and a time capsule of everything great (and really, truly horrible) about the early '00s is well on display. Come for the early Tyler Labine and Kevin Farley performances and stay for the genuinely great music.
Best song: "U + Me = Us (Calculus)" because even after two decades, there are plenty of millennials who can perform this choreography without even thinking of it. Shout out to "The Hardest Part of Breaking Up (Is Getting Back Your Stuff)" as a close runner-up.
DuJour – Josie & The Pussycats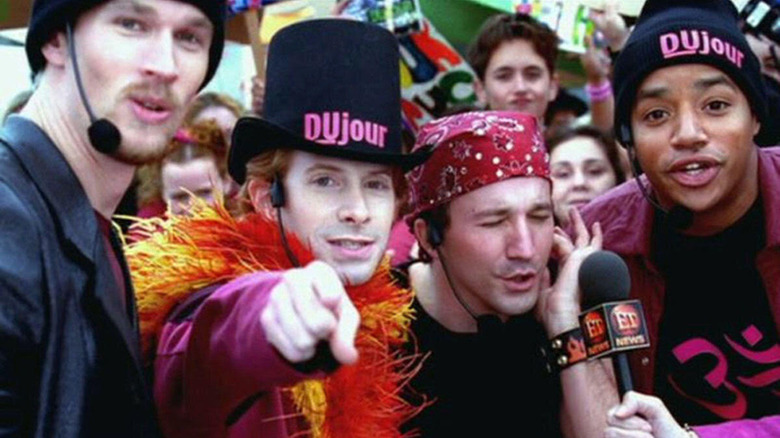 Universal Pictures
As a wise title card once read, "Josie and The Pussycats is the Best Movie Ever!" Painfully misunderstood upon its release in 2001, "Josie and The Pussycats" is a brilliant satire of the pop music industry complete with the hilarious fake boy band, DuJour. Literally playing on the fact that they're nothing more than the flavor of the week, the comedic talents of Seth Green, Donald Faison, Alexander Martin, and Breckin Meyer, fresh off the success of "Can't Hardly Wait," synced up once again to give us a hilariously perfect riff on the boy band craze of the 2000s. Do I own the "Josie" soundtrack on vinyl and Du Jour 7-inch LP? Yes, yes I do. Do I still listen to DuJour as if they're a real band from my youth? Also yes. DuJour means friendship, family, teamwork, seatbelts, crash positions, and the best fake boy band of all time.
Best song: "DuJour Around the World" because while I know it's a hot take compared to "Backdoor Lover," nobody rocks the mic like DuJour and this song is an echo of Backstreet Boys' "We've Got It Goin' On" and earns extra points for nailing the form this hard.