Music And Lyrics Movie Review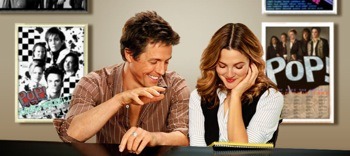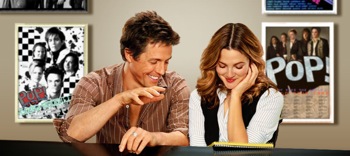 Music and Lyrics is the latest paint by numbers feel-happy valentines day romantic comedy.
Starring: Hugh Grant, Drew Barrymore, Kristen Johnston, Jason Antoon, Billy GriffithDirected by: Marc D. LawrenceRelease Date: February 14th, 2007Genres: Romantic ComedyRunning Time: 96 minutesMPAA Rating: PG-13 for some sexual content.Distributors: Warner Bros.
King of the romcom, Hugh Grant plays Alex Fletcher, a washed-up 1980's pop star who is reduced to playing state fairs and high school reunion dances. What's worse is, his fame is burning out. Even the state fairs are starting to cut down his dates. As a last opportunity, Fletcher is given the chance to write and record a duet with pop dive Cora Corman. He just needs to produce a hit song by the end of the week, and Cora needs to approve. Enter Drew Barrymore as Sophie Fisher, the quirky plant lady who has a flair for words. Fletcher convinces a reluctant Fisher to collaborate on the song together.
Fletcher's Pop Goes My Heart perfectly lampoons the classic music videos of the 1980's. It's use of checkerboard backgrounds, cheesy transitions, split-screens and horrible musical scene reenactments (think Lou Albano in the old Cyndi Lauper music videos) is the highlight of the film.
Grant is well versed at charm, and Barrymore is comfortable as the quirky girl next door. However, the chemistry is servilely lacking between the two, making their romantic relationship anything but believable. And in a Romantic comedy, that could be deadly, but somehow it isn't. Newcomer Haley Bennett perfectly captures the current state of sex symbol pop music.
Music and Lyrics is refreshingly funny, yet comfortably familiar. It might not be your new favorite movie, but it will certainly entertain your Valentines Day date. While the film will never be a "dinner", it is a fun "desert".
PS: The movie ends with an en-genius pop video epilogue which is such a nice clever touch.
/Film Rating: 6.5 out of 10