Aquaman 2 And The Flash Delayed To 2023, Shazam Pushed Up To 2022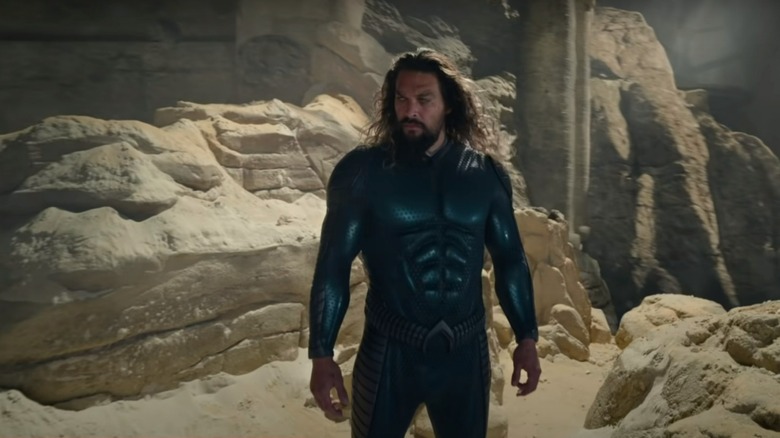 Warner Bros.
Well, I hope you weren't riding too high on the flurry of breaking news that erupted this afternoon.
All was smooth sailing after the triple-whammy of Disney releasing a brand-new trailer for the upcoming "Obi-Wan Kenobi" series, Warner Bros. and HBO Max attempting to keep up with the news by officially ordering "The Penguin" straight to series, and even Paramount reminding us who has the market cornered as far as "Star Trek" is concerned with a trailer for "Strange New Worlds." Unfortunately, bad news apparently can't help but come on the heels of all the good. As it turns out, the delay of "Black Adam" and "DC League of Super-Pets" was only a prelude to an even bigger slate of WB/DC movies getting pushed back.
According to Variety, "The Flash" and "Aquaman and the Lost Kingdom" are both seeing their scheduled release dates delayed from 2022 to next year. As it currently stands, the Jason Momoa-starring sequel will now release on March 17, 2023. Likewise, the time-hopping multiverse extravaganza of "The Flash," starring Ezra Miller, is now set to drop on June 23, 2023. As we reported earlier today, these movies join Dwayne Johnson's "Black Adam," which was pushed back to October 21, 2022. But there's one glimmer of a silver lining in all of this, at least! "Shazam! Fury of the Gods" is moving up from a 2023 release and will now hit theaters on December 16, 2022, taking the spot vacated by the "Aquaman" sequel.
Got all that? Good, because there are plenty of details to dig through in the wake of all this reshuffling.
Well, so much for that DC sizzle reel...
Chances are, you noticed that nifty DC superheroes sizzle reel that played before screenings of "The Batman" in theaters over this past weekend. That sneak preview of the upcoming slate of DC Universe films came out of nowhere and first debuted almost exactly a month ago, teasing how "The world needs heroes" — particularly all the fan-favorite figures who make up DC's pantheon of classic comic book characters. Well, that's going to need some major tweaking now. Originally billing "Aquaman and the Lost Kingdom" and "The Flash" as 2022 films, fans will now have to wait a few more months for the calendar to flip over to 2023 in order to catch those two highly anticipated movies exclusively in theaters.
Of course, as disappointing as this may be for fans, the creative teams will probably be thankful for a little more breathing room. Director James Wan is set to return after guiding the 2018 "Aquaman" to well over $1 billion at the box office and forever shattering pop culture's rather low opinion of the punching bag hero who, yes, talks to fish. Meanwhile, David F. Sandberg is also returning to direct the "Shazam!" sequel, which introduced Billy Batson and Zachary Levi as the respective younger and older versions of the eponymous hero.
In an eyebrow-raising move, however, these new lineup now means that "Shazam! Fury of the Gods" is now in the unenviable position of going up against "Avatar 2," which was briefly teased in today's Disney investor's call and is currently set for a (long-delayed) release of December 16, 2022. Will it function as counter-programming to James Cameron's impossibly highly anticipated sequel? Will one or the other shift dates again in the coming months to avoid this confrontation? Stay tuned, folks.
Going up against Avatar 2. Poor James Cameron must be shaking in his boots right now....

— David F. Sandberg (@ponysmasher) March 9, 2022
What we do know for sure, however, is that we're probably going to have second thoughts about releasing another edition of highly anticipated movies for the upcoming year. We may or may not have jinxed several movies being pushed back from 2022 to 2023. Our bad. In any case, be sure to stay tuned for more release date shuffles as they come in!