Russian Doll Season 2: Release Date, Cast, And More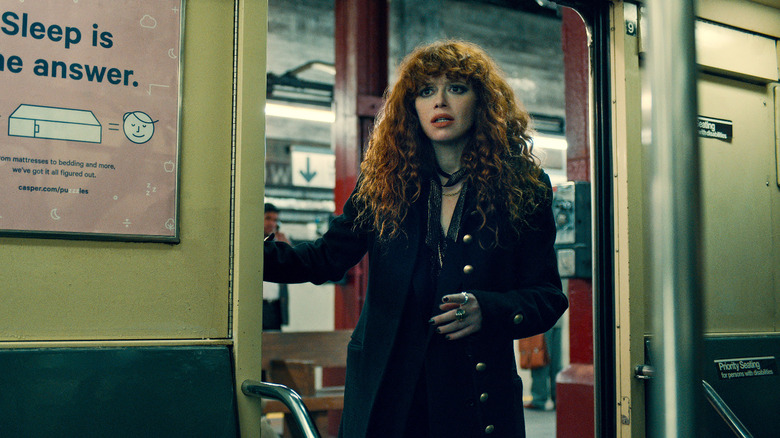 Netflix
(Welcome to ...And More, our no-frills, zero B.S. guide to when and where you can watch upcoming movies and shows, and everything else you could possibly stand to know.)
A lot of movies and shows purport to be about trauma these days, so much so that it's become a running joke on Film Twitter to claim that every new film or TV series is secretly about trauma. (But, for real, "Sonic the Hedgehog 2" absolutely is.) That being said: Out of all the recent projects that have tried to tackle the subject head-on, none have come close to doing so while blending dark humor with pathos as gracefully as "Russian Doll," the Netflix dramedy series created by "Orange is the New Black" alum Natasha Lyonne, "Terriers" writer Leslye Headland, and Leslie Knope herself, Amy Poehler.
Lyonne starred in "Russian Doll" season 1 as Nadia Vulvokov, a software engineer who finds herself trapped in a time loop that begins with her attending her 36th birthday party and ends with her dying via, more often than not, some means beyond her control (like a crashing elevator or exploding kitchen stove) before repeating itself. Season 1 concluded with Nadia escaping the loop with the help of Charlie Barnett's Alan Zaveri, another 30-something who, like Nadia, was stuck in an unhealthy cycle of his own making prior to being enclosed in the same literal time loop. 
What will season 2 have in store for this most unlikely duo? Here's what we know so far.
Russian Doll season 2 release date and where you can watch it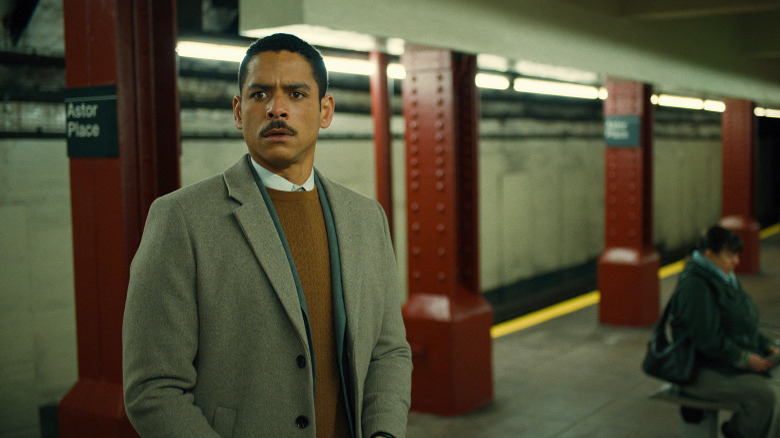 Netflix
Netflix began streaming all eight episodes of "Russian Doll" season 1 on February 1, 2019, renewing the critically-acclaimed series for a second season just over four months later. Like so many other TV shows and movies, however, filming on "Russian Doll" season 2 was delayed after the March 2020 lockdowns, with production ultimately starting almost exactly one year after that.
As a result, "Russian Doll" will finally debut its next seven episodes (all of them coming in at around 30 minutes, like those for season 1) on April 20, 2022. That will give season 2 a solid four-week head-start on the "Obi-Wan Kenobi" series on Disney+ and Netflix's long-awaited "Stranger Things" season 4 (the first half, that is) — both of which will drop either partially or fully near the end of May. Luckily for those who are hoping to make their way through Nadia and Alan's new adventure before those much-hyped shows take over the spotlight, "Russian Doll" is a fairly quick watch when it comes to its individual seasons.
What is Russian Doll season 2 about?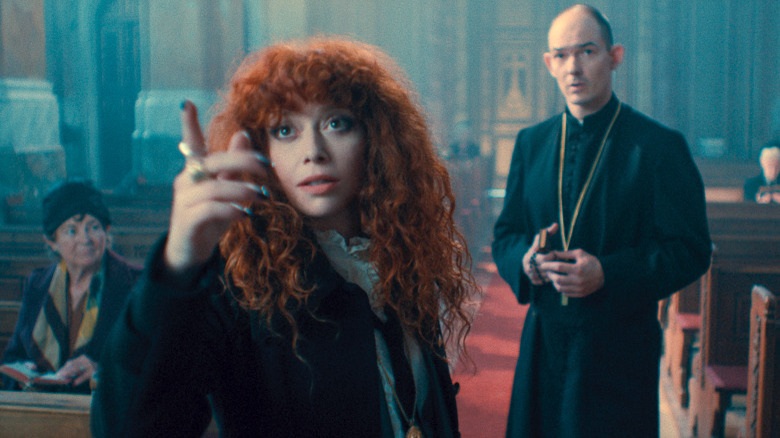 Netflix
The official synopsis has revealed that "Russian Doll" season 2 will pick up four years after Nadia and Alan fled their time loop and will see the pair "delving deeper into their pasts through an unexpected time portal located in one of Manhattan's most notorious locations." That would seem to be an allusion to New York City's subway system, where the images and trailers for "Russian Doll" season 2 show the pair getting caught up in "an ever-expanding, era-spanning, intergenerational adventure," forcing them to once again find a way out together through their shared collective growth as people.
It's worth recalling that "Russian Doll" season 1 put a fresh twist on the time loop sub-genre by mimicking the design of real-life "Russian Dolls" (aka matryoshka dolls) and having people, animals, and objects vanish each time Nadia and Alan went through their loops. As such, it's likely that season 2 will similarly deviate from your average time-travel story, possibly in ways that resemble how the sequel "Happy Death Day 2U" shifted away from its predecessor's own time loop plot in favor of a slightly different mixture of sci-fi, comedy, and existential horror.
Russian Doll season 2 producers, crew, and more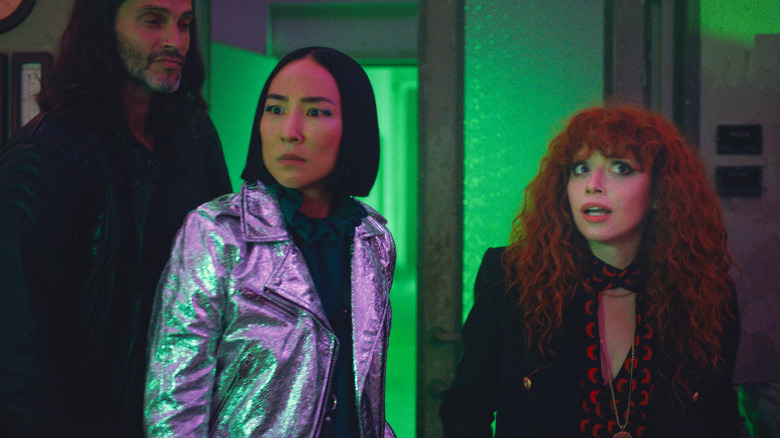 Netflix
With Poehler having recently directed the feature-length documentary "Lucy and Desi" (which screened at the 2022 Sundance Film Festival) and Headland hard at work on her live-action "Star Wars" series "The Acolyte," it fell to Lyonne to serve as the main creative force on "Russian Doll" season 2, on top of starring and show-running. Mind you, Poehler and Headland are still executive producers this season, as are Alex Buono, Tony Hernandez, Dave Becky, Kate Arend, Regina Corrado, and Allison Silverman.
"Russian Doll" season 1 was unique in that it was written and directed entirely by women, with Lyonne both calling the shots on and penning the season finale (on top of co-writing a couple of other episodes). And while it's unclear if that remained the case with season 2, Lyonne has promised this next batch of episodes won't be lacking for ambition behind-the-camera. "We all pushed ourselves to the limit of what we thought we could make happen visually and through the storytelling," she told Entertainment Weekly.
Russian Doll season 2 cast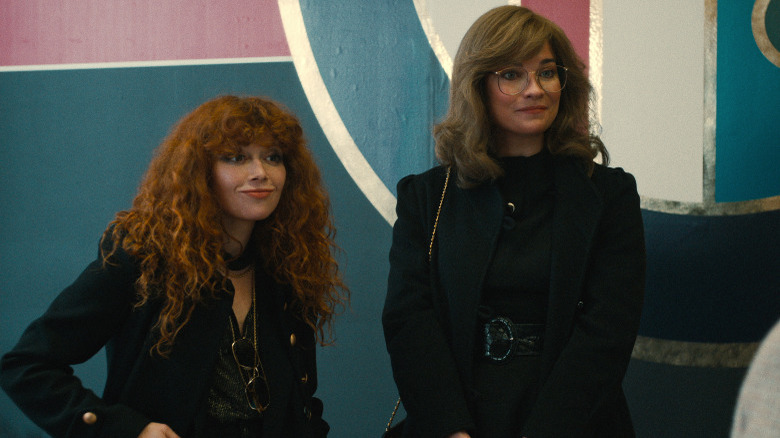 Netflix
Among those joining Lyonne and Barnett (along with his new mustache) in the "Russian Doll" season 2 cast are Greta Lee, who's reprising her role as Nadia's pal Maxine from season 1. Series newcomers this season include Hungarian actors Balázs Czukor ("Bel Ami") and Ákos Orosz ("Eternal Winter") as, respectively, the characters Kristof and Father Laszlo, as well as "District 9" actor Sharlto Copley, "House of Cards" alum Carolyn Michelle Smith, and Tony nominee Ephraim Sykes ("Hamilton") in as-yet-unknown roles. And fear not! For those who were worried, it seems Nadia's cat Oatmeal will, in fact, be showing up at some point in season 2, per the report from EW.
Of course, the biggest cast addition in season 2 is "Schitt's Creek" and "Kevin Can F**k Himself" star Annie Murphy. As with the rest of the season, details about her role are a closely-guarded secret, with Lyonne simply describing her character as an "ally" to Nadia, as well as a "core component and the heart of the season." Love that journey for me!
Russian Doll season 2 trailer and synopsis
Set four years after Nadia (Natasha Lyonne) and Alan (Charlie Barnett) escaped mortality's time loop together, season two of Russian Doll will continue to explore existential thematics through an often humorous and sci-fi lens. Discovering a fate even worse than endless death, this season finds Nadia and Alan delving deeper into their pasts through an unexpected time portal located in one of Manhattan's most notorious locations. At first they experience this as an ever-expanding, era-spanning, intergenerational adventure but they soon discover this extraordinary event might be more than they bargained for and, together, must search for a way out.