Stranger Things Season 4: Release Date, Cast, And More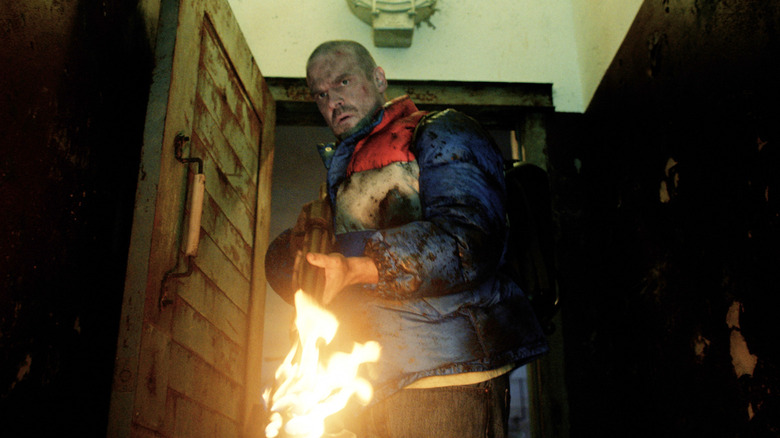 Netflix
(Welcome to ...And More, our no-frills, zero B.S. guide to when and where you can watch upcoming movies and shows, and everything else you could possibly stand to know.)
I got a fever .. and the only prescription is more Upside Down! Yes, all dad jokes aside, "Stranger Things" is finally coming back after a three-year break between seasons. You can blame the extended wait on a combination of filming delays caused by the pandemic and the expanded scale of season 4 (which we will get into a little later). I'm just grateful the Duffer Brothers and their many collaborators were able to safely finish shooting this latest batch of episodes before the show's young stars become full-fledged adults themselves. For related reasons, it's probably a good thing "Stranger Things" is planning to call it a day after one more season.
That's right! "Stranger Things" is now officially set to end with season 5 (potential spinoffs aside, that is), which isn't too shocking given that the Duffers and executive producer Shawn Levy have been teasing the idea since as far back as 2017. Not to mention the Duffers' nostalgic love letter to the 1980s has already mined much of the decade's most beloved pop culture for inspiration, so better that it go out strong now rather than carry on well after it's run out of fresh ideas.
Anyway, that's enough rambling from me. Let's talk season 4, shall we?
Stranger Things season 4 release date and where you can watch it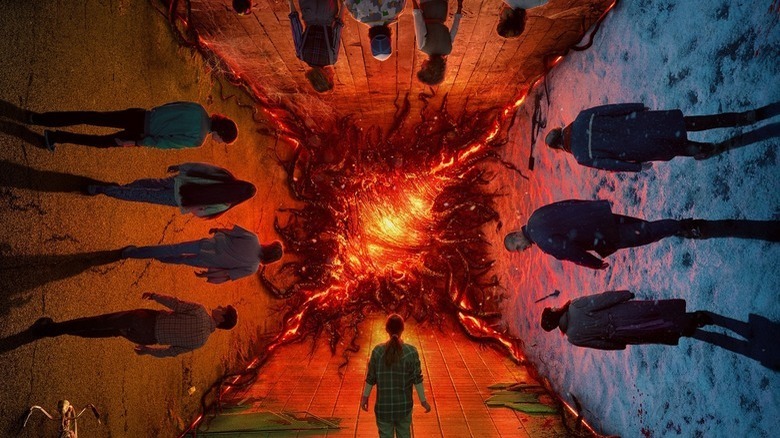 Netflix
Unlike the show's first three seasons (each of which Netflix dropped in their entirety on the same day), "Stranger Things" season 4 will be split into two parts. "Volume 1" will debut May 27, 2022, on Netflix, followed by "Volume 2" just over a month later on July 1, 2022. 
The reason being? Well, as I mentioned earlier, season 4 is the show's biggest season so far, in more senses than one. But you don't have to take my word for it. (... I hope everyone read that last sentence in LeVar Burton's voice.) Just read this excerpt from the statement the Duffers issued announcing the launch dates for season 4 while also confirming the series will wrap up after five seasons:
"It's been a little while. With nine scripts, over eight-hundred pages, almost two years of filming, thousands of visual effects shots and a runtime nearly twice the length of any previous season, Stranger Things 4 was the most challenging season yet, but also the most rewarding one. Everyone involved is incredibly proud of the results, and we can't wait to share it with you."
What is Stranger Things season 4 about?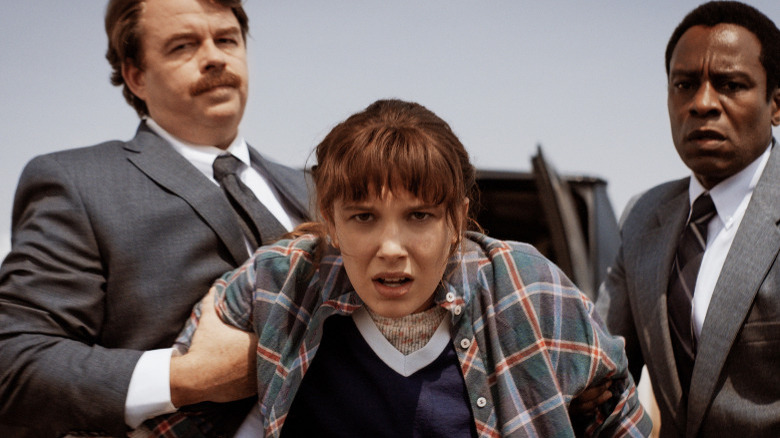 Netflix
"Stranger Things" season 4 will pick up just over six months after the end of season 3 and the Battle of Starcourt Mall, in which Eleven's adopted dad, Jim Hopper, seemingly sacrificed his life to once again prevent the Mind Flayer and the other denizens of the Upside Down from wreaking havoc on the unsuspecting citizens of Hawkins, Indiana. In reality, however, Hopper was captured by Soviet agents and taken to a prison in Kamchatka, Russia, where he's presumably been laboring and plotting to escape since we last saw him.
As for Eleven, she's living with the Byers family in sunny California (circa 1986) and looking forward to reuniting with Mike and the others still back in Hawkins over spring break. No such luck, kiddo; before they know it, Eleven, Mike, and their friends are swept up into yet another dangerous adventure involving monsters from the Upside Down, meddling U.S. government agents, illicit experiments being carried out at Hawkins National Laboratory, and a mystery involving a gruesome murder that took place at the creepy Creel House in Hawkins back in the '50s. How very strange indeed (sorry, these dad jokes write themselves).
Stranger Things season 4 directors, crew, and more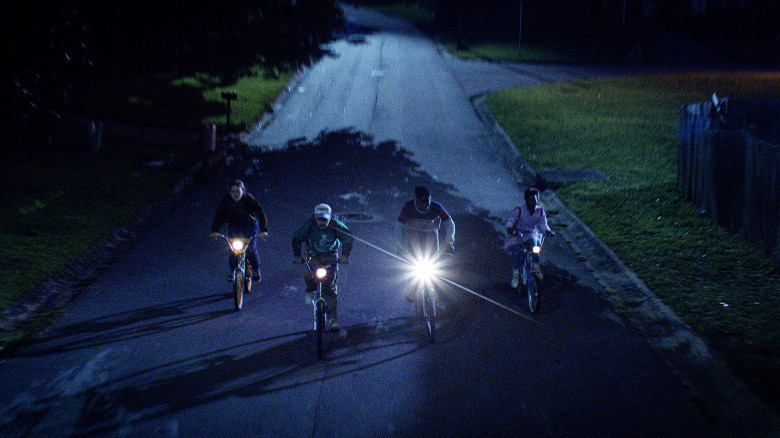 Netflix
The Duffer Brothers will once again pull triple-duty as show-runners, writers, and directors on "Stranger Things" season 4, with Levy similarly lending a hand as both a producer and director on one or more episodes. It's unclear who else had a hand in either penning or calling the shots on this season, but it is reasonable to assume the Duffers and Levy had some help. While the trio may've helmed season 1 on their own, it feels like the show has simply gotten too big to be a three-person job at this point (to mention nothing of the challenges of filming in multiple locations and dealing with pandemic-era safety protocols).
Likewise, the odds are good that the Duffers and Levy were joined by many of their longtime "Stranger Things" collaborators behind the camera on season 4, including composers Kyle Dixon and Michael Stein (whose '80s-style synthesized score is absolutely a vital aspect of the show's artistic DNA). Still, they roped "Finding Nemo" director Andrew Stanton into helming a pair of episodes in season 2, so who knows: Perhaps they managed to covertly get a similar heavy-hitter involved with this next batch of episodes.
Stranger Things season 4 cast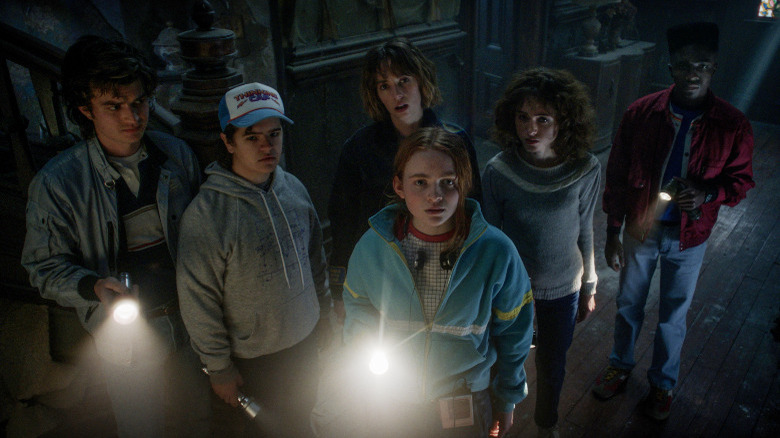 Netflix
Remember what I said about "Stranger Things" season 4 being "big?" Not to keep hammering the point, but that extends to the cast, too. New additions this season include horror movie icon Robert Englund (yes, the original Freddy Krueger) and Amybeth McNulty ("Anne with an E"), as well as Jamie Campbell Bower ("The Mortal Instruments: City of Bones"), Eduardo Franco ("Booksmart"), Regina Ting Chen ("The Falcon and the Winter Soldier"), Myles Truitt ("Queen Sugar"), Grace Van Dien ("The Rookie"), Joseph Quinn ("Catherine the Great"), Sherman Augustus ("Westworld"), Mason Dye ("Bosch"), Tom Wlaschiha ("Game of Thrones"), and Nikola Djuricko ("In The Land of Blood and Honey").
Season 4 will also include all your favorites — well, okay, the ones that are still alive; RIP to our beloved Slurpee-drinking Russian scientist Alexei — from seasons past, as played again by Millie Bobby Brown (Eleven), David Harbour (Jim Hopper), and Finn Wolfhard (Mike Wheeler), as well as Gaten Matarazzo (Dustin Henderson), Caleb McLaughlin (Lucas Sinclair), Noah Schnapp (Will Byers), Winona Ryder (Joyce Byers), Sadie Sink (Max Mayfield), Natalia Dyer (Nancy Wheeler), Charlie Heaton (Jonathan Byers), Joe Keery (Steve Harrington), Priah Ferguson (Erica Sinclair), Maya Hawke (Robin Buckley), Cara Buono (Karen Wheeler), and Brett Gelman (Murray Bauman).
Rest assured: There will plenty of strangeness to go around in season 4. G'night, folks!
Stranger Things season 4 trailer and synopsis
It's been six months since the Battle of Starcourt, which brought terror and destruction to Hawkins. Struggling with the aftermath, our group of friends are separated for the first time – and navigating the complexities of high school hasn't made things any easier. In this most vulnerable time, a new and horrifying supernatural threat surfaces, presenting a gruesome mystery that, if solved, might finally put an end to the horrors of the Upside Down.