Why Stranger Things Season 4 Is Taking So Long To Release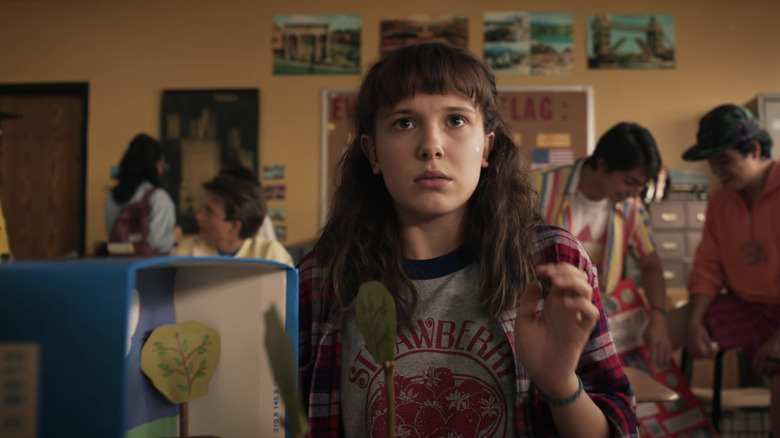 Netflix
This past weekend marked a major Netflix holiday — Stranger Things Day! November 6 commemorated the day that Will Byers (Noach Schnapp) first went missing in season 1 of "Stranger Things," an odd thing to celebrate, until you consider the bombastic nature of the series, it's binge-worthy supernatural saga, and the burst of popularity that all began with one missing kid. Five years later, Netflix had no choice but to celebrate, and did so by releasing our much-anticipated first look at season 4!
As the teaser reveals, we've come a long way since Will first got trapped in the Upside Down. I mean, for some reason the poor kid still has the same cringy bowl cut, but other than that, things have changed! The children have grown! In fact, they've grown quite a bit, probably because we haven't seen them since the summer of 2019. Season 4 of "Stranger Things" has been delayed for what feels like an eternity. Season 3 had a long wait too — nearly two years — but the fourth season isn't set to arrive until summer 2022. That means a whopping three years will have passed before the story continues. So what's with the delay?
A Perfect Storm of Problems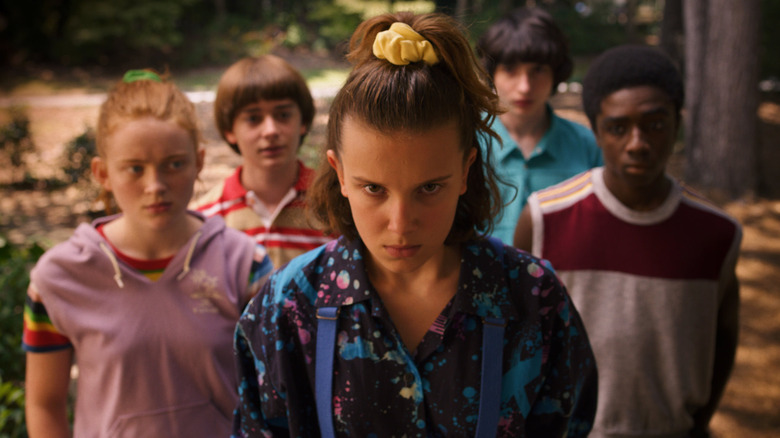 Netflix
The three-year wait for "Stranger Things" has a number of explanations and considered side-by-side, it's no wonder production has taken so long. The most obvious of answers hardly needs an introduction, considering we're still living through it. Back in 2020, the series began filming in Vilnius, Lithuania before moving back to the U.S. for production in Atlanta. But two weeks in, "Stranger Things" (and all other Netflix productions) were halted on March 16, due to the COVID-19 pandemic. Several delays later, production was finally able to resume 6 months after the initial shutdown. Picking up in September of 2020, everyone was working with brand new safety protocols in place. Looking back on production, series star Sadie Sink told Comicbook.com:
"I think the real challenging part was just adjusting to the new rules and the regulations that were in place on set. That was a big adjustment."
Series producer Shawn Levy also spoke to this struggle, telling Collider:
"As much as it pains our viewers that it will have been so long, trust me, it pains Matt, Ross, and I more. It is a kind of perfect storm combination of COVID shutdown, slower pace of filming in COVID protocols and health protocols, which are necessary, and coincidentally we chose Season 4 to be by far — and I mean, by far, far, far — the most ambitious of the seasons."
With that, Levy hints at the other major factor delaying the latest season of the series — its unending ambition.
The Most Epic Season Yet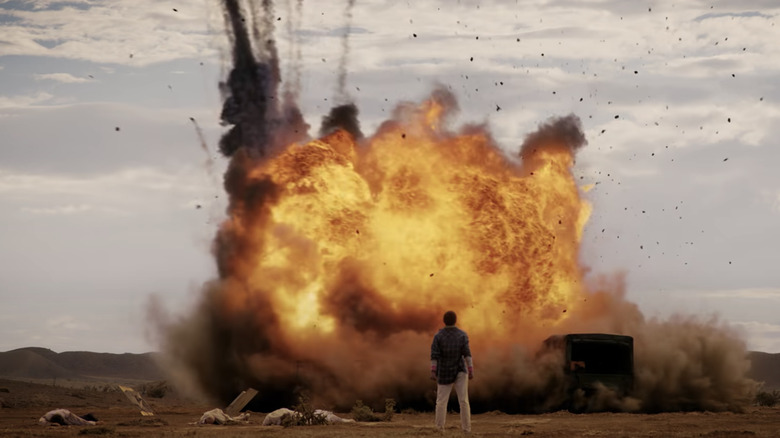 Netflix
We're not in Hawkins anymore, folks. We're not just in Hawkins, anyway. In our first look at season 4, we learn that the Byers (and El) have officially left their small Indiana town to settle elsewhere. But we also know that Hopper (David Harbour) is being detained in some Russian prison camp. The story is spreading out much further than before — instead of a few out-of-town detours, entire storylines are taking place in brand new locations. The kids are leaving their small town in the dust, as the mysteries continues to unravel. Levy told Comicbook.com:
"Part of what's taking time is long before Covid and the pandemic existed, season four was built to be by far the most ambitious, cinematic, sprawling and epic season that we've ever done. By not just a little — by a lot. So the complexity of season four, even before we had the obstacles, hurdles and challenges of a pandemic, is taking a lot of time because it is super worth the wait."
The expanding scale of the show had a considerable effect on our long wait for season 4. Reflecting on the past few years, the story and its stakes have always gotten bigger as time progressed, but season 4 is promising massive leaps forward. Not to mention the fact that "Stranger Things" remains a Duffer Brothers dream project and however big it becomes, they like to keep the storytelling close to home. Levy added:
"The reason Stranger Things takes so long is everything is handmade by a very small group of us. The brothers, they want to direct a certain number of episodes every year, I have to direct my episodes every year. We have to be in the edit room and lay hands on all of it ourselves. If you look at the show, there's no like 12 executive producers. It's still a very small group and the controls are rigorous on each episode and on anything that the franchise does, whether it's the drive-through experience in LA or a Nike sneaker that was put out in the summer of 2019, we see and approve it all."
The show fans so dearly love comes from a close-knit group of creatives, who make every effort to be as hands-on as possible. That level of dedication takes time and with everything else the series is juggling, slows the pace a bit. But in the end, if that's what it takes for another season of the show we all love, it'll be well worth the wait.
Season 4 of "Stranger Things" doesn't yet have a release date, but is expected in Summer 2022.