Stranger Things Season 4 Teaser: Eleven Is California Dreamin' Of Spring Break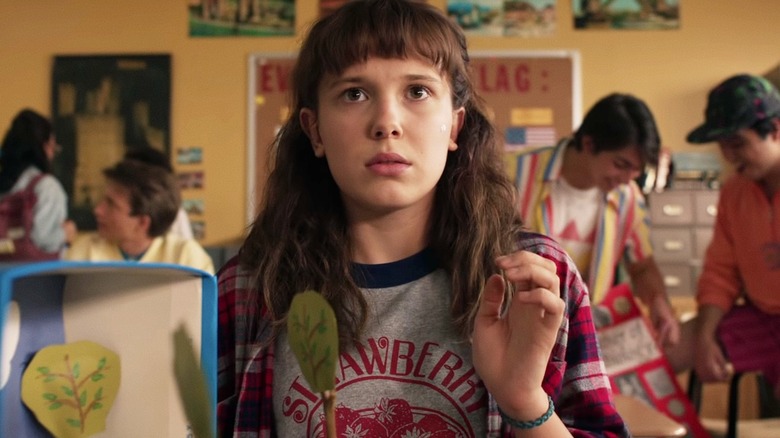 Netflix Studios
Stranger Things Day is here, and that means lots of creepy goodness coming your way. November 6 is not the drop date of the show's highly anticipated fourth season, but the day does bring new announcements and fan-friendly goodies to anticipate the next season of Netflix's hit science fiction series. On their official Twitter page, the show has encouraged participation in the form of "waffle parties," binge-watching parties, and character cosplay, perhaps in an effort to engineer Star Wars Day levels of franchise hype. The date also has canonical significance. The show's first episode, "The Disappearance of Will Byers," is set on November 6, 1983. It's the same day the powerful young Eleven escaped from a laboratory, and a predatory creature with no face strolled through a cosmic cat flap and terrorized the town of Hawkins, Indiana. 
The show has been a goldmine for Netflix, spawning repeat seasons for a show that was originally meant to be an anthology series. Netflix has promised "new footage and exclusive content" on their preview guide, and today they've followed through by dropping a full-fledged teaser trailer. Watch it below.
Stranger Things 4 Teaser
The "Stranger Things" teaser sees Eleven (Millie Bobby Brown) settling into her California life — well, sort of. As she writes to Will (Finn Wolfhard) about her swell time making new friends and learning new things, she actually gets a spitball to the face. But no matter. Spring break is just around the corner, and she can't wait to see him again. Except we all know that things don't end up well for the kids of Hawkins, Indiana. 
The show's third season ended with the whole scrappy gang (and partial Dungeons & Dragons group) closing the portal to the alt-dimensional Upside Down, but at great cost: Sherriff Hopper (Harbour) sacrificed himself in order to facilitate the closure, while Billy (Dacre Montgomery) sacrificed himself to the terrifying Mind Flayer creature during the Battle of Starcourt. Where the next season will take us is still being kept under wraps, but a teaser hints that we'll be looking deeper into Eleven's past, and Harbour spilled to Collider that the series will come to a "definite" end.
Season 4 sees the return of showrunners Matt Duffer and Ross Duffer, who also serve as executive producers of the genre show. Jim Hopper (David Harbour) seems to have resurrected to rejoin the cast along with co-stars Millie Bobby Brown, Finn Wolfhard, Gaten Matarazzo, Caleb McLaughlin, Noah Schnapp, Winona Ryder, Natalia Dyer, Charlie Heaton, Joe Keery, Priah Ferguson, Cary Elwes, Jake Busey, Maya Thurman-Hawk, Priah Ferguson, Cara Buono, and Brett Gelman.