Stranger Things Ending With Season 5, Release Dates For Two-Part Season 4 Revealed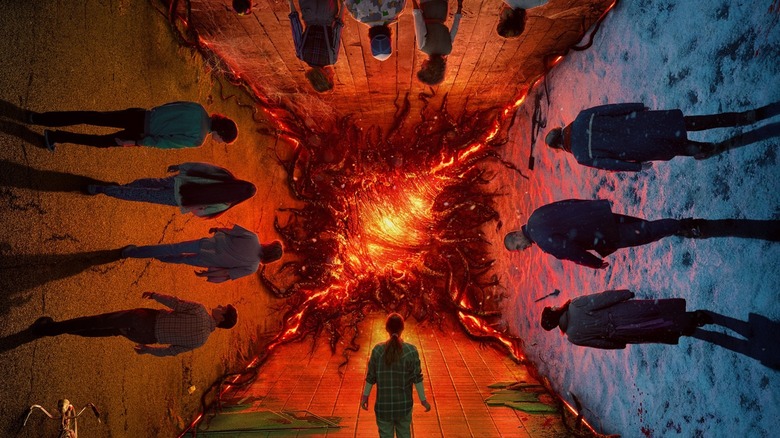 Netflix
If you thought things were strange, man, you ain't seen nothing yet. "Stranger Things" is returning this summer for season 4, which we've now learned will be the penultimate season of the series, and will be released in two volumes. This will eventually be followed by "Stranger Things" season 5, which will conclude the series, though there likely spin-offs on the horizon.
As we start to emerge from the other side of the pandemic, most of the "Stranger Things" actors whom we first met as children are now threatening to burst out of their teens and into full-grown adulthood ... which means they're kind of outgrowing the show's nostalgic '80s plucky-group-of-kids-fighting-a-supernatural-menace formula that made the show such a hit in the first place. But before they go, there's still time for a couple more showdowns with the Upside Down.
Along with five new posters for "Stranger Things 4," Netflix revealed that Vol. 1 will release on May 27, 2022, followed a few weeks later by Vol. 2 on July 1. Here's the official synopsis for "Stranger Things" season 4, and you can check out the posters below:
It's been six months since the Battle of Starcourt, which brought terror and destruction to Hawkins. Struggling with the aftermath, our group of friends are separated for the first time – and navigating the complexities of high school hasn't made things any easier. In this most vulnerable time, a new and horrifying supernatural threat surfaces, presenting a gruesome mystery that, if solved, might finally put an end to the horrors of the Upside Down.
Welcome back to the Upside Down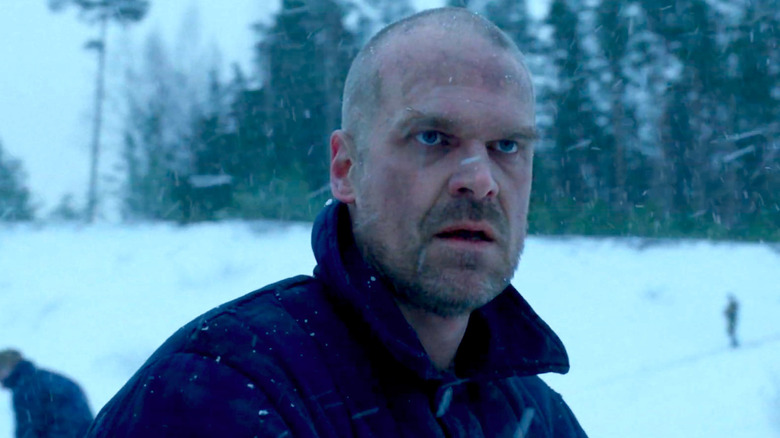 Netflix
Unlike previous seasons of "Stranger Things," which were mostly confined to the town of Hawkins, Indiana, season 4 looks considerably larger in scope — largely because the main characters were scattered at the end of season 3. Chief Hopper, presumed dead, is actually being held prisoner in Russia. The Byers family moved away to California, taking Jane/Eleven with them. But it looks like all things gooey and demonic will conspire to bring the friends back together once again. 
Here are the five posters for "Stranger Things" season 4, teasing five key locations: Hawkins National Laboratory, Russia, California, the creepy old Creel House, and — of course — the pulsating maw of the Upside Down, where all these locations apparently converge.
Eleven is seemingly wandering the halls of Hawkins Lab alone (she's recognizable in that poster by her plaid shirt, which she was also seen wearing in the trailer for "Stranger Things" season 4). Based on these posters it looks like Joyce and Murray will be joining Hopper in Russia, while Mike Wheeler ends up joining Jonathan, Will, and their new friend Argyle ("Booksmart's" Eduardo Franco) in California, and the others attack on the Creel House front ... but "Stranger Things" is always full of surprises.
"Stranger Things" season 4, Vol. 1 will release on May 27, 2022, followed a few weeks later by Vol. 2 on July 1.