The Happy Death Day Movies Are Getting A Loaded 4K Blu-Ray Set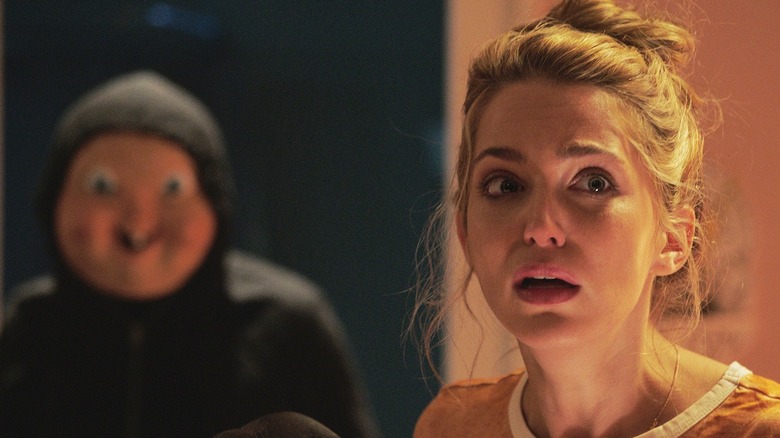 Universal Pictures
2017's "Happy Death Day" and its 2019 sequel "Happy Death Day 2U" are some of my favorite horror films. I'm an absolute scaredy cat, so having a smart film series with a great heroine that didn't give me nightmares and kept me wildly entertained was pretty great. (Time to greenlight that third movie, Blumhouse!) Now Shout Factory has a new 4K Blu-ray set coming out that is pretty spectacular. (Disclosure: I have done a bunch of voiceovers for Shout Factory DVD releases in the past, but they were not horror-related.)
The first film, with a very strong nod to "Groundhog Day" (something it acknowledges in the film itself), tells the story of Tree Gelbman, a college student who has to solve a murder — her own — and relive her death day over and over to do it. The premise isn't new, but the clever way writer/director Christopher Landon managed it is fresh and really, really funny. It's got a great cast including Jessica Rothe as Tree, Israel Broussard, and Ruby Modine. This is one I definitely want to revisit. (I will admit to having one or two disturbing dreams about that baby mask. It's ... upsetting.)
Go Shorty, It's Your Birthday
I apologize for putting that song in your head, but it's used so well in the movies, I couldn't resist. The "Happy Death Day" set from ShoutFactory.com, which retails for $115.99, includes the "Happy Death Day" 2-Disc UHD/Blu-ray set, the "Happy Death Day 2U" 2-Disc UHD/Blu-ray set, and limited edition 18" x 24" rolled posters of the theatrical artwork for both films.
In addition, Scream Factory and Gutter Garbs will include an official "Happy Death Day" franchise collectible enamel pin set, which is exclusive to ShoutFactory.com and is limited to 500 units. There are four hard enamel pins including the mask, mascot, sheet cake, and a cupcake, and one soft enamel pin of the clock window. The pins are 1.5" to 2" high with a backer card (6" x 5") in a keepsake box (7" x 6"), with art by Matthew Skiff.
By the way, once you watch these movies and realize how great Jessica Rothe is, you may be interested to know that Rothe has replaced "Ready or Not" star Samara Weaving in the upcoming Sam Raimi-produced film "Boy Kills World." That movie doesn't have a release date yet, but while you're waiting for it to hit the big screen, you can dive into all of the special features of this "Happy Death Day" set, which will be released on April 26, 2022.