Obi-Wan Kenobi Premiere Date Set For May On Disney+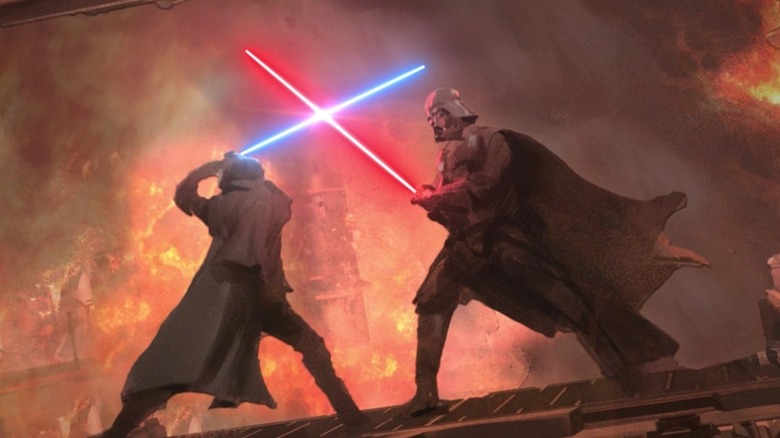 Lucasfilm
You may have thought we've already seen all the story there is to know about Obi-Wan Kenobi — the Jedi knight who became a master and ultimately fled into exile upon Anakin Skywalker's fall to the Dark Side, eventually leading to his mentorship of Luke Skywalker and his self-sacrifice to buy him and his friends time to escape the clutches of his former friend, Darth Vader. Played by the incomparable Alec Guinness in the original movies and later portrayed by Ewan McGregor, one particular period in the life of Obi-Wan has always remained in the dark. With the impending arrival of the "Obi-Wan Kenobi" Disney+ series — potentially even more impending than fans may have realized — that gap will finally be filled in.
At this point, fans have remained eager about the storytelling potential of a series like "Obi-Wan Kenobi" for years, doubly so upon the announcement that Hayden Christensen will reprise his role as Anakin/Darth Vader. The series is one of many "Star Wars" projects heading to Disney+ streaming, picking up the slack left by "The Mandalorian," "Star Wars: Visions," and the recently-concluded "The Book of Boba Fett" while joining in-development productions like "Ahsoka," "The Acolyte," "Lando," "Star Wars: A Droid Story," and "Andor." "Obi-Wan Kenobi" arguably outpaces all the rest in terms of sheer hype, and now we finally have an idea of when to expect the series to premiere.
No Jedi mind tricks here — we now know that "Obi-Wan Kenobi" will debut on Disney+ on May 25, 2022.
Obi-Wan Kenobi Premiere Date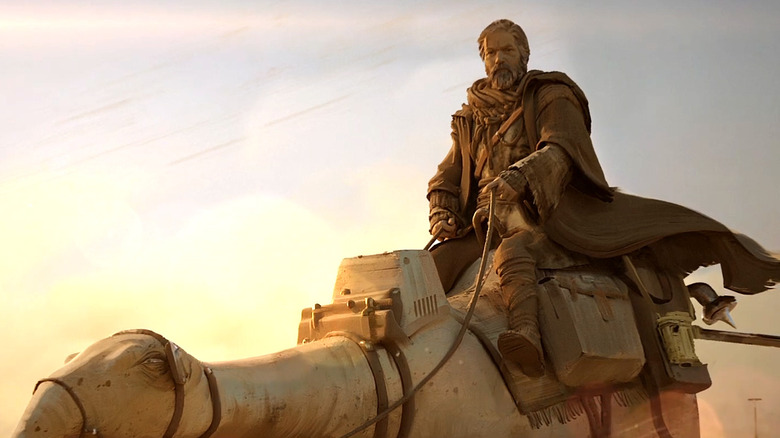 Lucasfilm
The exciting development comes directly from Disney and Lucasfilm. While the state of the actual "Star Wars" movies remain somewhat in flux, especially in light of more delays regarding Patty Jenkins' "Rogue Squadron," the franchise continues to get its television and streaming projects neatly set up with an absolute bare minimum of major complications. By all indications, "Obi-Wan Kenobi" may just live up to the enormous expectations.
All episodes of "Obi-Wan Kenobi" are directed by Deborah Chow ("Mr. Robot," "Jessica Jones," "Better Call Saul," and "The Mandalorian") and written by Joby Harold ("King Arthur: Legend of the Sword," "Army of the Dead," "Transformers: Rise of the Beasts"). The series is expected to cover the period of "Star Wars" history after Obi-Wan was forced into exile in the aftermath of the infamous Order 66 and the purging of the Jedi Order, as depicted in "Revenge of the Sith." It's traditionally held that the Jedi Master hunkered down on Tatooine and kept a close eye on young Luke for all those intervening years, until his appearance as a hermit in the original "Star Wars." Of course, plenty of time and space exists for all sorts of adventures — or at least one, as depicted in this upcoming limited series.
Thus far, the Disney+ "Star Wars" shows have mostly enjoyed positive word of mouth and overall success. In particular, "The Mandalorian" and "Star Wars: Visions" both received widespread accolades from critics and fans, while "The Book of Boba Fett" has experienced a bit of a rougher go of it lately. "Obi-Wan Kenobi" is uniquely positioned to shake off numerous complaints about rampant fan-service and a certain identity crisis of sorts, with the shorter episode order leaving no room for filler or wheel-spinning. We'll have to wait and see how it all turns out, but at least that wait now feels just a little shorter.
For now, check out the official poster.