The Book Of Boba Fett Should Have Been The Mandalorian Season 3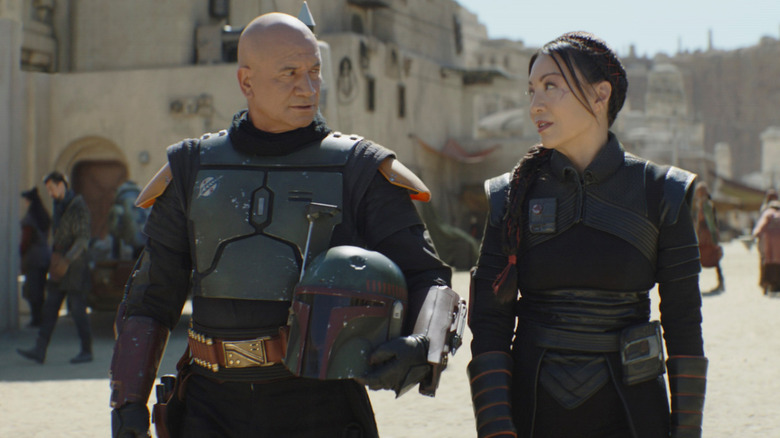 Disney+/Lucasfilm
This article contains spoilers for the "Book of Boba Fett" season 1 finale.
"The Book of Boba Fett" ended its first and possibly only season with its seventh episode, "In the Name of Honor." As far as finales go, it got the job done and paid off the show's over-arching plot threads, bringing Boba's conflict with the Pykes and the other crime families of Tatooine to a close and even delivering the long-awaited showdown between Boba and Cad Bane that fans never got to see on the animated "Clone Wars" series. "In the Name of Honor" also topped off a decidedly uneven season of storytelling, the issues with which can arguably be traced back to the decision to spin-off "The Book of Boba Fett" into its own thing.
Prior to becoming "The Adventures of Boba and His Friends" in its fifth chapter, "Return of the Mandalorian," "The Book of Boba Fett" had the ingredients it needed to become an absorbing Boba Fett solo series. As /Film's Lyvie Scott has noted, the show's "Dances with Wolves"-style story about Boba escaping the Sarlacc and being adopted by a group of Tusken Raiders made for an organic progression of his search for a family as a child on "Clone Wars," as did his desire to become a crime lord. This only served to further highlight the parallels between Boba's tragic backstory (starting with the death of his father Jango back in "Attack of the Clones") and not just Din Djarin's, but also Grogu's traumatic past.
Maybe Boba's Just Not Lead Material?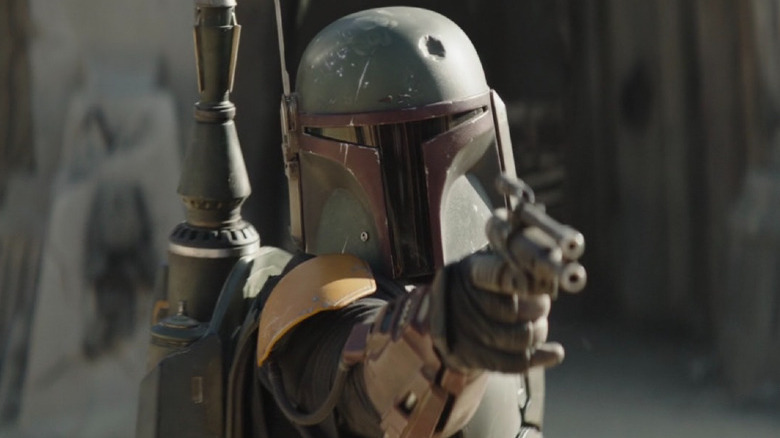 Disney+/Lucasfilm
When we caught up with Din and Grogu on "The Book of Boba Fett," they were both at a crossroads where they had to choose between embracing the family they had found in one another or forgoing their emotional attachment in order to devote their lives to the cults that are the Children of the Watch and the Jedi Order. (Yes, I'm calling the Jedi Order a cult. We can debate that idea some other time.) Boba, in many ways, was in a similar position in the show's present, having to decide whether overseeing a crime family is really worth all the pain and suffering his actions were causing. So why, then, did it feel so ungainly when the series wove these threads together?
It all seems to come down to the show's failure to flesh Boba out into a worthy lead. The first four episodes of "The Book of Boba Fett" spent a lot of time on unnecessary flashbacks about what happened after Boba saved Fennec Shand in "The Mandalorian" season 1, none of which provided any information that viewers couldn't have intuited on their own. Then there was the way the show dragged out Boba meeting the other crime bosses of Mos Espa, nearly getting killed (twice), acquiring his pet rancor, and so forth. These plot beats felt thin, sort of stretched, like butter scraped over too much bread (to quote Bilbo Baggins from "The Lord of the Rings") — so much so that it frankly came as a relief when Din, Grogu, and the other "Mandalorian" characters more or less hijacked the series.
Fear is the Path to the Dark Side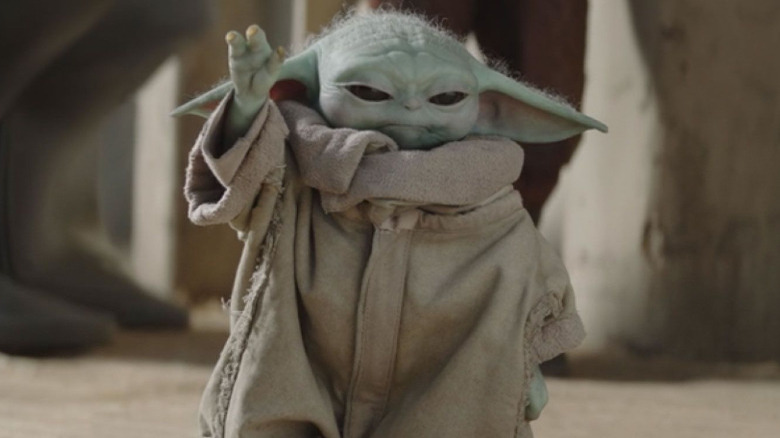 Disney+/Lucasfilm
A lot of these issues might've been avoided by simply reducing "The Book of Boba Fett" to a sub-plot in "The Mandalorian" season 3. "The Mandalorian" could've then intercut between Din and Boba's journeys — so as to better highlight their similarities — before bringing Grogu back and giving more viewers time to miss him after his emotional farewell with Din at the end of season 2. It helps that "The Mandalorian" has a relatively flexible design that allows it to accommodate both episodic and over-arching storytelling, to the degree that it's easy to imagine it devoting a single episode to Boba's flashbacks while still finding room to show what Din and the gang are up to in the present. (See "The Boy from 6B" from "Only Murders in the Building" season 1 if you want an example of how such an episode would work.)
Now, as silly as this clarification might seem, none of this is to say I know how to run a show better than "The Mandalorian" and "The Book of Boba Fett" creator Jon Favreau and his fellow executive producers ... because, obviously, I don't. But I do feel that too many of the creative choices on "The Book of Boba Fett" were made out of fear — like fear of how viewers would respond if Din and Grogu were apart for much of "The Mandalorian" season 3. It's that same fear that has hindered Disney's live-action "Star Wars" TV shows in other ways, from their bad habit of relying too much on nostalgia to their refusal to recast the younger Luke Skywalker with a new actor in favor of creating a weird, uncanny valley CGI young Mark Hamill instead (with Hamill's permission, yes). And as "Star Wars" fans can tell you, acting out of fear rarely gets you the result you wanted, as was very much the case here.
"The Book of Boba Fett" season 1 is now streaming on Disney+.