Tom Holland Admits His James Bond Pitch Was 'Kind Of A Stupid Idea'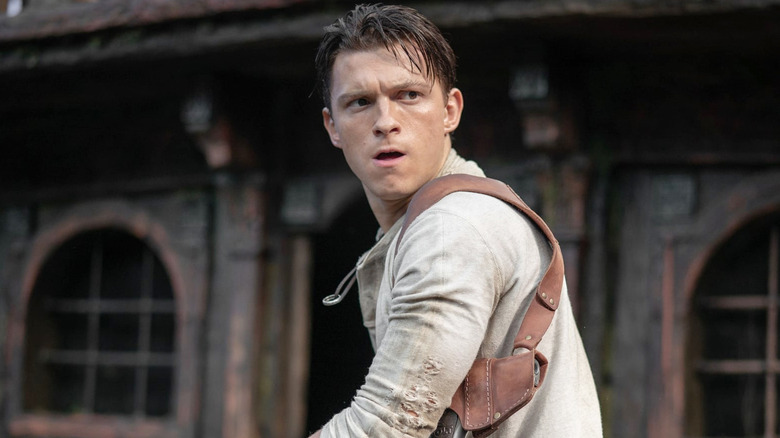 Sony Pictures
Peter Parker, Nathan Drake, Jip the lurcher — what do they all have in common? The answer is that Tom Holland has played all three of these characters in one or more films before. (Jip, of course, being the most iconic of the trio.) Of course, if the "Spider-Man: No Way Home" and "Uncharted" actor had gotten his way, he might have ended up playing another, albeit much more obscure individual by the name of James Bond.
All kidding aside, Holland really did pitch the idea of him starring in a James Bond origin movie to Sony at one point. The studio didn't go for the idea, obviously, but it did spark the idea of having the actor play a young Nathan Drake in a film that would serve as an origin story for the wayward treasure hunter from the "Uncharted" video games. It's probably for the better that it did, too; as Holland admitted during his recent appearance on Late Night with Seth Meyers (via ScreenRant), his proposed Bond prequel would've been "a nightmare" for Sony to market:
"It didn't work out quite as planned. Essentially, I'm such a big fan of James Bond. I've loved Daniel Craig's movies. And I just thought: If they were to move on it would be really exciting to see how James Bond becomes James Bond. So I pitched this idea for a movie, which is kind of a stupid idea. Essentially you wouldn't tell the audience that it was a James Bond movie until the end, but from a marketing point of view, that's a nightmare. Like that just doesn't make any sense."
Holland got a new franchise anyway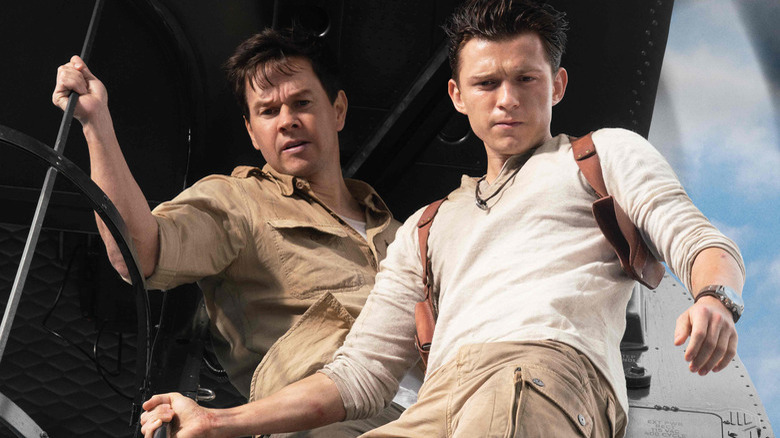 Sony Pictures
Don't feel too bad for him; as Holland revealed in a previous interview, his failed Bond pitch "opened a conversation" with Sony that resulted in him starring in "Uncharted." The globe-trotting action-adventure film, as mentioned earlier, acts as an origin story for the quip-loving Nathan Drake character from Naughty Dog's popular video games. Mark Wahlberg, who was once set to portray an older Drake in an earlier iteration of the movie, ultimately co-starred in "Uncharted" as Holland's on-screen mentor and father-figure, Victor "Sully" Sullivan, with the intention of having him reprise the role opposite Holland in future sequels, should they come to pass.
Sony's bet (if that's the right word) looks to pay off. In spite of middling reviews, "Uncharted" is already well on its way to becoming a financial hit after a larger-than-expected opening weekend at the domestic box office. In fact, Sony Pictures Motion Picture Group chairman and CEO Tom Rothman has already gone ahead and sent out a company-wide email touting the film as the start of "a new hit movie franchise," making the as-yet-unconfirmed sequel all but a sure thing. For his part, though, Holland is hoping to take a bit of a break (having more or less worked around the clock for the last few years) before diving back into the worlds of "Uncharted" and "Spider-Man."
"Uncharted" is now playing in theaters. "Spider-Man: No Way Home" will begin streaming on digital on March 22, 2022, followed by its release on Blu-ray, DVD, and 4K Ultra HD a few weeks later on April 12.