This Uncharted Sequence Was Tom Holland's Hardest Stunt Ever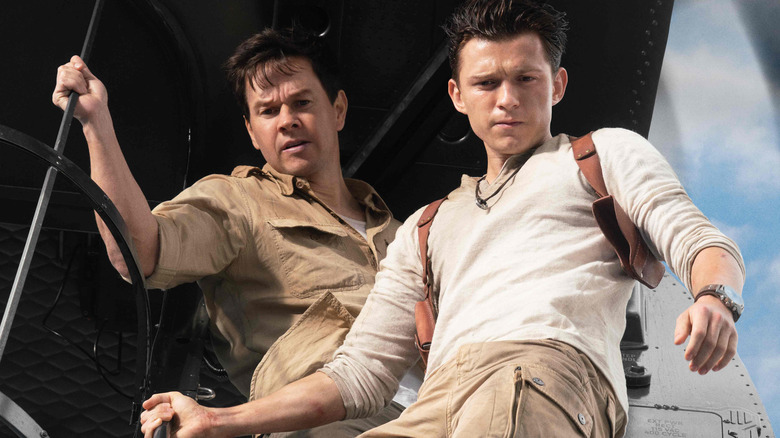 Sony Pictures
During his years as the Marvel Cinematic Universe's Spider-Man-in-residence, Tom Holland has had to navigate all sorts of extensive action set pieces. The actor kicked things off with a massive airport battle in "Captain America: Civil War" (during the dog days of the Atlanta summer, mind you), survived a crashing plane in "Spider-Man: Homecoming," fended off various elemental battles in "Far From Home" before finally coming face-to-face with Mysterio (Jake Gyllenhaal) and his trippy VFX deceptions, and — oh, yeah — remember that time Thanos threw an entire moon at him and the other heroes during "Avengers: Infinity War"? 
Even accounting for the heavy use of CGI throughout all of those sequences, you'd think any one of those might stick out in Holland's mind as the toughest stunt he's ever had to film — but you'd be wrong. "Uncharted" is set to become the next major studio attempt to successfully adapt a popular video game into live action (you can read Hoai-Tran Bui's review here and, to put it mildly, you might want to lower your expectations). Fans of the Nathan Drake-starring series know that the games boast all sorts of adventures seemingly tailor-made for the big screen, giving director Ruben Fleischer ("Zombieland," "Venom") any number of options to put poor Holland and his mustachioed, hamburger salesman co-star through the ringer with.
In an interview with Yahoo!, Holland opened up about the aerial sequence shown as the centerpiece of practically all the "Uncharted" trailers to this point, involving Holland's Drake clambering over crate pallets in a barrel-of-monkeys sequence taking place on (or, rather, outside) a cargo plane. As Holland succinctly puts it,
"It's easily the hardest action sequence I've ever done, but I think it's equally as rewarding. I haven't seen an action sequence like this in a movie for a very long time."
J. Jonah Jameson himself would be proud of such (indirect and unintentional, of course) Spider-Man slander. Holland goes on to detail the specifics involved in filming the sequence but, tease that I am, you'll simply have to keep reading to see that for yourself.
Filming the big Uncharted stunt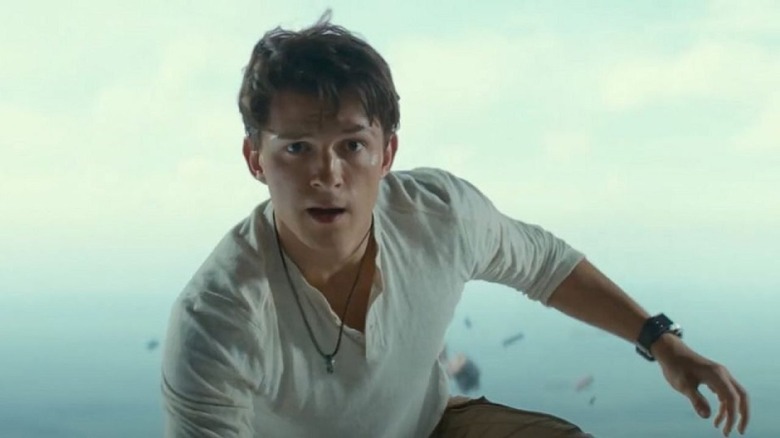 Sony Pictures
No, believe it or not, the toughest challenge Tom Holland faced while filming "Uncharted" wasn't for the baby-faced actor to convincingly pull off that whole bartender look. As Nathan Drake, the actor had to undergo a rigorous amount of stunt and wirework that, in all likelihood, probably played into his decision to take a bit of a break before embarking on his next big action movie. But that doesn't meant Holland isn't eager to look back and reminisce about what he accomplished way back during principal photography (which, you know, happened years ago thanks to all those pandemic-related delays). 
Elsewhere in the interview, Holland goes into the specifics of how the creative team found a practical way to bring that cargo plane sequence to the big screen:
"It took months to film that. We had these things called cougar arms, which are like the robotic arms you see used to make cars ... and then they would attach these big boxes to the robot in a row and then they shot it vertically. So most of the sequence was shot that way so we could simulate the notion that we were flying through the air. And basically all I had to do was hang onto these boxes and make my way up. And then we designed fight sequences with various different stunt guys throughout the route. The hardest part of it was that we were shooting small pieces at a time because the way the wire work was designed with the moving machinery was obviously very dangerous. So we had to take it really slowly."
With those massive crates (and even a car!) thrown at him while having to dodge various gun-wielding henchmen at the same time, it's easy to see why this scene would land at the top of Holland's list of most difficult stunts. In fact, this lines up perfectly with a previously-released "Uncharted" featurette dedicated to the stunts in the film, where the actor again pointed to this particular sequence as his toughest challenge.
After all those aforementioned delays, "Uncharted" is already off to a solid start at the international box office and even snagged a coveted Chinese release. In North America, "Uncharted" comes to theaters today, February 18, 2022.