Uncharted Final Trailer: Tom Holland's Hunt For Treasure Edges Closer To Release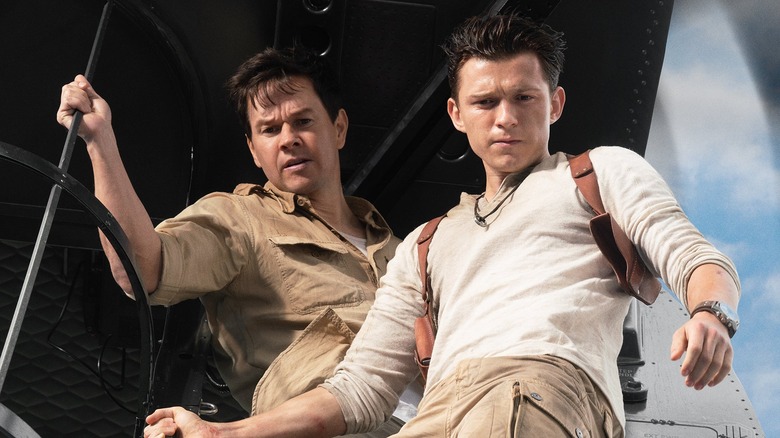 Sony Pictures
The much-anticipated adaptation of Sony's megapopular "Uncharted" video game series is finally nearing its arrival. This close to the finish line, surely there's nothing left to get in their way ... then again, this movie already has one of those special Wikipedia pages with an entire subsection dedicated to just how many times it's been pushed back.
While the COVID-19 pandemic has certainly made delays painfully common, "Uncharted" has troubles that very much precede the recent health crisis. In fact, the film's been in development so long that the hamburger salesman once slated to star as Nathan Drake ended up aging out of the role, and had to take on the older mentor character instead. Thus we get to see a young upstart dip into the world of action stardom: perhaps you've heard of this new wunderkind named *checks notes* Tom Holland. You may recognize him from, ya know, general celebrity fame or maybe as the kid dominating the box office with his web-crawling ways.
"Uncharted" sees Holland star as wisecracking fortune hunter Nathan Drake, who claims to be the descendant of famed explorer, Sir Francis Drake. Along with his new partner, Victor "Sully" Sullivan (previously mentioned hamburger connoisseur Mark Wahlberg), Drake begins a hunt for the "the greatest treasure never found." But here's the funny thing about treasure hunting — it tends to be a deadly business, what with all the very interested and increasingly dangerous competitors. The latest trailer for the film shows off just how much trouble young Nathan Drake is getting into.
Uncharted Final Trailer
Following a popular trend, "Uncharted" tells a story that comes long before the first game in the Naughty Dog franchise, "Uncharted: Drake's Fortune." By the time we meet this fortune-seeking duo in the games, they're longtime friends and partners, Sully having served as a mentor and father figure to young drake. The film features the beginning of their beautiful friendship when Sully recruits Nathan for a job and apparently teaches him the ins and outs of gadgets and parachuting from planes.
Other than the ominous line "you have no idea who you've partnered with," their partnership promises plenty of action-packed adventuring fun. As always, Nathan and Sully will have no shortage of danger to traverse along the way — including Antonio Banderas in full villain mode as Moncada, a ruthless treasure hunter, and Tati Gabrielle in typical badass fashion, starring as Braddock, a mercenary working against our heroes. The film also stars Sophia Ali as fellow fortune hunter Chloe Frazer.
"Uncharted" is directed by Ruben Fleischer ("Zombieland," "Gangster Squad," "Venom") and written by the screenwriting team of Art Marcum & Matt Holloway ("Iron Man," "Punisher: War Zone," "Men in Black: International") and Rafe Judkins ("Chuck," "Agents of SHIELD," "The Wheel of Time"). 
"Uncharted" is slated to (finally) hit theaters on February 18, 2022. You can check out the official synopsis below.
Street-smart Nathan Drake (Tom Holland) is recruited by seasoned treasure hunter Victor "Sully" Sullivan (Mark Wahlberg) to recover a fortune amassed by Ferdinand Magellan and lost 500 years ago by the House of Moncada. What starts as a heist job for the duo becomes a globe-trotting, white-knuckle race to reach the prize before the ruthless Santiago Moncada (Antonio Banderas), who believes he and his family are the rightful heirs. If Nate and Sully can decipher the clues and solve one of the world's oldest mysteries, they stand to find $5 billion in treasure and perhaps even Nate's long-lost brother...but only if they can learn to work together.