Uncharted Clip: Tom Holland's Nathan Drake Turns Bartending Into A Martial Art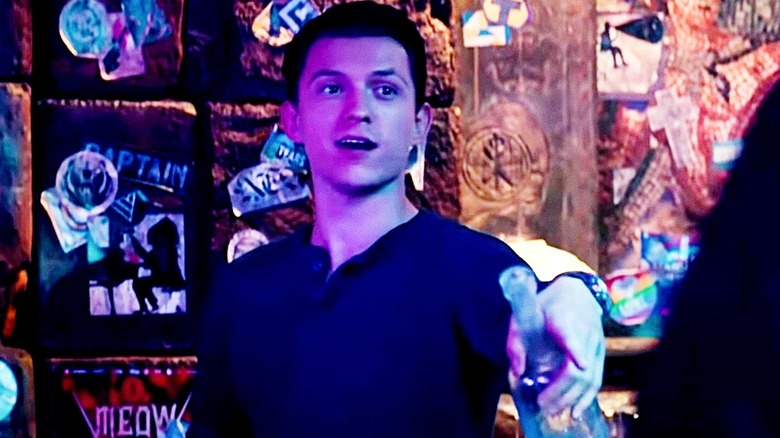 Sony Pictures
As "Spider-Man: No Way Home" continues its record-breaking run at the box office, Sony Pictures is gearing up for the release of another Tom Holland-led tentpole in the form of "Uncharted." 
The big screen adaptation of Naughty Dog's beloved action-adventure video games has been in the works since 2008 and saw many directors come and go before being re-imagined as an origin story film about a young Nathan Drake, as played by Holland. Notable hamburger salesman Mark Wahlberg, who was once set to portray an older version of Drake (closer to the one from the games) in an earlier iteration of the movie, co-stars in "Uncharted" as Victor "Sully" Sullivan, the grizzled, occasionally mustachioed treasure hunter who takes the young Nathan under his wing.
Having already dropped the final (?) trailer for "Uncharted," Sony has now unveiled a clip that has Holland's Nathan Drake going head-to-head with a burly hench-person at a nightclub where he's bartending (or, at least, pretending to do so). All the while, his fellow treasure hunter Chloe Frazer (Sophia Ali) unlocks the entrance to a secret passageway, which she and Nathan promptly flee into (though not before Nathan pulls off a tricky move involving a candle and a mouthful of alcohol).
Uncharted "Bartenderizer" Clip
If it looks like this scene is really putting Holland through the wringer, that's because it probably is. Still, it's got nothing on the toughest stunt he had to pull off for "Uncharted." Yes, I mean the same one that keeps showing up in almost all of the film's TV spots and trailers, where Nathan is yanked out the back of a plane mid-flight after getting his ankle entangled with a chain of fully-stocked pallet boards.
Holland talked about this particular stunt in a previous behind-the-scenes promo, explaining:
"At times I'd be like a hundred feet in the air, attached to a box that was spinning, and then I would basically hang on until it would throw me off. And it was really scary, but I think that level of fear just makes that scene that much more authentic. It's the hardest action sequence I've ever made."
Credit where credit's due, Holland is absolutely doing his part to give moviegoers all the bang they could ask for their buck, as far as his "Uncharted" stunts and fight scenes go. Of course, we'll find out if the rest of the movie is equally up to scratch soon enough.
"Uncharted" was directed by Ruben Fleischer ("Venom," "Zombieland: Double Tap"), based on a script credited to Rafe Judkins ("The Wheel of Time") and writing duo Art Marcum and Matt Holloway ("Iron Man," "Men in Black: International"). It opens in theaters on February 18, 2022.