Uncharted Clip: Tom Holland Has Some Mid-Flight Turbulence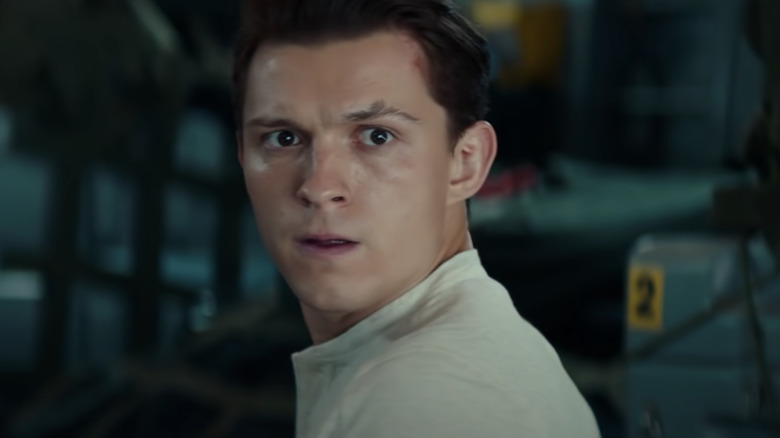 Sony Pictures
How many Marvel movies have we seen where a superhero goes diving out the back of a plane? "Uncharted," based on the popular PlayStation game series, is not one of those movies, but it does star Tom Holland, and in a newly released clip, it does put a different spin on the old plane-diving trick.
"Uncharted" has been in development since 2008, when Holland was just 12 years old and the very concept of the Marvel Cinematic Universe was barely a twinkle in Nick Fury's one post-credits eye. Now, finally, a big-budget, live-action adaptation of the game is coming to movie theaters.
In "Uncharted," Holland plays treasure hunter Nathan Drake, a descendant of the 16th-century explorer, Sir Francis Drake, who circumnavigated the globe on a "voyage of discovery" for England that actually functioned as a stealth raiding expedition. Just remember: Indiana Jones was a raider, too. That's doesn't make it right. It does, however, make it understandable why young Nathan might be following in the footsteps of Sir Francis and engaging in some thievery.
Mark Wahlberg co-stars in "Uncharted" as Drake's accomplice, Victor "Sully" Sullivan. You can see them both in action in the clip below.
Uncharted Clip
It's refreshing to see a hero get dragged out the back of a plane rather than diving, isn't it? Thanks to the superb Netflix series, "Arcane: League of Legends," we don't need to worry as much about when the video game adaptation curse will be broken anymore. Since "Arcane" is a TV show, however, the video game movie curse may yet remain. Can "Uncharted" break it the way last year's "Mortal Kombat" couldn't?
With this movie, Holland is also stretching his web-wings in the hopes of escaping his own typecasting as your friendly neighborhood Spider-Man. He's still in the house of Sony, and the mode here is more "Chaos Walking" than "Cherry," but let's just hope this one turns out better than either of those. With "The Devil All the Time," at least, I thought Holland showed some depth and an intense range beyond Spider-Man's web. Maybe he's just waiting for the right dark drama to come along and showcase his talents.
Or the right video game adaptation? "Uncharted" is directed by Ruben Fleischer ("Zombieland," "Gangster Squad"). Here's the official synopsis via Sony Pictures Entertainment:
Street-smart thief Nathan Drake (Tom Holland) is recruited by seasoned treasure hunter Victor "Sully" Sullivan (Mark Wahlberg) to recover a fortune lost by Ferdinand Magellan 500 years ago. What starts as a heist job for the duo becomes a globe-trotting, white-knuckle race to reach the prize before the ruthless Moncada (Antonio Banderas), who believes he and his family are the rightful heirs. If Nate and Sully can decipher the clues and solve one of the world's oldest mysteries, they stand to find $5 billion in treasure and perhaps even Nate's long-lost brother...but only if they can learn to work together.
"Uncharted" is in theaters on February 18, 2021.