How Tom Holland's Failed James Bond Pitch Led To His Role In Uncharted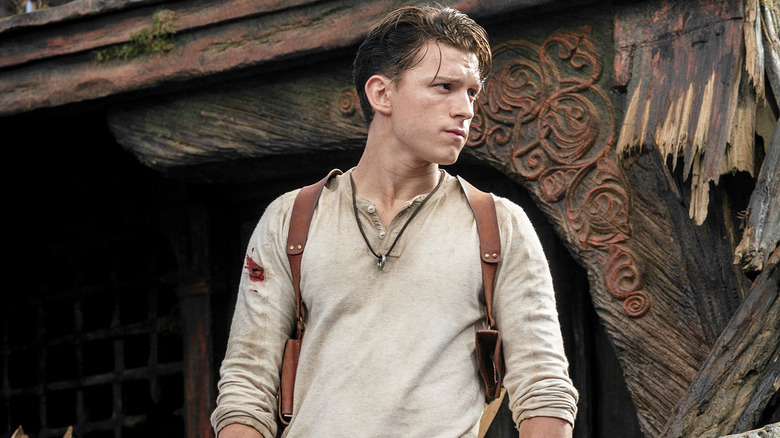 Sony
The "Uncharted" movie has changed dramatically since it was first announced what feels like a lifetime ago. (In reality, it was in 2008, so same difference.) Early on, David O. Russell was set to direct the movie, with Mark Wahlberg starring as Nathan Drake in a re-imagining of the "Uncharted" video games that supposedly would've featured a dysfunctional family at its core, like so many of Russell's other films. Numerous director changes and script rewrites later, the final version is now a Nathan Drake origin story, with Tom Holland portraying a younger version of the wayward treasure hunter, and Wahlberg co-starring as his gruff mentor, Victor "Sully" Sullivan.
Turns out, you can give Holland the credit (or blame, you choose) for the idea to explore Nathan's early days as a fortune seeker. The actor got the ball rolling on this iteration of "Uncharted" with an unsuccessful pitch he made to Sony for a young James Bond film while he was working on "Spider-Man: Far From Home." As he explained to Total Film (via GamesRadar+): 
"It was the origin story of James Bond. It didn't really make sense. It didn't work. It was the dream of a young kid, and I don't think the Bond estate were particularly interested."
However, his failed pitch then led Sony to consider taking a similar approach to "Uncharted," Holland noted:
"The idea of a young Bond film sparked this idea, in turn, that you could do a Nathan Drake story as an origin story, rather than as an addition to the games. And that opened a conversation."
Nathan Drake Begins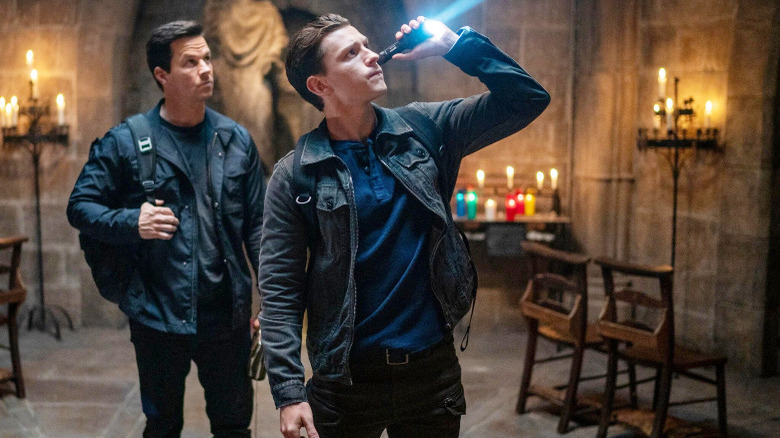 Sony
Many fans of the "Uncharted" video games have expressed their reservations about this approach, and you can see why. Instead of jumping into the "Uncharted" universe with a fully evolved version of the charming, wise-cracking Nathan Drake from the games, the movie will have to go through the motions of showing Nathan meeting Sully and becoming the version of the character that people actually care about. It recalls the main problem with the 2019 "Charlie's Angels" reboot: a film that really found its groove once it stopped focusing on how the titular team came together and just let the Angels do their thing instead.
The other concern with "Uncharted" is that the trailers haven't inspired much confidence. Nods to scenarios from the games aside, the movie looks like a modern "Indiana Jones"-style action-adventure, but without the visual wit and playfulness that make the best entries in that film series such a blast. Holland, for his part, is coming off the massive success of "Spider-Man: No Way Home" and seems to have locked down his future as the web-slinger (Sony's evasiveness on the subject aside), so it's not as though he needs another hit franchise to add to his belt. Still, he clearly wants to grow beyond playing Peter Parker, so who knows: "Uncharted" may yet prove to be the stepping stone he's been searching for.
"Uncharted" is directed by Ruben Fleischer ("Zombieland," "Venom") from a script by Rafe Judkins (who developed Amazon's "The Wheel of Time" series) and "Iron Man" writing duo Matt Holloway and Art Marcum. It opens in theaters on February 18, 2022.