Here Are All Of The Best Ads From Super Bowl LVI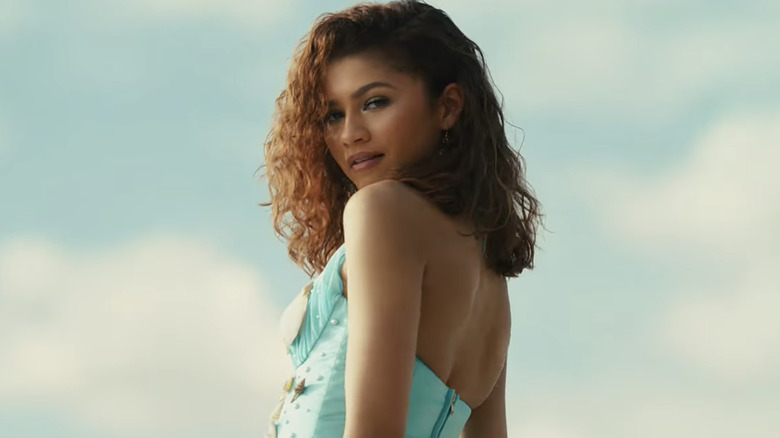 Squarespace
Is the Super Bowl really a celebration of football, or is it just a four-hour timeslot for commercials, celebrity cameos, and huge trailers to debut? Your guess is as good as mine, but one thing is certainly clear — in the age of streaming, this is a rare opportunity for commercials to inch their way back into existence. Being entertained by the celebrity-brand team-ups is part of the Big Game day experience and this year was no exception. 
Super Bowl LVI came out swinging, packed with memorable trailer premieres like Jordan Peele's latest horror movie, "Nope," a new trailer for the Marvel Cinematic Universe's own foray into horror, "Doctor Strange and the Multiverse of Madness," a first look at "The Lord of the Rings: The Rings of Power," and so much more. But amidst the Hollywood buzz was the Super Bowl staple of new game day commercials. We've gone ahead and gathered the highlights for you here, in case you missed out on the fun or were too busy decoding Peele's trailer to actually look up at commercials.
Golden Memories (Lays)
Reunited and it feels so good! Paul Rudd and Seth Rogen, former "Freaks and Geeks" and "Knocked Up" co-stars, have joined together to sell the world on potato chips. This commercial is the gift that keeps on giving — even before we could see it for ourselves, Rudd and Rogen were out promoting it and, in the process, making an enemy of the Academy for our entertainment. The commercial itself sees the duo chomping away at chips, sharing their memories, and even celebrating some nuptials. The only thing nicer than just seeing these two back together is the blissful joy of seeing them sing along to Shania Twain. Or better yet, watching them get kidnapped by a chip-loving stalker.
Top Gun: Maverick x Porsche (Porsche)
Is Porsche taunting us? Isn't it bad enough that every time I allow myself to feel excitement over the incoming "Top Gun" sequel, crushing disappointment arrives in the form of yet another delay? Well, Porsche is betting its money on this movie finally coming to screens this coming summer, following through on the May 27 release day it's currently slated for. The need for speed is very real in this promo, which shows off the Porsche's speed and the absolute intensity we can expect Tom Cruise to bring to "Top Gun: Maverick."
New Generation (Chevrolet)
The name of the game is nostalgia. Picture this: Don Draper himself, suit and tie, standing before a room of Chevrolet execs and pitching them on this very commercial. It's somewhere between absolute genius and eyeroll-worthy nostalgia bait, which is perfectly up Draper's alley. The ad is a beat-for-beat recreation of "The Sopranos" opening, debuting the first electric Silverado with stars Jamie-Lynn Sigler and Robert Iler reprising their roles as siblings Meadow and A.J. Soprano. But they didn't just bring them in for your run-of-the-mill commercial: as Meadow, Sigler takes the place of Tony Soprano in the openings, driving through modern-day Jersey with Alabama 3's "Woke Up This Morning" playing in the background.
Sally's Seashells (Squarespace)
Zendaya had a busy Sunday night — she went from sobbing over a jolly rancher to embracing her sea goddess era. With lots of ocean-inspired jewelry at the ready, she dazzles in this minute-long spot as Sally, a young entrepreneur with a budding seashell business by the seashore. You've heard this tongue-twisting tale before, but I guarantee you've never seen it quite like this. Believe it or not, the ad comes from "Last Night in Soho" director Edgar Wright, paired with Zendaya for a blissful but much too short commercial that also comes with narration from André 3000. Fingers crossed that this is just a practice run for a feature-length film that pairs these three up once more.
What's Gotten Into Lindsay? (Planet Fitness)
The Lindsay Lohan renaissance is upon us! Later this year, the former Disney star makes her return to movies with the Netflix rom-com, "Falling for Christmas," but the queen must walk before she can run ... Or run before she can sprint, given she spends a couple of scenes on the elliptical. Her Planet Fitness ad is all about wellness and rejuvenation, so Lohan pokes fun at her past by making paparazzi cry and bedazzling ankle bracelets. She also tries her hand at Jeopardy, and gets a couple of visits from fellow stars like Danny Trejo, William Shatner, Dennis Rodman, and Jeaprody's Buzzy Cohen.
Mayo Tackles Food Waste (Hellmann's)
Sometimes a celebrity-brand partnership is so perfect, it's a wonder that it took so long in the first place. Linebacker Jerrod Mayo has begun a beautiful new relationship with Hellmann's, where he'll help the brand end food waste by literally tackling the issue head-on. And by the issue, I mean random strangers who make the mistake of throwing out food that could so obviously be used in a new meal. Mayo goes house to house with his deadly tackle, eventually coming upon Pete Davidson, who sheepishly admits that he's "very hittable." You can imagine what happens next (or you can see for yourself up above).
Welcome to Irish Spring (Irish Spring)
Happy Midsommar, from Irish Spring! The soap company has embraced a reality we all know to be true: the best commercials lean into the surreal. Like Old Spice and Skittles before them, Irish Spring is putting weirdness front and center with an ad that sends a man drifting down a spring where he encounters a perfectly normal, not at all eminous society of turtleneck-lovers plucked right out of the scariest scenes from "Midsommar." If the commercial isn't enough to make you doubt your sanity, then the tagline "Smell From a Nice-Smelling Place" has you covered. I guess this means Irish Spring is itself a cult now, and if you have a bar waiting in your bathroom, you've officially been inducted.
Uber Don't Eats (UberEats)
This one is a lot to unpack. For their Super Bowl spot, Uber Eats put together the most eclectic cast yet, with Jennifer Coolidge at the helm and appearances from Trevor Noah, Gwyneth Paltrow, and "Succession" favorite, Nicholas Braun. Watching Cousin Greg guzzle down dish soap is actually not that surprising of a picture — sounds like something he'd be forced to do on the show anyway, courtesy of Tom — but it's just as hilarious as it sounds. And because watching celebrities try to swallow cat litter and lick candles isn 't eye-catching enough, the scenes are strung together with a track best recognized from TikTok. Ya know, to get the kids invested.
Disney Has All The GOATs (Disney+)
This just in — Disney+ has declared itself the winner of the streaming wars. In case you haven't heard, this is the service with all the GOATs: the show and movies that its parent company has dubbed The Greatest of All Time. All things considered, Disney+ has grown a ton since its initial launch, but even when Awkwafina is listing off those Avengers movies, the real winner of the commercial is clear: the actual goats. It's too good to be true, but I love to envision a reality where goats dressed in cosplay really do run amok in the corporate world, driving Disney execs crazy by crowing elevators and bleating in the halls.
Mind Reader (Amazon)
Amazon has put together a hilarious commercial that rings ominously true. Starring real-life couple, Scarlett Johansson and "Saturday Night Live" cast member Colin Jost, this Amazon ad pokes fun at the idea that Alexa can read our minds, perhaps in an effort to scare us away from her listening in on our conversation. Either Amazon's in on the joke or just trying to hide Alexa's omnipresence with star power and humor. It's definitely the second one, but hey, if ScarJo and Jost can laugh it off, so can we! Nah, just kidding, this "Black Mirror" plot line will make you shudder, even if the situational comedy that arises is all-around hilarious.