Seth Rogen Doesn't Understand Why Anyone Cares About The Oscars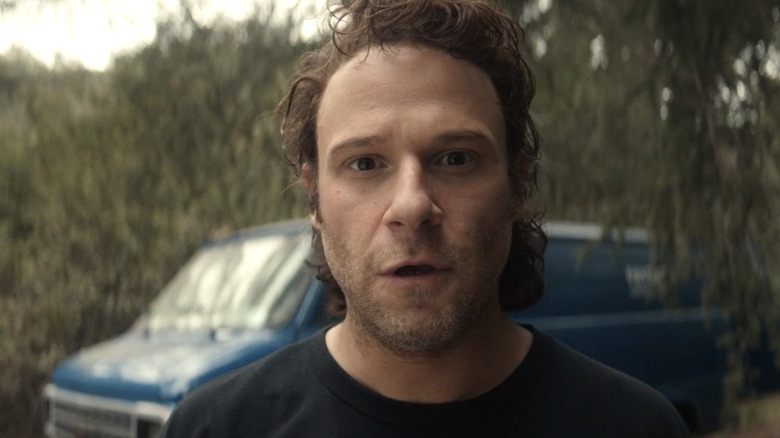 Hulu
Seth Rogen is kicking off his Oscar campaign for "The Fabelmans" like the genius comedian he is — by antagonizing the Academy! Rogen has a bone to pick with the industry people still fighting to grow the award show's viewership because he can't understand why anyone should give a damn. This spicy hot take came out while Rogen was doing the lords work — i.e. promoting his Lays potato chip Super Bowl promo with Paul Rudd. His beef wasn't with the award show itself, just the idea that it ought to be important to those outside of the Hollywood bubble. He told Insider:
"I don't get why movie people care so much if other people care what awards we give ourselves. To me, maybe people just don't care. I don't care who wins the automobile awards. No other industry expects everyone to care about what awards they shower upon themselves. Maybe people just don't care. Maybe they did for a while and they stopped caring. And why should they?"
The man makes a solid point — I for one didn't even know that automobile awards were a thing. Of course, the main difference between car trophies and the gilded movie man statuette is celebrity culture. Audiences become attached to the movies and actors they love, and seeing their favorites get awarded becomes a special kind of validation. Personally, I tune into the Oscars because I'm a glutton for punishment and clearly take some sick pleasure in watching the Academy make all the wrong choices and ignore the year's best performances (*cough* justice for "Titane" *cough*). It all boils down to our attachment for the things we love and the joint experience of reacting to how the Academy either awards or snubs them.
Or maybe audiences just like to project themselves into the Hollywood bubble by participating in the Oscars as a viewer. Not that this is a great year to be caught up in the unvaxxed Hollywood bubble... But however you feel about the Oscars or Rogen's words, the fact of the matter is this: the televised ceremony's viewership is enduring a steep decline.
Who's Watching Anyway?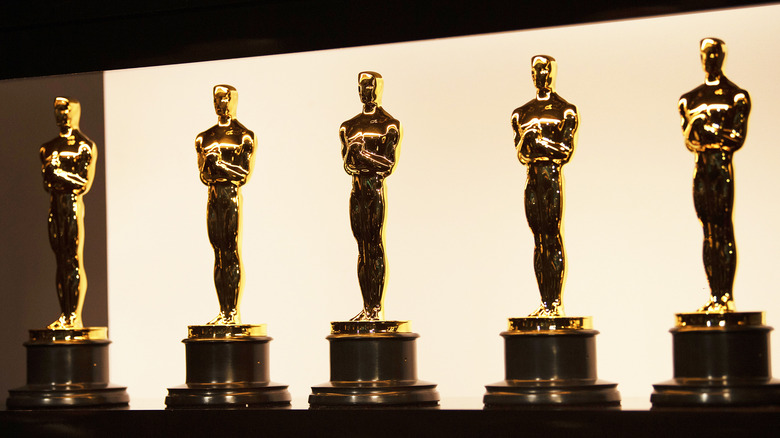 AMPAS
The irony of Rogen complaining about promoting the Oscars ceremony while PROMOTING his super bowl PROMO is not lost on me. It's deliciously ironic, but it's also not the point. Rogen isn't insulting the Oscars or questioning their legitimacy, he's actually pointing out a very interesting reality — the Academy Awards aren't everything they used to be. The industry is a-changing folks, and "Hollywood's Biggest Night" doesn't carry the same weight it did decades ago.
Granted, while this was a pretty strange year for box office numbers, it's been true for a while that there's a divide between which films large audiences are watching and which films the Academy chooses to award. Most of this year's Best Picture nominees raked in less than $40 million, indicating that only a small percentage of general audiences have checked them out. Of course viewership for the ceremony is on the decline! If audiences aren't attached to the films in contention, why tune in to see who wins? As such, ratings for the Academy Awards have dwindled over the years. According to Variety, last years broadcast generating only 9.23 million viewers, a 51% drop from the 18.69 million who watched the Academy Awards in 2020.
What's Next?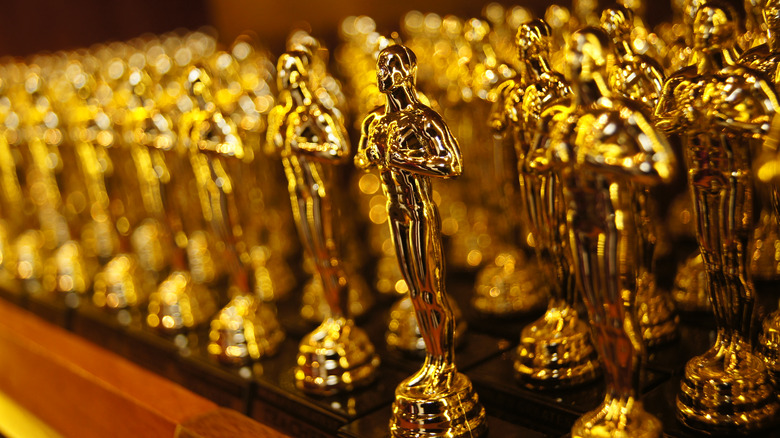 Faheem Salimullah/Shutterstock
With his comments, Rogen is pretty much shrugging these numbers off. Why should it matter if people watch the ceremony? Why should it matter if they care at all? Hollywood is hardly the only industry patting itself on the back with an awards show, but isn't it fine if that's something for insiders to celebrate on their own? The bigger issue here is what purpose the Oscars plan to serve going forward. Recapturing a wider audience isn't entirely out of the question, but that would require making some major changes. The Academy has started to do so — at snail's pace, of course — taking small steps like returning to a max of 10 Best Picture nominees and expanding the voting body with inclusion initiatives. But so far, that hasn't changed much by way of viewership. Perhaps if the Academy made room for more popular films, they'd see an uptick in viewership — but this seems pretty unlikely.
On the other hand, maybe that's fine too. Maybe the Oscars are just something for those in the Hollywood bubble to enjoy and the audience will continue to dwindle down to those nerdy enough to tune in. This can still do plenty of good for the industry, boosting the years biggest films and giving them some well-deserved attention with the accolades — but accepting the low viewership also takes away the Academy's ability to make money from the broadcast. Ultimately, this comes down to an Oscars ceremony identity crisis and in the coming years, the Academy must decide for themselves how much viewership matters.