The Oscars Have Decided Covid Vaccination Won't Be Mandatory For The Awards Show, Which Seems Like A Bad Decision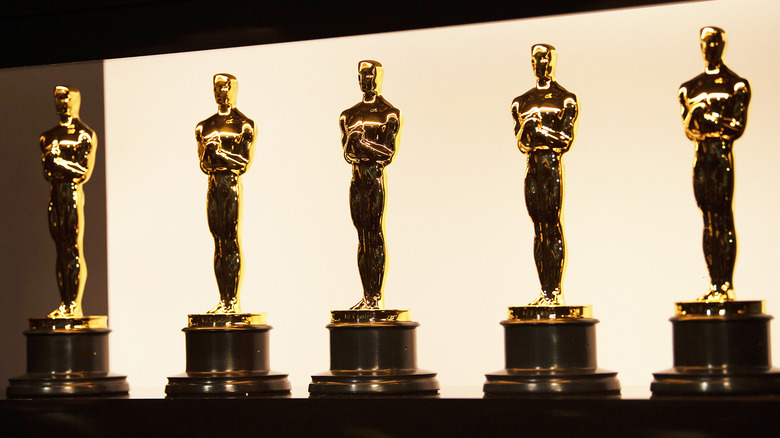 AMPAS
It wouldn't be a proper awards season without some controversy — but just because it's in character doesn't make the latest Academy announcement any less insane. Going against all logic and wise words from health care professionals, The Academy of Motion Picture Arts and Sciences will not require proof of vaccination to attend the 2022 Oscars ceremony. Per The Hollywood Reporter, the organization will instead require guests to provide a negative PCR test or a negative rapid antigen test on the day of the event.
Set to be held at the Dolby Theatre on March 27, the event follows last year's scaled-down affair which was held at Los Angeles' Union Station with strict Covid testing requirements. In the 10 months since, the rollout of safe, free, and widely available vaccines has allowed us to resume a semblance of normalcy by reducing the threat of fatal Covid cases. For that very reason, proof of vaccination has become a requirement for indoor and outdoor events ranging from dining out to concerts and, in some states, going to the movies. Given the plan to return to a scaled-up glitzy and glamorous Oscars night, it only makes sense for vaccinations to be a necessary element at the enormous indoor gathering, but the Academy has chosen to opt out.
A Great Night For Hollywood's Anti-Vaxxers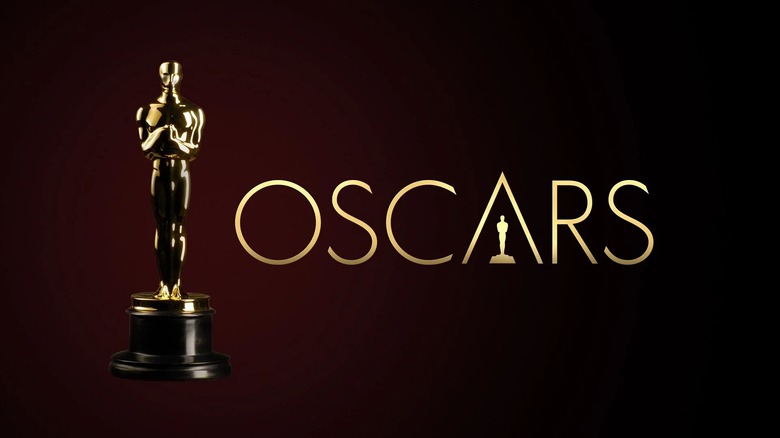 AMPAS
Technically speaking, this approach does adhere to the minimum requirements from the Los Angeles Department of Health. The county has mandated attendees of indoor and outdoor "mega-events" (defined by an indoor audience or over 500 or an outdoor audience of over 5,000) be either vaccinated or present negative test results. Throughout awards season, every other major awards show has refused to open its doors to anyone without proof of vaccination, but the Oscars won't follow suit.
This news is particularly strange coming from an organization that requires its own employees to be vaccinated (with rare medical exemptions). Especially since it breaks the trend other award ceremonies started by requiring vaccinations. There's been some speculation (and plenty of jokes) that the Academy has relaxed these rules in an effort to include unvaccinated, high-profile industry figures who could not otherwise attend.
As we all know, there are plenty of Hollywood elites outwardly proclaiming their anti-vaxx positions, often to the detriment of entire production crews forced to shut down due to the increased risk of contracting COVID-19. And hey — this is great news for them! Ya know, in case they were worried about losing their chance to accept a gold statuette while maintaining their anti-vaxx beliefs. Lucky for them, the trusty ol' Academy would never put them in such a compromising position, as they'll be welcomed with open arms into Hollywood's biggest night. Someone should probably let the Oscar producers know that this isn't what we meant when we demanded a more inclusive ceremony.
But What About Masks?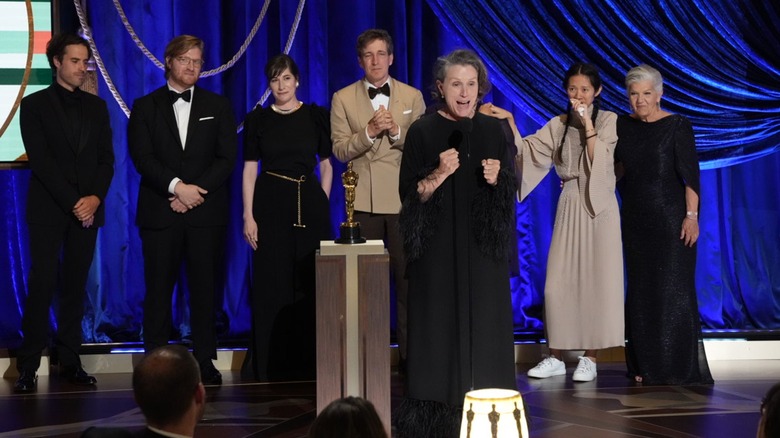 ABC
You're probably thinking hey, these lax requirements are insane, but at least the attendees will be masked throughout the ceremony! Believe it or not, that's way too optimistic. Per Deadline, there are no hard plans to require masks at the Oscars. In fact, discussions are still ongoing due to the way capacity may allow the Academy some wiggle room. The Los Angeles County Health Department does require masks at indoor mega-events but if the guest list whittles down below 500, perhaps the sea of faces in attendance won't have to mask up after all. God forbid the glitzy couture fashion is spoiled by a life-saving medical precaution! How can we possibly enjoy the Oscars if we can't squint into the crowd and spot more than just the eyes of our favorite movie stars?
If the Academy ultimately decides to keep the event large, with over 500 attendees, there's still a possibility that masks won't be worn. The county mandate states that at these mega-events, "masks are required to be worn by everyone, 2 years age and older, regardless of Covid-19 vaccination status, in...all indoor public settings, venues, gatherings, public and private businesses." But anyone with their eye on recent LA-based sporting events knows that more than a few venues have gotten away with not always enforcing this rule. Ultimately, the responsibility of enforcement falls to the venue itself, under the threat of eventual fines (which have yet to be levied) and it gets pretty dicey when guests are allowed to be maskless for eating and drinking. This would be much harder for a high-profile event like the Oscars to get away with, but evidently, anything's possible.
On the bright side, this announcement came via reports from various media outlets, including THR, Variety, and Deadline, but The Academy itself has yet to publicly release a Covid policy for Oscar night. The general response to their apparent plan has been incredulity, meaning the Academy still has time to come to its senses with some major changes. And unless they get things straightened out in time for the big show, the Academy will face plenty more blowback. Plus, any Covid cases that arrive following Oscar night will be heavily scrutinized.
The 94th annual Academy Awards are set to be held on March 27, 2022, at Hollywood's Dolby Theatre.